He is The Man Behind the Sounds of the Season
Wayne 'Pez' Marrier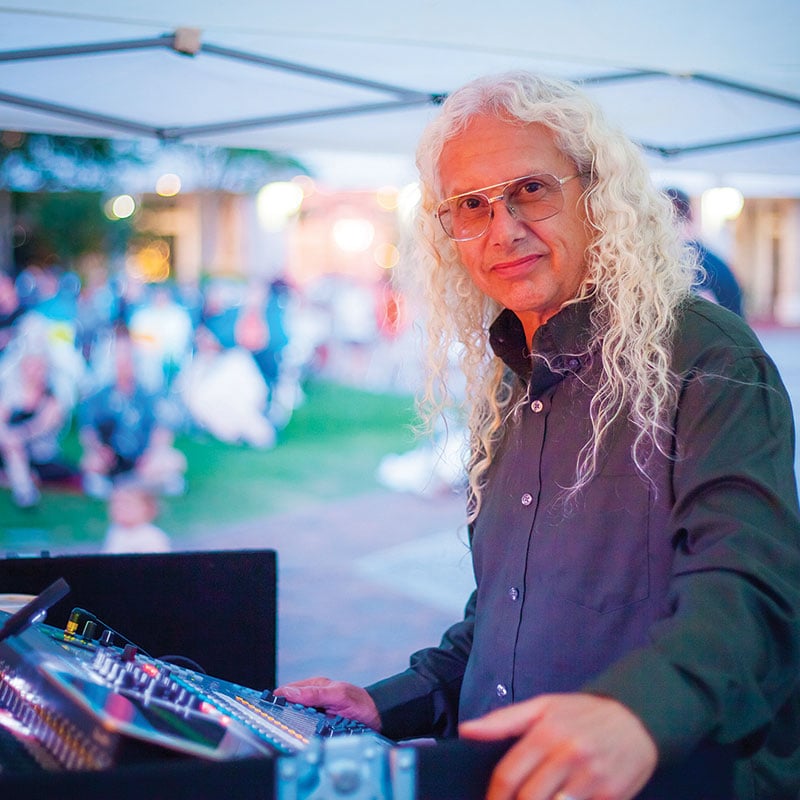 Wayne "Pez" Marrier called his wife, Brenda, to tell her about his first visit to the Emerald Coast, but before he could make a sound, she had one question: "When do we move?"
It was music to his ears.
The New England couple were in their early 20s. Marrier was ready for a change after years of touring on the road with a band. The Sunshine State seemed to promise exotic adventure … and that is most likely why he remembers it so well.
"It was June 20, 1990, at 6:20 p.m.," the 52-year-old veteran production engineer quips in a Boston accent.
And though they didn't have jobs or a place to live, the adventurous couple loaded up their truck and headed south to Pensacola. Today, they live in Navarre. Marrier recalls that his first production gig was at The Landing in Fort Walton Beach.
"The equipment was begged and borrowed, but I just kept adding to it," he says.
Today, he marvels that he has had a 40-year career and has amassed a storage facility loaded with thousands of dollars' worth of equipment.
"I count myself fortunate I've found what I love to do," he says.
Through his company, Shofar Stage Productions, Marrier provides a host of production services ranging from staging to lighting and even supplying props for productions large and small from Pensacola to Panama City Beach.
"I've done sound at Golden Corral and I've produced events for 20,000 at the Choctaw (High School) stadium," he says.
If you haven't heard of Marrier, he'll take that as a compliment.
"I am usually the first one in and the last one out, but no one needs to know me," he says.
But, in fact, many do. After handling the production for the Mattie Kelly Arts Foundation's Concerts in the Village for the past 20 years, he has become vital to the staff and fans of the popular summer concert series, which has grown from crowds of 50 to upwards of a 1,000 each Thursday through June. This year, The Beachcomber named the Cultural Arts Village Best Outdoor Music Venue.
"Personally, it is one of my most favorite places to do production," Marrier says. "Marcia and Deb and the whole Mattie Kelly crew have a vision, and they work like crazy to make it happen. The people who attend the shows there are awesome. They are friendly and have a good time.
"It's community-based, people come from everywhere, and I think that's why it's so successful," he says.
Mattie Kelly Arts Foundation CEO Marcia Hull says the organization's long-term collaboration with Marrier is part of the series' continued success.
"For more than two decades, Pez has traveled along MKAF's cultural journey," she says. "From the early concerts at the Kelly Plantation Outdoor Theater to the Mattie Kelly Cultural Arts Village, he continues to be an integral part of MKAF's music tradition and a valuable partner in the arts."
Keeping productions glitch-free and helping performers sound their best is when Marrier is in his element.
"I get my chills when they walk out, the lights come up, the cues start and the audience screams and yells," he says. 
---
Concerts in the Village
4323 Commons Drive West (next to Grace Lutheran Church)
June 2
Lava Lamp
June 9
Faithfully
June 16
The Joe Band
June 23
The Maxx
June 30
Legends in Concert
(featuring the music of Roy Orbison, Johnny Cash, Buddy Holly and Elvis Presley)
Gates open at 6 p.m. Shows start at 7 p.m. Bring a blanket or beach chairs and a picnic supper, or purchase dinner and wine at the event. Tickets are $12 per person; Mattie Kelly Arts Foundation members and children ages 12 and under are free. Proceeds benefit the foundation's cultural arts programs. For a complete list of events at the Cultural Arts Center, visit mattiekellyartsfoundation.org.