Have a Happy Hour with New Year's Resolutions Safe and Sound
Here's to a Skinny Night Out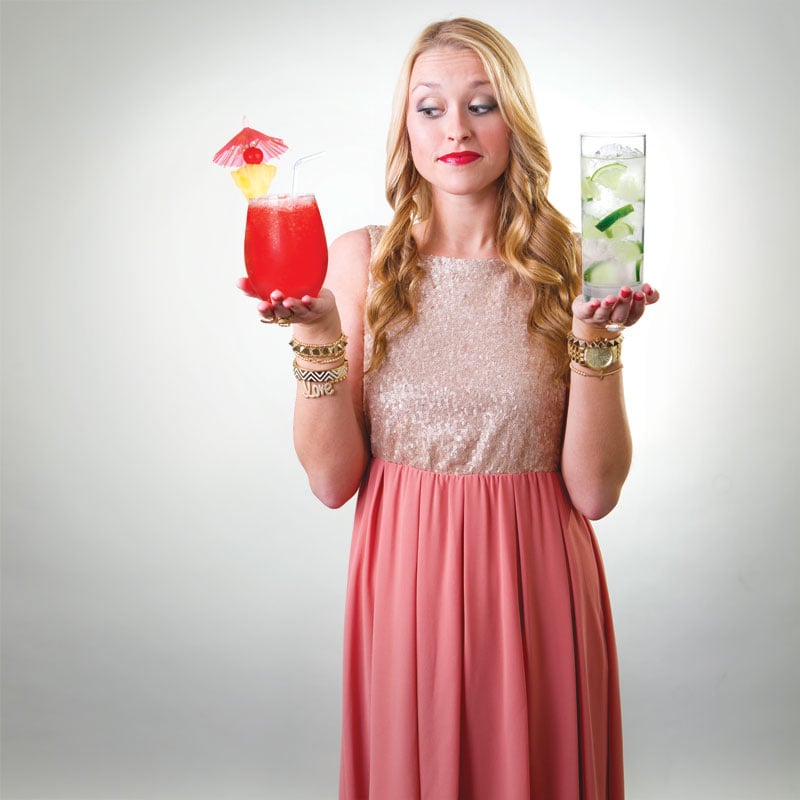 It's a couple of weeks after New Year's and you've been maintaining your healthy 2013 habits. You've been to the gym or walked around the block after dinner with resolve. Careful eating at home, no problem. Support from family and friends, check. The first invitation hits your mobile. Come to a birthday night out celebration with the girls! Guys, its time for football playoffs, where to go to take in the game? How does accepting alter your resolutions for a healthy-weight-managed year?
Fortunately, sticking to healthier eating and drinking habits does not relegate you to an anti-social existence. Evenings can be spent away from home with friends or that special someone while preserving your goals for a skinny night out.
If you might be tempted with delicious apps and entrees, one way to hold onto a weight plan is to substitute a meal with a fortified smoothie. There's a smoothie for everyone at Skinny's Nutrition. Pick from thick and smooth flavors like Apple Pie, Blueberry Poundcake, Chocolate Chunky Monkey, Peanut Butter Cup, Original Vanilla or Raspberry Lemonade. Chantel Gillilan, 23, opened her store just over a year ago in the Winn Dixie Palm Plaza in Destin. Customers selecting from the 46 varieties are equally diverse — from high school students to 80 year olds. Skinny's drinks are from Herbalife, a global nutrition company producing nutrition, weight-management and personal care products available through distributors like Gillilan.
Each shake or meal substitute has between 210 to 250 calories, 24 grams of protein and comes with an energy tea and aloe shot. "The aloe helps absorb the vitamins and minerals into your body," said Gillilan. "For $6.50 you get all three and stay very, very full. People can't finish them sometimes." She offers a free body analysis, tracks measurements and "coaches through what you want to do."
Allysun Rust, 26, stops in Skinny's regularly. "I would drink it for lunch before I went out," she said, affording her the saved calories to enjoy later. Rust said she chooses low-calorie cocktails like Skinnygirl's Margarita as an alternative, too.
There are a few tricks personal trainer and sports nutrition consultant Brittany Stiles shares with her clients about eating out: Always drink water before your meal, tell the wait staff not to bring the free bread or chips to the table and select a healthy option, which at most restaurants is easy and available. "The pitfall is usually the dressing," said Stiles. "You may be adding up to 800 calories with just dressing. I ask them to bring me oil and vinegar. Watch out for the heavy sauces like alfredo. I tell people to stay away from them – eat it plain."
Stiles, a fit, 28-year-old mother of four and group exercise director at Bluewater Fitness in Niceville, cautions clients against pairing junk food with alcohol. "You can gain twice as much weight if you do," she said. "Alcohol is pretty much pure sugar. When your body metabolizes what you eat, your body will first burn off alcohol before it will burn off the food. So the next day when you're working out whatever calories you're burning will be your alcohol. You won't even get close to the cheeseburger." Stiles permits a cheat day a week but insists that clients separate which cheat. Alcohol can be the cheat one week and junk food the next week's indulgence.
Helping his patients reach their goals, Dr. Nitin Bawa, board certified in internal medicine, encourages having fun and going out with friends. But, he says, eat before you leave. "Have a protein shake so that when you eat out you are not hungry, you're satiated, happy and do not feel the need to eat. You can choose to have something. When you choose, pick vegetables or salad," said Bawa. "Most places will make a salad and put fish on it — which is best in terms of meat — and ask for less dressing or get it on the side. Obviously, do not get anything fried."
Consuming alcoholic drinks while trying to loose weight will defeat the goal he said. "To drink even twice a week, you are not going to loose weight — even a few drops of alcohol will stop ketosis or the starvation phase when the body realizes not enough calories are coming in and tells the body to burn fat."
Full of sugar, alcohol is also loaded with calories. The typical 12 ounce beer has between 150 to 200 calories while a red or white 5 ounce wine hits 120. A wine spritzer or Skinnygirl wine serving can knock the count down to 100. Depending on size, a vodka and tonic or mulled wine can reach 200; a Margarita or coffee liqueur can launch your intake upwards of 280 and the king of all, the Long Island iced tea, hails at 780.
Choose soda water with lime or for favorites like mojitos or martinis, ask the bartender to go light on sweeteners. Increasingly, bars offer cocktails made with agave nectar instead of sugar syrup. Flemming's is one. "There are many ways to reduce calories in a cocktail, and the choice of the way a drink is sweetened is one of them," said Maeve Pesquera, director of Wine for Flemming's Prime Steakhouse and Wine Bar in Sandestin. "Use of agave nectar and syrups made with sugar substitutes are good options to reduce the calorie count in cocktails. Using low or no calorie mixers like club soda, tea or coconut water are other great methods to keep the calorie count in cocktails low."
The key to walking away without regret is to make the best choices in what you sip and what you nosh. That means learning to decode appetizer menus to avoid red flags ("breaded," "coated," "fried," "creamy," etc.) and keeping libations simple or virgin to minimize high-calorie, high-sugar mixers.
At Bonefish Grill, maybe you choose the edamame appetizer instead of the Bang Bang Shrimp dipped in a spicy mayonnaise sauce. "If you're really looking to go light, get the ceviche with a side of warm tortilla chips," said Will Eberlin, the culinary manager for the Bonefish in Destin. His personal favorite is the Chilean sea bass entree, wood grilled over an open flame, topped with a mango salsa — fresh mango, purple onion, red bell pepper. "Extremely healthy and low in calories."
Brittany Stiles supports enjoying what you love — just in smaller quantities than what restaurants serve. "Portion control," she said. "Eat half or three-quarters of the meal and take the rest home." The same can be said of drinks. "There's no such thing as a healthy alcoholic beverage. Sugar is still sugar. The best option is to stick with water."
Dr. Bawa agrees. "You can have just as much fun, if not more so, with a virgin drink because alcohol makes you feel depressed. Have a cranberry spritzer with a lemon twist … and have more fun."
See also: 10 of Our Favorite Skinny Concoctions and Mocktails