Haunted Victorian Homes Inspire Writer Rickie Wood Bovee
Ghost Writer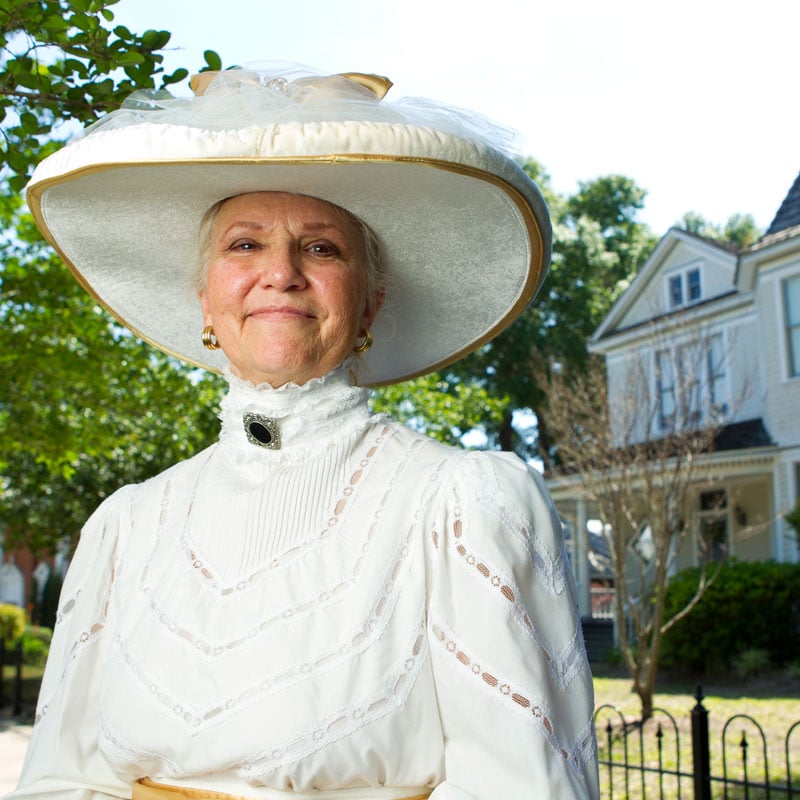 Rickie Wood Bovee writes about ghosts. From Portland, Ore., the brown-eyed, blonde, 66-year-old grandmother moved to DeFuniak Springs in 1983. She developed her novel's characters from supernatural tales townspeople shared about the haunting of some Victorian residences that encircle Lake DeFuniak — a rare, nearly symmetrical spring-fed lake which shaped the centerpiece for the 1880s railroad stop's historic district and Bovee's setting.
"People like ghost stories," Bovee said. "Victorian homes, for the most part, a lot of them have ghosts or weird things happen in them." 
She believes in the possibility of ghosts. "Button Hook Child" (2011) takes place in the Cauthon House. "The last surviving Cauthon, living in that house, died in the mid-1990s. It was her ghost causing problems," said Bovee of the owner's testimony of strange events occurring during renovation. "The story is set in 2007, a couple who buy the house just won the lottery and are expecting a second child. Life is perfect. I guess you can say things are never perfect," Bovee teases of her novel's tragic tale.
"Don't Move the Coat" (2012) is set in a home near the lake where a solitary coat hangs in a closet. The coat inspired Bovee to create Gayle, the main character, who wants to make a new life and moves into the home. Gayle discovers its ghost, a Victorian lady from 1901, who makes trouble when the coat is touched.
Before moving to DeFuniak Springs, Bovee and her husband, Jim, performed in the circus. "We were subcontractors, acrobatics, for various circuses," she said. "He did all the tough stuff. We were there for fluff, but we did work." The couple toured for 15 years with their daughters in "every state of the U.S. and every province of Canada," and Bovee found the lifestyle satisfying. 
She also found fulfillment in writing. "There's a little bit of me in every one of the books," Bovee shared. 
"My Summer With Emma" (2013) departs from ghostly invention and centers on a girl named Emma who Bovee met her first day of school during her freshman year at an all-girls high school in Portland. Bovee learned Emma was sent to live with her aunt and uncle to avoid danger in the South. 
"Why is it dangerous?" I asked. Emma said, "Because I'm a negro." This was early '61. I didn't play stupid. I was stupid. I was 14 years old and wasn't aware of what was going on in this country," said Bovee. The topic of racism, her teenage encounter with Emma and touring with the circus in the South spurred Bovee to put pen to paper. 
"Sweet Melody," a collaboration with her husband, will publish this year. Set in a Victorian home called The Harbeson House or Magnolia Manor, Bovee said the couple living there revealed they had mysterious scratches on their parlor floor, which became a spooky back-story for this book.
Bovee's books are sold on Amazon, at the Little Big Store in DeFuniak Springs and Sundog Books in Seaside.
When she's not writing or practicing gymnastics with Jim, they are sewing. The couple is known for period, handcrafted creations of elaborate dresses, suits, hats and purses. Bovee focuses on the Victorian era, because the women looked particularly feminine. "Probably," she said, "because I'm a tomboy from way back."  
In all that she does, Bovee relishes a test. "One of the reasons I started writing. It's a challenge," she said.