Harvest Festival Unites Wine Lovers
While benefiting the region's children in need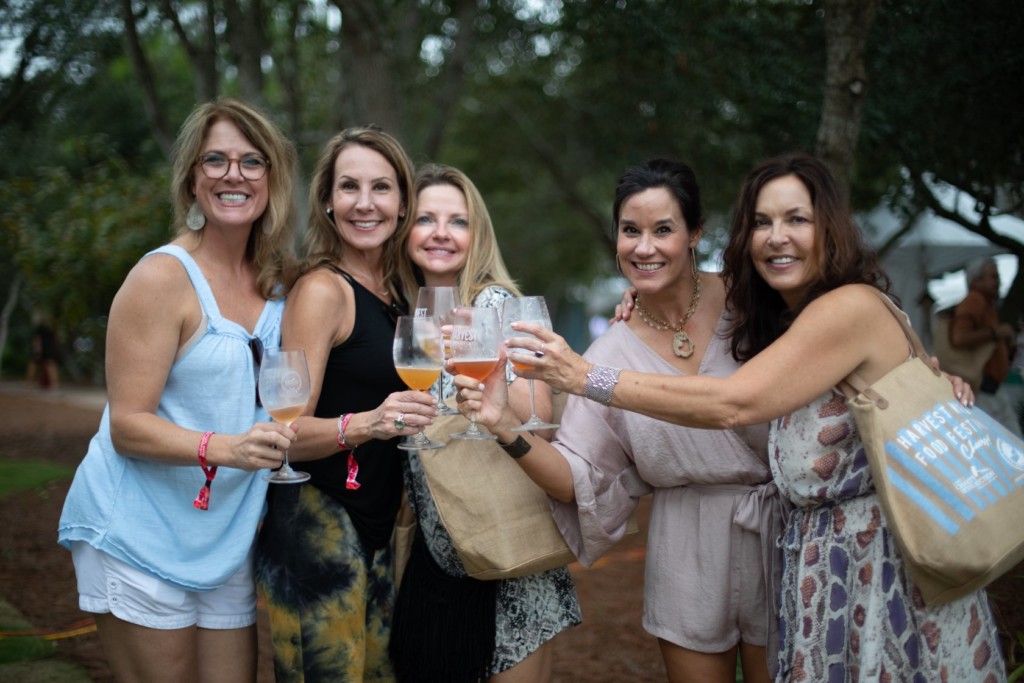 Hundreds of people cued up at the starting line waiting on a signal from event volunteers.But this was no 5-kilometer run. There was no uniformity in dress and adornments, far from it.
Here were women in hats that Indiana Jones might have worn and men with small dogs in the crooks of their arms and women in rubber boots and men with Opus X cigars in the pockets of their Vineyard Vines shirts.
Directly in front of me was a woman with toes painted periwinkle, white denim short cutoffs, a shirt dotted with tiny ocelots, blond hair with bronze highlights, an oversized gold watch surrounded by gold bracelets and designer shades. She was a belle of the fall on this muggy October day.
All who turned out for Saturday's Harvest Wine and Food Festival at Watercolor were united by their fondness for wine — or craft beer — and their desire to support the work of the Destin Charity Wine Auction Foundation.The Foundation is devoted to uniting wine lovers in events that raise funds for children in need, and it has succeeded spectacularly, earning accolades from Wine Spectator magazine and donating $21 million to Northwest Florida charities.
"The Harvest Wine & Food Festival is one of my favorite fall events on the coast because it brings together two of my passions: great wine and food and raising money for organizations that benefit children," says Mackenzie Little, Rowland Publishing's sales and events manager.
"Emerald Coast Magazine and I are pleased to bring some of the tastiest food and high-end vendors on the coast to the V.I.P. tent where guests are transported to an elegant experience of food, wine and football.
This third year was spectacular and somehow topped the last. We shall see what year four has in store — let's hope for cooler weather!"
At 1 p.m., a thirsty throng was admitted to the Harvest Festival grounds and I head for the V.I.P. tent, where I will meet up with Little and several other Rowland Publishing colleagues.
En route, I pause to listen to guitarist and singer Mari Gleason, who lives across the bay in Freeport. Her rendition of "Budapest," a song popularized by George Ezra, was dreamy.
My attention was further distracted by grower Cainnon Gregg's presentation of cultivated oysters, shucked and on ice and about the diameter of a 50-cent piece. Delectable.
Gregg, of Pelican Oyster Co., was joined by Bethany Walton, the executive director of Oyster South, a non-profit organization working to promote the nascent oyster-culture industry in the Southeast. She looks forward to the day when Gregg's oysters, grown in Oyster Bay in Florida's Big Bend, may enjoy a following like the Northeast's bottom-cultured Blue Point oysters.
At the V.I.P. tent, personnel from The Henderson greet me and offer me a flute of lavender champagne, compliments of the resort.
Nearby, I meet Erin Higton, a co-founder of the private aviation company, DESTINation Jets, with offices in Destin and Lexington, Kentucky. With her is a veteran flyer, Paul Kahalley, who serves the business as an aviation consultant.
Kahalley explains that DESTINation Jets offers access to more than 4,000 fine aircraft throughout the U.S. and Europe — Learjets, Gulfstreams, Challengers and more. Serving as a flight broker, it promises its customers luxurious, hassle-free travel. Customers furnish DESTINation Jets with an itinerary and the number of passengers in their group and the company obtains quotes for customers to choose among.
Inside the tent, Rowland Publishing account executive Darla Harrison greets me with a bear hug, and, moments later, recommends the lamb sliders available at a distant booth. Maybe later. It's hot. I sidle up to the Idyll Hounds Brewery booth, manned by assistant brewer Josh Espinoza, who, like many pros, got started making beer at home. His first batches, he concedes, were awful.
Espinoza fishes a Boosh out of a cooler. The New England-style India pale ale may be the only beer going with a blowfish on the can. It hits the spot.
With it, I wash down a cauliflower fritter, courtesy of Coastal Kitchen Catering and Events, which is part of a collection of businesses that includes three restaurants: Cuvee Kitchen & Wine Bar, Jackacudas Seafood and Sushi and Brotulas Seafood House & Steamer.
Jacob Knight, the general manager at Cuvee, tells me that he and colleagues recently had the experience of preparing recipes at Southern Living magazine's test kitchen in Birmingham, Alabama, for an upcoming feature story on "flavors of the coast."
The experience, he said, "was blessed."
Meanwhile, Chef Mark Eichin of Restaurant Paradis in Rosemary Beach, is dishing up braised pork ragú.
Eichin grew up on a farm in Heron Lake, Minnesota, where he resented having to pick radishes and pull beets while his friends were at play.
But the experience served him as an introduction to food sourcing. Today, Restaurant Paradis prides itself on serving the freshest seafood available, but it has fast gained a reputation for turf, as well.
"Our cast iron filets fly out of the place," he says.
At the Gamble Family Vineyards table, national sales manager Michael Kasper offers tastes of a cabernet, a blend and a Sauvignon blanc.
Gamble is primarily a grape grower, and supplies the fruit of its vines to 41 winemakers. Its own wines are available in 30 states and Florida's Emerald Coast, Kasper says, is a key market.
Gamble has been fortunate, he adds. Its losses to wildfires in the Napa Valley have been slight. Others, he says, have lost everything.
At her booth, Renee Launiere of Bijoux de Mer Fine Jewelry is attracting lots of women. She is assisted by a friend, Dara McLeod, who describes Launiere as a beautiful lady whose creations "express the essence of living at the beach." Launier, she adds, is a generous supporter of community causes.
To say that Launiere's orange opalicious necklace is a statement piece would be an understatement.
Departing the V.I.P. tent, I nod toward Allie & Salty (aka Melinda and Mike Lanigan), whose Americana rock acoustic sound — and banter, jokes and riddles — is much more than background music.
Elsewhere on the festival grounds, Slick Lips Seafood & Oyster House offers braised rabbit tacos, or Easter tacos as the servers are calling them. Austin Jennings, another solo act, who hails from Scottsboro, Alabama, is playing Johnny Cash's "Folsom Prison" — with unintended irony not wasted on me.
I bet there's rich folks eatin' in a fancy dining car
They're probably drinkin' coffee and smokin' big cigars
But I know I had it comin', know I can't be free
But them people keep a movin'; that's what tortures me.
The breeze is freshening and the temperature is dropping. Rain can't be far off. Maybe the ladies in rubber boots were on to something.
I scoop up a brisket sandwich at the Fox Brothers BBQ booth and join an electrical contractor and his wife at a tiny table.
"We come for the food," she says. "Not much for drinking wine a taste at a time," he says, pointing to a backpack. "We bring our own bottles."
Ah, but surely it tastes all the sweeter when it's sipped from a Harvest Wine & Food Festival glass.
See more photos from the event below:
Photos courtesy of SMT Photography