Gulf Coast Surfers Share Stories and Waves
Local surfers reminisce on riding the waves and staking their turf.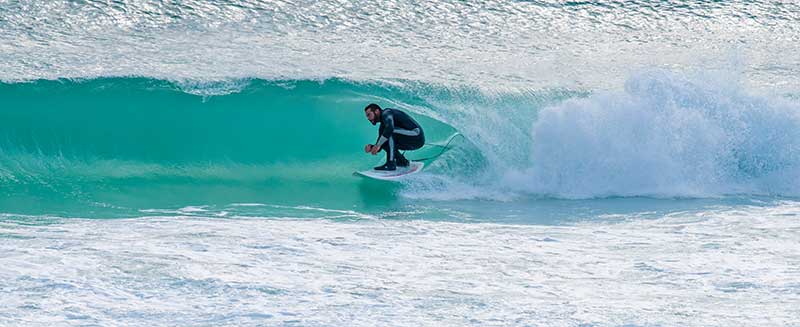 The experience of riding a moving wall of water is both exhilarating and terrifying, the kind of thing, you would think, that a person might survive once and then check the box and move on.
But it's worse than that. And better. It's unshakable. So it is that people persist at the sport of surfing despite near-drownings, advancing years and repeated orthopedic surgeries.
Dave Rauschkolb, 56, looks out on the Gulf of Mexico from a window in his restaurant, Bud & Alley's, on County 30A in South Walton County. A rain hard and cold is about to fall with the intensity of a tropical storm. An offshore wind — one of those biting winter northerlies — is freshening. It's frankly lousy out.
But, says Rauschkolb, "These are good conditions." He is focused, to the exclusion of everything else, on the surf that is developing along a beach break. Seeing that, he knows that "the Panama City Beach piers are breaking good right now, same thing for St. Andrews State Park and Shell Island."
Good conditions, but not great
"It's too small for Amazons," he continues his assessment, referring to the magnificent, Pacific-caliber waves that develop along the eastern jetty at the fortified pass to St. Andrew Bay.
Brenda Stokes, 64, knows the Amazons well, having surfed them, she estimates, 50 times. She has surfed the East and West Coasts of mainland America, Hawaii, Puerto Rico and Costa Rica, but she likes no other spot as well as she likes what locals call simply The Pass.
Both Stokes and Rauschkolb discovered surfing quite by chance, having found themselves as children living in neighborhoods that were also home to kids with surfing habits.
Rauschkolb was living at Poquito Bayou when he met David Guin and Bill Young, who would become the first of several surfers who would dramatically affect his life.
When Rauschkolb first stood up on a board on a summer day at a beach called Sandman on Okaloosa Island, Young was there as a witness. Rauschkolb was 16 and, oddly, didn't surf again until a year later when he took up the sport for good.
His popularity with surfers may have had much to do, at least initially, with the access he enjoyed to his father's Volvo station wagon. Too, Rauschkolb was looking for a sport.
At Meigs Junior High School and Choctawhatchee High School in Fort Walton Beach, he was too small to succeed as a varsity sport athlete.
"Hanging out with the best surfers around, I took to surfing really quickly," Rauschkolb said. "By the time I was 18, I started competing."
Guin, while he eschewed competitions himself, served as Rauschkolb's coach.
"Dave never let up on me," Rauschkolb said. "It was like surfing boot camp."
A Shot of Confidence 
Less than three years after his first surfing experience, Rauschkolb won the Gulf Coast Men's Championship.
The victory, he said, was a "great confidence booster. I had done a little skateboarding, but never before had I found anything I was really good at."
Stokes' father moved his family from Mississippi to Anna Maria Island, close to Sanibel, after completing a 20-year career in the Air Force as a pilot. For his daughter, it was like jumping from a daguerreotype into an image that has been color-saturated in Photoshop.
"All I had known was Hattiesburg," Stokes said. "We didn't do much but pick up Coke bottles along the railroad tracks and carry them and pecans to the co-op. That, and go to a lake that was usually too cold to swim in."
At the island, she saw surfers for the first time.
"Mom would let me and my brother walk halfway around the island," Stokes recalled. "You could do it in an afternoon. One day, we came around a point and there were two surfers, not that I knew what surfing was at the time. At first, I couldn't see their boards and it looked like they were standing on the water and gliding across it."
Stokes would later determine that the surfers had been two brothers, Rich and Wilson Salick, who would launch a board company and establish a surf festival. At the time, they had been the only people engaged in surfing at Anna Maria Island.
Stokes, meanwhile, was splashing about on Styrofoam.
Stokes moved again, this time to Fort Walton Beach, where her father accepted a job teaching industrial arts and drafting. Looking across the street from her new home, Stokes, then 11, spied a boy putting a board like she had seen on the island into a pickup truck.
"My mom got to be friends with his mom and, to get rid of me, she would have him take me to the beach," Stokes said. "When he and his friend came in to rest, they would push me around on a board." She would soon graduate to standing, a development she remembers well.
"There is a look that comes across the faces of the kids I teach surfing to today when they catch their first wave, and I am sure I had that same look my first time," Stokes said.
Stokes talked her mother into buying her first board at a shop owned by Doodle Harris in Fort Walton. It took the two of them to carry it. Surfing was limited to long boards at the time.
Mom carried Brenda to her first "contest" in Pensacola.
Stokes entered the beginner's division in a pro-am event and wound up beating a bunch of boys.
She attracted the attention of Yancy Spencer, who put her on his surfing team and offered her discounts on boards purchased from his shop.
Surfing "for fun" in an east coast championship, Stokes discovered that "competition isn't really in my blood. I'm always willing to let someone else take the wave and I wait for the next one."
Nonetheless, Stokes finished second, scoring enough points to qualify for the U.S. championships in Ventura, California, when the winner proved unable to go.
In California, Stokes bested girls coached by the legendary Ben Aipa, who invited her to visit him in his home state of Hawaii. (She would make the trip.)
Rauschkolb, too, visited the Left Coast while young.
"Right after I graduated from high school, Dave Guin and I drove all the way to California," he said. "I can't believe my parents let me go. It was the quintessential coming-of-age surf trip.
Ironically, we were in Malibu and the surf was flat and Hurricane Allen was in the Gulf. So, we drove 24 hours straight through just to surf in the Destin pass."
The chase Is a big part of surfing.
"A lot of people who live on the Gulf Coast don't know we have surfing and don't think about our area as a surf destination," Rauschkolb has found.
The fact is, we have really good surf.
You just have to know when the right conditions are occurring and go to the right spot, but opportunities can be fleeting.
"In the early days, before computers, all we had was NOAA weather radio telling us what the seas were going to be and we would drive sometimes from Navarre all the way to Panama City checking the waves. Even today, there can be a lot of driving."
In September 1985, Rauschkolb and a surfing buddy, Scott Witcoski, were headed east from Destin with plans to catch waves in Panama City when Witcoski perturbed his friend by making a stop along the way.
The pair had come through Grayton Beach on 30A and was about to pass Western Lake when Witcoski mentioned that he had met a man at work — both Witcoski and Rauschkolb worked at Les Saisons in Destin at the time — who wanted to show him a restaurant location in a community-to-be called Seaside.
"Scott is the guy who forgets his wallet and is always late and I am the guy who always wants to get there early," Rauschkolb said.
"I was already looking at my watch. The waves were good and it was a beautiful day. I am in a hurry and Dave is telling me about this guy who wanted us to stop. I didn't see any reason why we couldn't do that some other day. But Scott was driving and he's a persuasive guy."
The guy was Seaside founder and visionary Robert Davis, who escorted the surfers to a tiny restaurant that had struggled with a French owner who alienated more customers than he won over.
"Scott asked me what I thought about opening a restaurant there," Rauschkolb recalled. "I had been to the Paradise Café and I figured we would be busy only three months out of the year and that would leave plenty of time for surfing."
Mom Was Right
But Rauschkolb was a second-semester senior at the University of West Florida, closing in on a degree in marketing and business management. He figured his mother would be furious if he bailed on his education so near the finish line.
But she fooled him.
She counseled her son that he might never again have the chance to open a restaurant on the Gulf. "And besides," she reminded him, "your grades aren't that good."
So it was that some four months later, the surfing buddies joined in opening the now iconic Bud & Alley's on the strength of a $60,000 loan from Destin Bank and a total of $10,000 extended to the chums by their mothers.
Two years earlier, Rauschkolb and Witcoski had met at the one-time June's Dunes restaurant in Destin and discovered their mutual interest in surfing. That surfing connection, Rauschkolb said, brought about Bud & Alley's 32 years ago and "started my career path."
(Rauschkolb, who now owns four restaurants, bought out Witcoski's interest in Bud & Alley's 12 years ago. Witcoski lives today in Merritt Island and, like Rauschkolb, still surfs.)
Rauschkolb and Stokes may not surf as much as they used to — she is kept busy running a family business, Holley Hill Pottery, in Santa Rosa County, north of Navarre, with her son — but their enthusiasm for the sport is undiminished. It keeps them young, they find, and they love the culture and even the hierarchy that surrounds it.
"Surfers have gotten a bad rap over the years for just being lazy beach bums," Rauschkolb said. "But I look at the surfing friends I have had over all these years and not one of them is a slacker. Every one of them is super hardworking and very successful in life."
For Rauschkolb, life imitates surfing.
"You have to work hard to get the reward," Rauschkolb said. "You have to paddle hard, you have to be in good shape and a lot of things have to come together.
And, you are also competing against the other surfers out there.
There's a pecking order and a set of unwritten rules that everyone has to follow.
If you don't, you might get looked down upon or even slapped."
In the surfing meritocracy, experience and local knowledge confer status.
"Respect must be earned," Rauschkolb said. "Beginners and people who don't follow the rules and get in the way are called kooks. No one wants to be called a kook. And, we have enforcers. Guin is one of them. They call him El Diablo. He rules the pier in Fort Walton Beach."
For Stokes, surfing only gets better.
"It's not so much the sport as it is being out there," she said. "There is so much going on — the dolphins and pelicans and fish — and, many times, I am content just to watch others surf."
Stokes persists despite having undergone three knee surgeries, three shoulder surgeries and elbow reconstruction.
"My orthopedic guy goes in and cleans out my knees when they get messy and, 12 weeks later, I'm back at it," Stokes said matter-of-factly. "He'd give me replacements, but he says that, the way I surf, we would wind up replacing the replacements all the time."
Generally, Rauschkolb said, "surfers tend to be healthier than other people because of the cardiovascular conditioning involved and what you have to be able to do to get up on a wave. It's not easy to paddle around for hours. If you're not in shape, you're wrung out. You have to be a good swimmer, and you have to have balance and coordination."
Raushkolb concedes that he has been lucky.
"My friends who played football are hobbled, but all of my joints work," he said. "I'm a little out of shape but not much. I weigh five more pounds than I did in high school."
Rauschkolb has had far more bad dreams about surfing than nightmarish incidents on the water.
"I have dreams about almost getting out there and the surf turns into a staircase," he said. "Or I've lost my board or I can't find my wax. I think I got to surf in my dreams only once.
But the reality is as good as any fantasy. Even better.
"You can have all your stuff together and be perfectly ready, but the surf doesn't always perform. And there are those days when you don't have your wax and you don't have all your stuff and you only have a half an hour, but everything comes together and you get out there and the light's beautiful and the water's clear and the fish are jumping, and the dolphins are playing. Those are the days that you live for because, on the Gulf Coast, there aren't that many of those days."
All of that means that boys who have girlfriends who are surfers and girls who have boyfriends who are surfers and businesses that have surfers as employees have to deal with those days when people are going to go missing. Priorities, you know.
But For The Grace 
Rauschkolb and Stokes have both come through near-death experiences.
For Stokes, the most harrowing of them was on the island of Oahu in Hawaii.
"It was a freak set of four waves, maybe three times larger than the other waves that day, at a beach called Leftovers on the north shore of the island," Stokes explained. "I was pelted and pounded and held under by one wave and by the time I recovered, I was dealing with the next one. The waves would roll you around and hold you down forever. And I was dealing with a rocky bottom.
"I went back to the south side and haven't been back to the north shore since."
Rauschkolb felt fortunate to survive a scare in Puerto Rico.
"I was surfing a point where there was a small surf spot and there was a place where really big waves break," he said. "I decided to check out the big stuff, and that was a big mistake. I had a wave break right in front of me and I had to ditch my board and my leash broke and I was in 40 feet of water half a mile out to sea."
Rauschkolb was submerged by two 25-foot waves breaking over his head and grew exhausted.
"My adrenaline was spent and I was still a few feet below the surface," he said.
With his last bit of remaining energy, Rauschkolb reached toward the surface and hit the foot of an angel.
"I grabbed his leg and he pulled me up. He was a Brazilian guy named Joey and he got me stabilized. I swam in and got my board and got to shore."
Rauschkolb was "19 or 20," completing his first surf trip away from the U.S. mainland.
"There was an older guy on the beach and he had seen what happened and he told me I would never go out in big surf again unless I got right back out there. I told myself he was crazy, but I did make it my mission to go back to that surf spot one day."
The winter after Bud & Alley's opened, Rauschkolb did return, this time with a longer board.
"I paddled out without even getting my hair wet and I surfed for six hours on the biggest waves of my lifetime. It was one of the greatest things I have ever done for myself. It wasn't so much about conquering that surf spot as it was conquering my fear of that spot — and also to prove that the guy on the beach was wrong."
Rauschkolb believes that "as long as I can hold my breath and my arms will paddle, even if I can't stand up, I will still surf."
Stokes figures she's still a few surgeries away from retirement.
Phil McDonald is a surfer and the chef at the Black Bear Bread Co., Rauschkolb's bakery in Grayton Beach.
"He'll call me and say, 'Dave, the conditions looks great. Can we go?' I may pretend to think about it for a few seconds."
And then Rauschkolb will say, unfailingly, "Let's go have a board meeting."