Gulf Breeze Local Xaris Waltman Wows on "The Voice"
Teen amazes Adam Levine with Dylan tune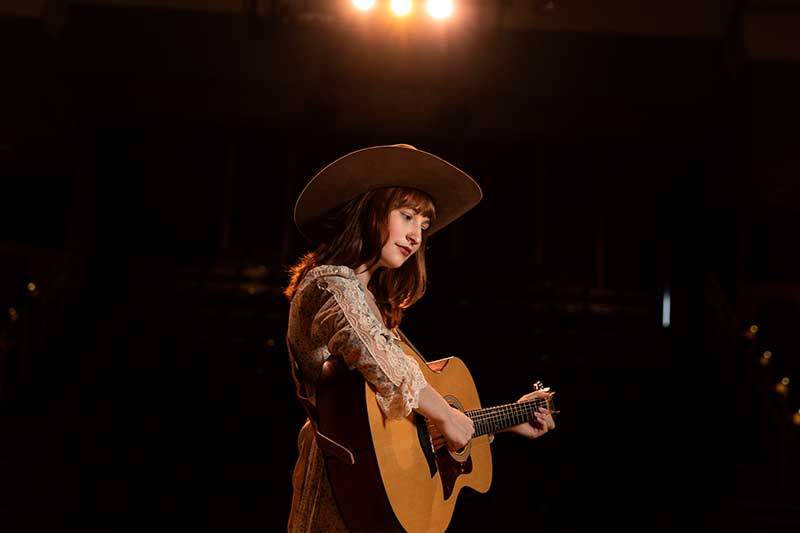 In Greek mythology, Charis was a goddess of charisma, beauty and song. Like her namesake, young Xaris Waltman has established that her divine purpose is to spread mirth through music, and she's not wasting any time.
Indeed, at 18, she already has entertained millions, if only for a few minutes, on NBC's "The Voice."
During middle school, she received a record player and a Peter, Paul and Mary vinyl for her birthday. Containing original compositions as well Bob Dylan and Gordon Lightfoot covers, it was, for Xaris, love at first listen.
"It was my first time really experiencing the American ballad," recalls Waltman, now 18.
"That album's roots branched out to all these other folk artists, so I kept on collecting. Now I have about 500 records, and they're kind of overtaking my room!"
The Gulf Breeze native also amasses instruments, her first being a guitar at the age of 8.
Though her father passed on a few chord fingerings, the songstress mainly took to YouTube, where she devoured virtual lessons and tutorials between homeschooling sessions.
She says her private studies allowed more time for musical discovery and self-taught virtuosity on the ukulele, piano, pennywhistle, harmonica and banjo.
Currently, she's flirting with the mandolin.
"I was very shy when I was little, and I still am," she admits. "But I realized being up on stage was the one place that never bothered me, and I liked that feeling. I started writing my own music in eighth grade, performing in little coffee shops, and I knew it was something I wanted to do as a career."
In 2017, Xaris graduated from local venues to Los Angeles, where millions of viewers saw her audition for season 13 of "The Voice." Landing that gig was an arduous process, beginning with a preliminary audition in Nashville, Tennessee.
"I went up there with my friends, not really expecting much," Waltman laughs. "I mean, we got there at 5 in the morning, and there were about 5,000 people wrapped around the building in line … there was no way this was going to happen!Waltman tried out for "The Voice" in Nashville; in Los Angeles, she perform
Hours later, Waltman auditions and is the only person in her room to advance to the next round. Three more tryouts and several flights to California later, and she's in front of Adam Levine, Miley Cyrus, Jennifer Hudson and Blake Shelton … kind of. Their backs are turned to her in the spirit of the show's "blind audition" format.
None of the judges elect to spin around during her rendition of Bob Dylan's "Don't Think Twice," but by the looks on their faces when they see her afterward, they wish they had.
"You're such an old soul!" Levine exclaimed. "You sound way beyond your years. I was imagining Dolly up there, but then we turn around and see this young kid, beautiful and shining. I think you've got a great voice — and clearly have incredible taste."
There was something else the Maroon 5 frontman advised that wasn't shown on TV. "He said I was ready to do this on my own … that I don't really fit into the image of Hollywood, which I agree with. I didn't really like that whole scene, anyway, and I'm going to take a more authentic route."
Right now, that means recording her debut, folk/Americana album, singing soulful singles like "Old Man," "Peace Road" and "Uncle Andrew, Where Have You Gone?" that resonate with New Grass Revival and her Joni Mitchell-style pipes. Yeah, she does the genre justice.
Though you can still catch her at local dives, Waltman is embarking on her first cross-country tour this year. As we speak, she's in Tennessee, making arrangements for the Ranger Bluegrass Festival she'll be playing this October.
"My biggest dream is to just keep traveling, meeting people and supporting myself through music. Music today isn't genuine. I want mine to tell a story: If the song's happy, be happy! If it's sad … let yourself feel sad. Just feel something."