Gulf and Storm Give Pace to Panama City Beach-Based Novel, the Lucky Two
The cats are out of the bag in this weird and quirky novel.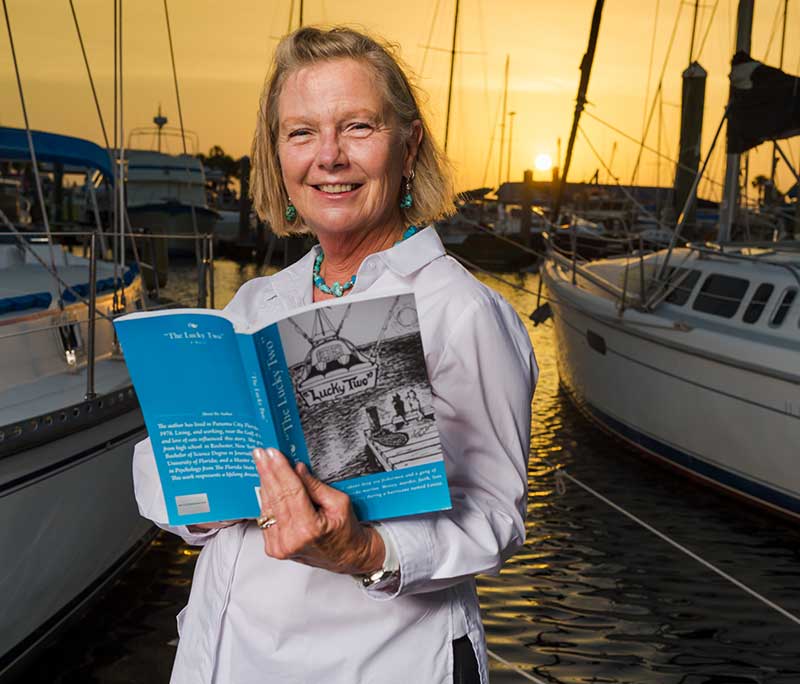 Yvette Doolittle Herr, while a cat person, freely admits that she is not much for fishing.
Her most top-of-mind fishing memory: She ventured out with friends aboard the Florida Queen, a headboat that sails from Capt. Anderson's Marina in Panama City Beach, and stabbed herself in a finger while trying to bait a hook with squid.
Nonetheless, charter boat captains serve as central characters in her first novel, The Lucky Two, which she worked at for 15 years before self-publishing the book in December.
"Boat captains and their mates — and restaurant workers — are some of the hardest-working people there are," Herr said.
Herr is in a position to know. For five summers before she became registrar at Florida State University's Panama City campus, a job she held for 30 years, she worked aboard the Lady Anderson, a dinner cruise vessel that enjoyed a 40-year run at Pam and Ken Anderson's marina before the boat was sold to a Massachusetts catering company in 2013.
Herr closely observed the activities at the marina and, in particular, those of its resident cats. Several felines have speaking parts in the novel and emerge as keen observers of the human condition.
"The cats at the marina need to be liked," Herr said. "They don't naturally like us, but if we reach out to them, maybe they will."
Maybe. But don't look for marina operator Pam Anderson to soften her outlook on them
"She hates cats," Herr said. "So, I was nervous when I gave her a copy of my book to read in March. When she told me she loved the story, I was relieved. But she said she still dislikes cats. Now Ken is reading it. We'll see what he thinks."
The novel's two most dominant characters are the Gulf of Mexico and a hurricane named Louise.
Temptress and tempest.
The Gulf leads an itinerant horn blower tired of bar scenes to quit his job as a saxophone player and take up charter boat fishing.
An entertainer, the sax man has a personality that suits itself well to drumming up business and entertaining guests aboard his boat, the Star Chaser.
Too, the shining North Florida sea attracts a young man who has grown tired of small-town living in the Georgia mountains.
With inherited money, he acquires a modest boat he names the Lucky Two, anticipating his girlfriend will join him at the beach. She does not.
Thirdly, a marine patrolman who spends his days compiling creel census reports is infected by the feeling when you're reeling.
He commandeers the Lucky Two after her captain gives him the keys to the boat and bails on Panama City Beach in advance of Louise, only to discover Category 5 trouble of another sort.
And the water cop, succumbing to another temptation, makes a play for the departed captain's girlfriend.   
In the midst of all this, the catch-as-cats-can cats that inhabit the marina make storm preparations and mistakes of their own.
A parallel with humans is apparent when a top cat named King leaves the land, leaping from the marina onto the Lucky Two, where he becomes locked in the cabin.
Herr mentioned George Orwell in speaking to her writing. The talking animal thing.
But she is given more to A.A. Milne or perhaps the creators of the short-lived animated series of the early 1960s, "Top Cat," in which alley cats pursue a series of get-rich-quick schemes.
For all who are familiar with Panama City Beach and environs and the Thomas Drive area in particular, Herr's work will call up vacation snapshots and memories that may include a scamp dinner at Capt. Anderson's Restaurant, the seemingly endless ribbons of traffic that develop whenever a storm appears hell-bent to make landfall in Bay County or innocuous details like the long-running radio commercial for Angelo's Steak Pit.
Throughout, we are reminded of the power of storms to serve people of all stripes as a unifying force.
"Actions have consequences," Herr said in talking about her book's themes. "When they are bad, it is usually possible to recover and move on, and love endures.
"We are all vulnerable to hurricanes, but with love as a foundation, we can rebuild."
At novel's end, several new couplings have occurred.
A ne'er-do-well meets his maker.
So, too, does the captain who turned over the keys to his boat.
A drifter rediscovers his faith.
The drifter's one-time girlfriend cozies up to the Gulf of Mexico.
The marine patrolman gets in touch with his feminine side.
Princess the cat falls for King the cat.
And the horn blower, in improbable fashion, comes by a new boat.
The horn blower, Herr said, is loosely based on a musician she knew when she worked on the dinner cruise boat. Otherwise, she said, she had no one in particular in mind when she wrote her novel.
We also discover in the horn blower sentiments that Herr shares. As a cat lover, he is alone among human marina habitués who tend to view them as vermin. And, Herr regards herself and her husband, Travis, as a lucky two. They have been together for 42 years.
Herr's first marriage proved to be a bad decision and lasted only three months. Her first husband was wealthy and had enough money, in fact, to afford the finest Scotch whiskey … for breakfast. Herr recovered and moved on. She and Travis have two sons; both, at this writing, work for restaurants.   
Herr, who holds a master's degree in psychology from Florida State, long ago earned a bachelor's degree in journalism at the University of Florida. It was in Gainesville that she met Travis, a chef whose first boss in the restaurant business was Yvette's first husband.
For two years, Herr worked for the Panama City News Herald, reporting to then-editor Frank Pericola. She was assigned to cover efforts to establish Apalachicola Bay as a national estuarine sanctuary. The work involved a lot of travel at night over two-lane Highway 98 in Franklin County.
"I wasn't comfortable with that, and I knew then that I wasn't cut out to be a reporter," Herr said.
"I'm a bit of a scaredy-cat. But it's good to have a little bit of fear and to be attuned to what surrounds you."
But Herr always harbored a desire to write fiction. Now, she is at work on a second novel, Miss Magdeleine's Halloween.
"It's weird and quirky," she promises.
Copies of The Lucky Two are available for purchase at the Dockside Gift Shop at Capt. Anderson's Marina, at Capt. Anderson's Restaurant, at the Carousel Market at the west end of Panama City Beach and at area booksellers.