Green With Envy
How You, Too, Can be King of the Grass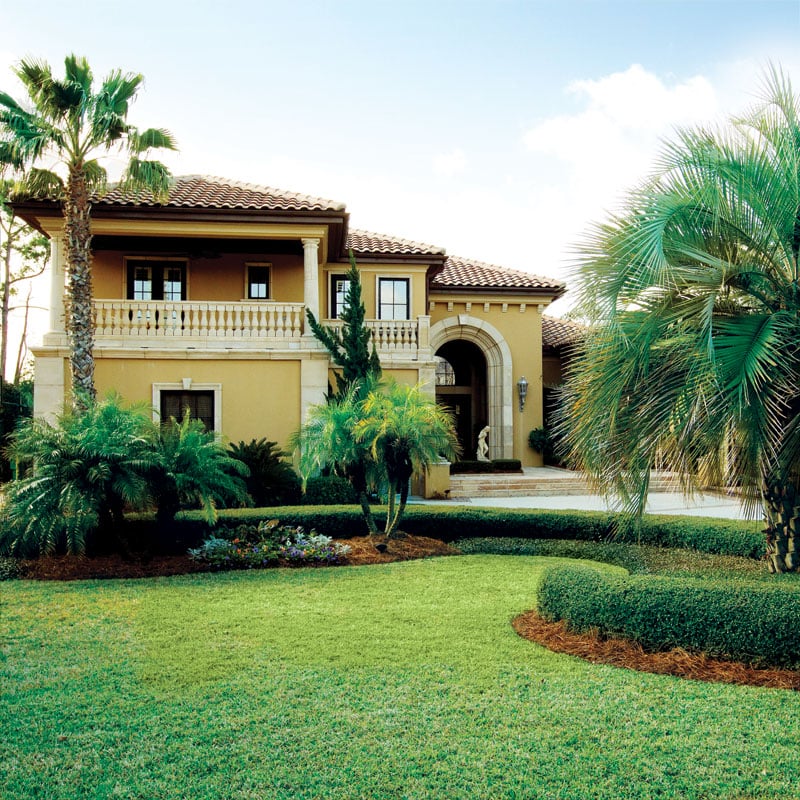 Are you yard-obsessed, jogging jealously past your neighbors' lush gardens?  Then you're not alone. Floridians love their yards, even more so than the rest of the country, according to the National Gardening Association, and that's saying a lot now that gardening has become America's No. 1 hobby.
"It's because of our nice weather, of course," says Denelle Polk, owner of Pizazz-Scape in Fort Walton Beach. "We love spending time outside, so our gardens are very important to us."
This is a good thing, right? Well, not always. Realtors complain that some homeowners — especially those who moved here from cold regions — are so enamored by their pleasant new climate that they overwhelm their yards. Polk agrees. "Balance in the landscaping is important," she says. "Some people put in so many shrubs, so many flowers, that the yard becomes cluttered and looks smaller. Also, the maintenance of such a garden could well scare off a buyer."
Planning Matters
"Get help planning a garden that you'll love and that makes sense," urges Polk. "Sometimes that means scrapping what you've got and starting anew. I actually love making over horrible yards, and it has become a specialty of mine."
Pam Johnson of Barefoot Lawncare, which operates out of Santa Rosa Beach, also loves helping homeowners plan their yards.
"People need to think intelligently about their gardens," she says. Johnson suggests homeowners ask themselves some key questions. How will they use it? Do they entertain out there?  Do they need a lawn for the kids to play on? What kind of plants do they like? How much maintenance are they willing to put up with?
Local lawn experts all agree there are many mistakes that can be made, but they seem to agree on one prickly point: Homeowners buy plants without knowing their growth habits. "They should pick plants that grow only to the size they want them. If they need a five-foot-high screening between their yard and the neighbor's, they shouldn't put in something that grows 10 feet high. It'll have to be chopped back all the time. It's a waste of water plus extra work," Johnson explains. "I like to take my clients to nurseries and explain the plants to them. And on the way, I might stop to look at a purple flower they'd admired in a neighbor's yard."
Polk and Johnson list other considerations, such as planting a shade tree in the right place, the view of the garden from the house, the right mixture of color and texture, and, of course, curb appeal. Beyond the greenery there are special features, from fencing to water features, to fit into the landscape plan.
"There are always new challenges in this business, which is what I love about it," says Polk. "When I'm not working — meaning planting and tending gardens — I read up on what's happening in the field, such as pest control, invasive plants and water-saving landscapes."
Brave New Lawn
The lawn is the most changed area in today's yard. For some years now, homeowners have been re-thinking that perfect lawn we know from putting greens and English manor houses. Tired of high water bills, mowing every week and a schedule of fertilizing and weed control applications, they're taking a good, hard look at new garden strategies.
Xeriscaping, a term based on the Greek word for 'dry,' is one of those strategies, according to Johnson and Polk. It emerged first in the West, where water resources are thin, and has been spreading to other regions among conservation-minded homeowners who want to grow beautiful gardens.
"Many xeric principles are simply common sense," explains Johnson. "For example, it includes using native plant materials rather than exotic imports. Mulching to minimize evaporation as well as keep weeds at bay is another xeric strategy. Anybody who has ever traveled to Southern France or Tuscany
has seen xeriscaping at work. There, heat-tolerant and water-efficient perennials, herbs and vines create lovely, fragrant landscapes."
But many gardeners are still attached to their green lawn. And when people move from one region to another, they often bring along deeply-rooted notions of what a garden should look like.
Though some gardeners exclusively associate green plants with good health, garden gurus say otherwise. "Xeriscape can be fabulous. Color and texture make them special. And there are many types of grasses, some of them drought-resistant, so you needn't forego a lawn, even if you decide to xeriscape," Polk advises.
Bermuda grass, which comes in many varieties, is ranked as one of the best in the world. It thrives in tropical and sub-tropical climates with heavy rainfall, but it can also endure long periods without precipitation. It flourishes in well-drained soil that receives plenty of sunlight. Zoysia is another grass that can withstand droughts, and it also boasts many varieties.
The Right Landscaper
There are a lot of landscaping services out there, but if you've decided you want someone who doesn't just arrive with a machine and spends 15 minutes charging around your lawn, you need to do some homework. Instead of just opening the phone book and signing a contract with the first company listed, you should interview a few companies. Remember, not every lawn care service offers the same services, certifications and professionalism.
Polk, who started her landscaping business 12 years ago after a career in property management, suggests that you get references from each company you're interviewing, and then go look at the gardens they're taking care of. She says you might also walk around your neighborhood, single out yards you admire and then get the name of the landscaping companies from those homeowners.
Johnson, whose firm has been voted one of "The Best of the Emerald Coast" by EC Magazine readers, jumps right into the fray and suggests you ask this question: "Do you have a pesticide license?"  She says the answer will tell you a lot more than whether the person you're interviewing is legally allowed to treat your lawn. It will also reveal if he has had some training beyond mowing his parents' backyard.
Also make sure the service has business, liability and workers' comp insurance, and ask whether they provide work beyond lawn care. Finally, ask to see the company's portfolio. Study the pictures for their overall effects, as well as clean edging and healthy plants.
Make sure the firm gives proper notice before spraying chemicals, as you'll want kids and pets out of the way.
What is included in each visit? Will the landscaper just mow and blow, or will he also prune, fertilize, etc.? Get it all in writing.
How much "green" to get the grass green?
A typical estimate for lawn service will include prices for weekly lawn cut, weeding beds, trimming hedges, a chemical program, etc. These items may be priced individually or lumped together as a monthly maintenance price. Usually, companies discount prices if you sign up for several services.
A weekly lawn cut for half an acre averages $30 to $50.
Expect to pay $25 to $50 per month for weeding beds.
Landscaping Myths
Taking care of a yard is mired in myths that can lead to common landscaping mistakes.
It isn't true that you should water your lawn in the evening to conserve water. Doing so is harmful. The water ends up sitting on top of the grass, allowing lawn fungus and disease to fester.
If I mow my grass shorter, I won't have to do it as often. Not so. You'll rob your lawn of its ability to produce sugar from photosynthesis, exposing  sensitive root systems to excessive sunlight and giving weeds a leg up.