Great Garden Getaways
History, Luxury and … Beautiful Nature Blooms in North Georgia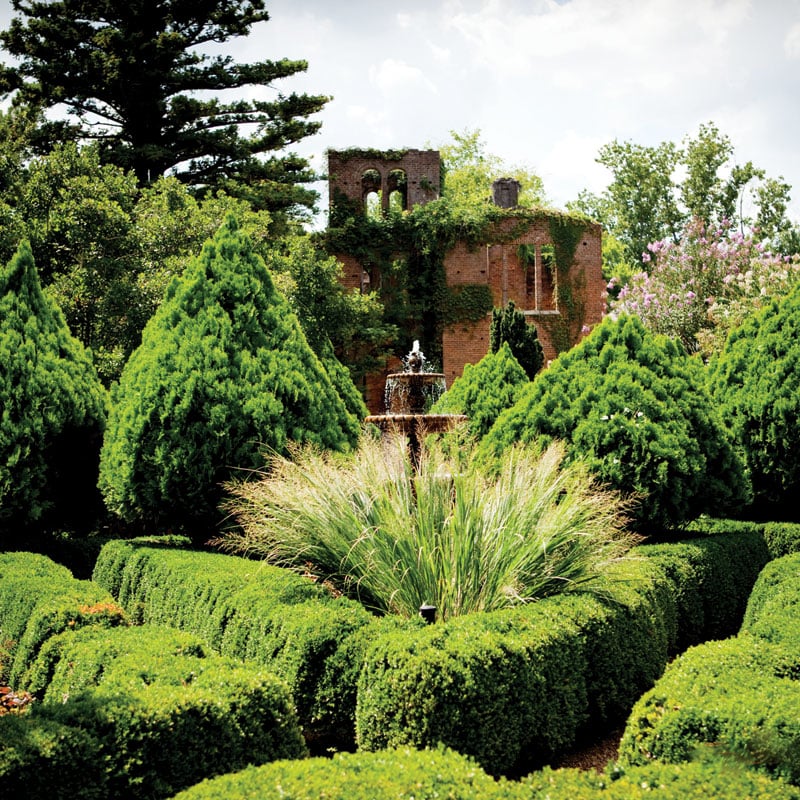 Photo Courtesy Barnsley Garden Resorts
The ruins of the Barnsley manor, an Italian villa designed by Andrew Jackson Downing, were restored in 1998 to become the centerpiece of the luxury garden resort.
There are certain things you expect at a luxury mountain resort — fresh air, well-appointed accommodations, beautiful views, a variety of outdoor activities, good food and an attentive staff, to name a few.
But when the resort's employees include folks with the titles of Fairy Godmother, Wine Snob and Resident Historian, you know you're in for an idyll that's ever-so-slightly out of the ordinary.
You'll find them all and more at Barnsley Gardens Resort, about an hour's drive north of Atlanta in the foothills of the Blue Ridge Mountains. Offering an off-the-beaten-path respite, the resort is charming and luxurious, combining a fascinating historical property with all the modern comforts.
The property's modern history began in the early 1840s, when Godfrey Barnsley, an expatriate Englishman and successful shipping magnate from Savannah, bought up land for an estate he would call Woodlands. He began work on an impressive Italian-style brick manor house to serve as a wilderness retreat for his wife, Julia, who was in ill health. She would die before the home was complete — and that's just the beginning of a Southern Gothic family tale that includes ghostly spirits, Union occupation, a tornado and fratricide.
Today, the manor house is a ruin, albeit a very picturesque one. The original boxwoods have been groomed to recreate the original knot-like pathways of the parterre garden and the vine-covered, roofless brick building and its grounds are the site of weddings, parties and romantic dinners pour deux. Next to the manor is the "kitchen" building, used as the family's living quarters after a tornado blew the roof off the big house in 1906. It now houses a collection of artifacts that tell the story of the Barnsley family throughout the years. But for the full story, you'll want to invest in "Barnsley Gardens at Woodlands, The Illustrious Dream," written by that Resident Historian, Clent Coker.
The property, once a showplace with spectacular gardens and luxurious furnishings, was never quite the same after the Civil War. (Although it did gain some renown for its manufacture of bootleg liquor.) After being ransacked by Union soldiers, family fortunes went into a decline, and it was sold off in the 1940s. It went to seed until 1988 when Bavarian Prince Hubertus Fugger bought the land and sought to bring back those glory days, first by opening it as a historic site, then turning it into a luxury resort. The prince sold out a few years ago, and his successor has continued improving the property.
The manor ruin now overlooks a "village" of lodgings that include private rooms, suites and cottages as well as restaurants, a town hall and meeting rooms. Although new, from the outside each building has the antique look of an English village.
Inside, each accommodation is individually decorated, giving guests the sense of being an honored recipient of Southern hospitality. It's a wonderful mix of the old (porch swings, wood-burning fireplaces, armoires and claw-foot tubs) along with all the modern amenities (WiFi, comfy beds, rain showers). And the resort is pet friendly.
One can stroll around on the resort's paved pathways or venture off and enjoy its fabulous gardens and trails. Godfrey Barnsley collected roses and, in a nod to his interests, the resort is now home to 150 varieties of antique roses, including a pink climbing variety that forms a fragrant and romantic arbor.
But roses aren't the only flora to be enjoyed. Barnsley planted a conifer garden that features beautiful specimens, and there were banks of iris and a wildflower meadow in bloom during a May visit, which is the peak of the flower season.
September/October is best for autumnal leaf peeping.
You might think that with all the flowers, bowers, water vistas and secluded nooks, Barnsley Gardens is a romantic place. You'd be right. Scores of proposals, weddings and anniversary celebrations happen here every year. And the person who helps make them happen is Denise Webb, Barnsley's very own Fairy Godmother.
If you've got a romantic wish, she'll help you make it come true. If you're without inspiration, don't worry, the Fairy Godmother can create all sorts of magic. Maybe she'll pack a picnic lunch and point you to a romantic corner of the property.
If you're planning to pop the question, the Fairy Godmother can prepare your pathway with flower petals, stash a pillow for when you get down on one knee and have the champagne on ice nearby for after she says, "Yes!"
One of Webb's favorite tasks is creating romantic adventures she calls "love spells." While a couple is elsewhere, she and her minions transform — with food, flowers, candles, decorations and more — their room into something that most definitely will put them in the mood for love.
The resort offers three dining choices: the super-casual outdoor Beer Garden, three meals a day in the clubby environs of The Woodlands Grill or a fine dining experience at the historical Rice House restaurant.
Barnsley Gardens also features plenty of other activities to enjoy. The resort is home to a full-service, European-style spa offering a complete menu of face and body treatments, including some that incorporate the fragrance of the garden's signature flower, the rose.
One of the resort's most popular attractions is The General, a par-72 golf course designed by Jim Fazio. It picturesquely blends with the mountains, and offers elevation changes that make it a challenge for golfers of all skill levels.
The 1,300-acre SpringBank Plantation is the resort's own historic hunting preserve, with half-day, full-day and overnight trips available. Deer and turkey hunting is available, and the preserve is internationally renowned for its quail and pheasant hunting during the October–March season. Or, improve your shooting skills at the Wings and Clay Shooting School.
Guided horseback rides are available as well as fishing and paddling at the resort's ponds and lake. The resort's open spaces can also be used for paintball, disc golf and a variety of lawn games.
Destination: Barnsley Gardens
Driving Time: 6 hours  /  Distance: 377 miles
597 Barnsley Gardens Road
Adairsville, GA 30103
(877) 773-2447
barnsleygardensresort.com
The Call of Lovely Callaway Gardens
Living on the Emerald Coast, you've probably had your share of weekend getaways to a nearby beach or theme park. But many Floridians have yet to take advantage of the beauty of Callaway Gardens. My family and I were looking for something within a day's drive that would leave time for relaxing and exploring nature. We headed north to Pine Mountain, Ga., to experience the beauty of Georgia's great outdoors.
Callaway Gardens, a sprawling piece of the beautiful Georgia countryside in the Appalachian Mountains, is home to the world's largest azalea display, one of North America's biggest butterfly conservatories and the vegetable garden where PBS' "The Victory Garden" is filmed. This Georgia retreat is the perfect place to celebrate spring.
Within the 13,000 acres of world-famous Callaway Gardens, you can bike along 10 miles of tree-canopied nature trails in the Discovery Bicycle Trail (bring your own bikes or rent them on-site), examine a thousand delicate beauties in the Cecil B. Day Butterfly Center, plant one of the 700 varieties of crops harvested in Mr. Cason's Vegetable Garden and relax among 3,400 hybrid azaleas in the 40-acre Callaway Brothers Azalea Bowl. As the weather warms, take advantage of Robin Lake with a paddleboat ride or swim throughout the lake's 65 acres. Learn about owls, bald eagles, falcons and hawks in the hands-on Birds of Prey show, and explore five acres of exotic and indigenous plants in the John A. Sibley Horticulture Center.
Also inside Callaway Gardens is the Virginia Hand Callaway Discovery Center. Usually the first stop for guests, the center features an overview of all there is to see and do in Callaway Gardens and houses an education wing, museum and exhibit hall and gift shop.
A short walk away is the Tree-Top Adventure, a ropes course that offers a chance to take your love of nature to new heights with a course of zip-lines and other aerial challenges. A little farther is the Ida Cason Callaway Memorial Chapel. Reminiscent of a 16th Century Gothic chapel, it is constructed of fieldstone quartz and features stained glass windows depicting the various seasons of a Southern forest, as well as a custom-built pipe organ. If you get lucky, the organist may be there and play some tranquil tunes as you meditate or pray in the rustic chapel.
We stayed at the beautiful Lodge and Spa at Callaway Gardens, part of the Autograph Collection by Marriott. With its soft brown and green hues, The Lodge and Spa is the only 4-diamond, upscale accommodation in Callaway Gardens. It offers its guests a unique experience, while providing them with Marriott reward perks.
The Lodge and Spa's 150 guest rooms and suites feature four-fixture bathrooms with all-natural spa products, a mini fridge, a work station, complimentary wireless Internet and a balcony overlooking gorgeous landscapes. The environmentally friendly resort displays signage informing guests that the sheets will be laundered every three days unless you request otherwise. We hung our towels daily to avoid having the staff launder them. The shampoo, conditioner and body wash are in pumps installed in the shower stall, eliminating the need for tiny bottles, saving 120,000 bottles per year.
Nestled between hundreds of pine trees, the Lodge was designed to keep in harmony with nature, blending the exquisite beauty of nature with some good ole Southern hospitality. The lobby, with a cozy fireplace and craftsmen-style exposed beams, fieldstone accents and hardwood floors, offers an elegant interpretation of a traditional mountain lodge in the Appalachian foothills. And the heated pool maintains a warm temperature all year long. The stellar staff is friendly and accommodating; we never even had to open a door.
The Lodge and Spa's Piedmont Grille is designed with earth tones and massive windows to create a dine-with-nature experience. The menu changes seasonally, offering a seafood buffet one night and farm-to-fork meals another. The breakfast buffet features made-to-order omelets, buttermilk pancakes, Bananas Foster French toast and just about anything else you want for breakfast.
I took a couple of hours off from family time by visiting The Lodge's Spa Prunifolia. I was in heaven after my Swedish massage, the spa's 80-minute signature massage that combines therapeutic Swedish massage with the benefits of natural herbs. It also offers its guests complimentary access to the oversized fitness center, but with all the hiking we'd been doing, I figured I'd gotten in a good workout already.
If you're a golfer, check out Twin Oaks Golf Practice Facility, one of the nation's top-rated courses by Golf Digest, with meticulously maintained courses and more than 26 acres of play space.
Off-site, the Country Kitchen at Callaway Gardens, a restaurant overlooking a spectacular view of mountains miles away, is a great place to enjoy some good country cooking, including freshly-baked cornbread and biscuits. Top off a buttery biscuit with the restaurant's homemade muscadine jelly, and sip on sweet iced tea served in mason jars. At the country store within the restaurant, we picked up a few jelly jars to bring home as gifts.
Though spring is ideal for a visit to Callaway Gardens, you'll want to come back at Christmas time to see the Fantasy in Lights. Voted one of the "Top 10 Places to see Holiday Lights" by National Geographic, this light display is a cheerful collection of dazzling lights and holiday music to tell the enchanted stories of  "The 12 Days of Christmas" and "Swan Lake," among others.
Be sure to stop by Roosevelt's Little White House State Historical Site, where the president enjoyed many a summer at his quaint home with modest furnishings, and eventually died of a stroke while having his portrait painted in his den. One mile away is the Roosevelt Warm Springs self-guided tour and Historic Pools Museum, where Roosevelt and others stricken with polio would rehabilitate in the natural 88-degree waters that originate 3,800 feet below the earth's surface and were thought to cure a number of illnesses.
There are plenty of quaint shops and boutiques in nearby Warm Springs Village, offering shoppers everything from antiques, crafts, collectibles and homemade jarred foods. You'll want to pick up some of that Southern fare to keep as mementos of your trip.
Destination: callaway Gardens  /  Driving Time: Under 4 hours  /  Distance: 243 miles
For More Information: The Lodge and Spa at Callaway Gardens (888) 312-8002, CallawayMagazine.com  /  Pine Mountain Tourism and Visitors Information Center (800) 441-3502, pinemtntourism@mindspring.com