Good Weight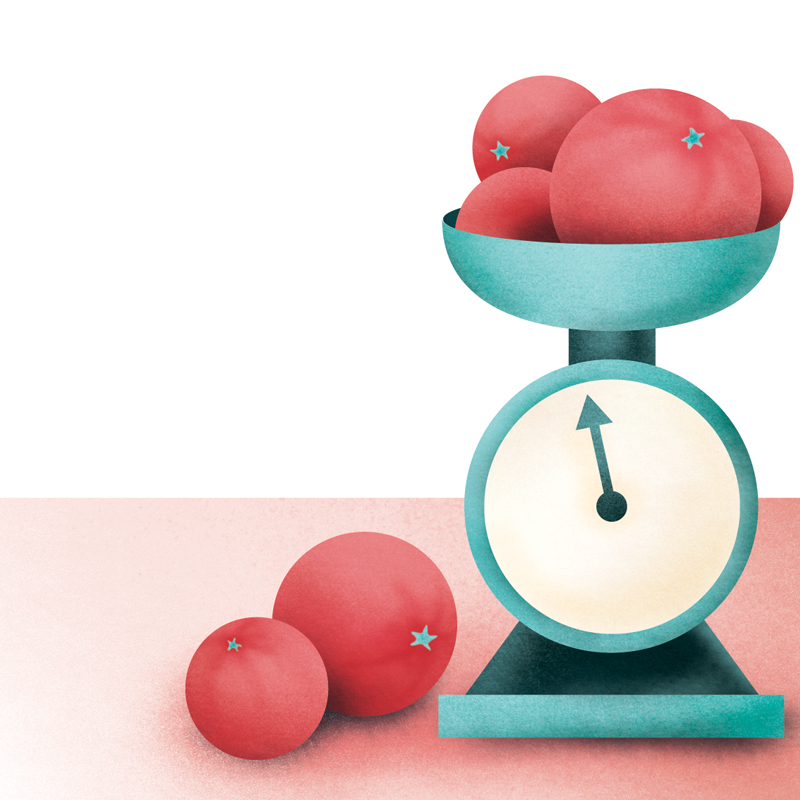 ---
Hundreds came to the produce vendors along U.S. Highway 98 during the vegetable and fruit harvest season. There, in the open air under a pleasant Destin fall sun, they chose their string beans one at a time.
Mom was no exception. I enjoyed carrying her purchases while she went through her shopping ritual.
For Mom, the height of the harvest season in Florida was the first Saturday in October, and we never missed that special day. The crowds around produce stands were always larger than normal because merchants celebrated the plethora of produce by lowering their prices.
Along 98 throughout Okaloosa and Walton counties, farm goods were sold off trucks, racks, tables and pickups that arrived in the dark of the morning. All produce was on display and ready for the first customers by 6:30.
Mom was born and reared in Holly Springs, Mississippi, and her entire early life was spent growing and selling produce from her family's farm. She knew more about produce than any other person I ever met.
Mom always walked around and examined the displays first before making her purchases. She had patience — the patience of Biblical Job. If she had any problems on her mind on our way to the market, they faded away as soon as she mingled around produce stands.
Her face was a mobile display of happiness. She loved the decision-making process that produce gave her.
People were constantly walking around the displays. It was common to see a truck bed of goods with a crowd eight or 10 deep admiring the peppers, sorting the corn and gratefully filling the merchant's money apron with fresh green city lettuce.
Mom and I moved around the cornucopia arena looking at the plums, red onions, yellow crookneck squash, cantaloupes and cucumbers.
"These are burpless cucumbers, lady," a merchant said.
Mom nodded.
We walked along.
"How much are the potatoes?" someone asked.
"Five pounds for 60 cents."
"Peaches?"
"Three pounds for 90."
"Are they freestones?"
The merchant smiled with a nod. "No charge for the pits."
"How much are the tomatoes?"
"Three pounds for 75 cents. The price is right there on
the sign."
Mom finally stopped, took a bag from the stack near the scales, shook it open, handed it to me and reached toward the peaches.
A woman's voice came from the other side of the scales.
"Venver the eggs laid?"
"Yesterday."
"Koh you eat dum raw?"
Mom and I looked across the peaches and craned our necks around the scales to see who would eat raw eggs.
She was a big-framed woman, although short, with silver hair and quick eyes.
"You sure can eat them raw if you want to, ma'am," the merchant said.
I squinted my eyes and wrinkled my nose at the thought. Mom looked at me, hunched her shoulders, looked back at the peaches and started examining them.
I was mesmerized by the selling; the coins and bills, the all-day touching of hands.
"How much these weigh?" a man asked. "I need 3 pounds."
"That's maybe 2¼ pounds you've got there."
"Weigh them, please," the man asked.
"There it is. Two and a quarter pounds."
"Take the quarter out," the man said. "I'll just take 2 pounds, then."
The merchant finishes the transaction and turns to another customer.
"Those melons are on special, ma'am. Three for a dollar."
A bill changed hands.
The merchant counted out four ones, then a five, "and ten makes twenty."
"I gave you a ten-dollar bill, not a twenty," the customer said.
The merchant bowed slightly and looked with gentle sensitivity at the white-haired lady.
"Thanks very much. You're very nice," he said.
"What do you mean I'm very nice? I gave you a ten-dollar bill. Why does that make me nice?"
"I just meant to say that I'm glad you corrected me. I would have been short," he said. "I guarantee the melons."
The elderly lady took her sack and looked compassionately at the merchant.
"We all work hard for our money. There's no need to cheat anyone. Is there?"
She walked away.
By late morning, years of tradition were followed when the merchants took their breaks to stretch their legs. They walked around and sampled each other's produce.
Mom truly liked people, especially those at roadside produce displays where a lot of hands touch, and you went away knowing you got good weight.