Going Wild Is Only Natural
Rescue organizations work around the clock to nurture Northwest Florida's nature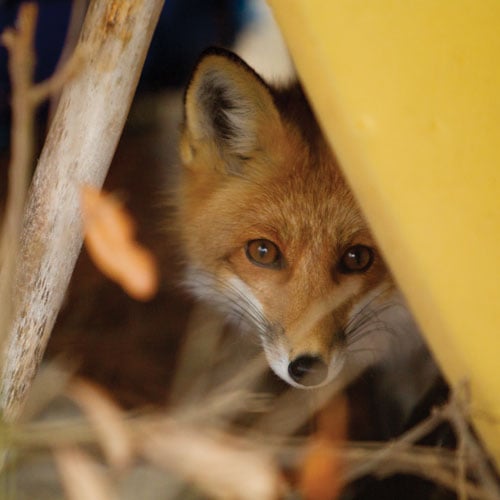 Northwest Florida is the sixth most bio-diverse area in the United States. And because nearly 40 percent of the Emerald Coast is natural green space, preserved state parks and wetlands, wildlife is abundant.
Finding teeming sea life, including loggerhead sea turtles and bottlenose dolphin, in the warm waters of the expansive Gulf of Mexico goes without saying. But also calling Northwest Florida home are the land-loving bobcat, black bear and gray fox as well as high-flying American eagles and red-tailed hawks. This area of Florida wouldn't be known as paradise without them.
In this issue, we are spotlighting three of the region's non-profit organizations whose dedicated staff and tireless volunteers answer to the call of the wild and come to the rescue of our injured animal friends 24-hours a day, seven days a week. Their mission is to promote peaceful coexistence. Their instinct to care for animals comes, well … naturally.
Emerald Coast Wildlife Rescue
The only organization in Northwest Florida that rescues, rehabilitates and then releases indigenous animals, including dolphin and sea turtles, is the Emerald Coast Wildlife Rescue (ECWR), which was founded by Destin resident George Gray in 1994.
Over the last 18 years, the rescue has grown exponentially. While under the leadership of Director Amanda Wilkerson the past 12 years, ECWR relocated into a larger facility and became more accessible to the public while enhancing the quality of care. In 2012, ECWR hopes to move yet again to an even larger space to better care for the 3,000 animals it rescues each year.
Vuk, a red fox, was found orphaned and raised by untrained individuals and was severely imprinted. They turned him over to Emerald Coast Wildlife Rescue after he became too large to live in their home. He is not releasable back into the wild, so now serves as one of the ECWR's Animal Ambassadors. Photo by Scott Holstein
"You name it and I do it," says Wilkerson. But the operations, education, marketing and public relations will have to wait. Today, her priority clients are a hawk, opossum, tortoise and duck. Not to mention a declawed bobcat named Sampson, who has free reign of the offices.
The sad thing is, most animals end up here as a direct result of human negligence. "Seventy percent of all animals admitted to us (because of) directhuman impact due to a car, fishing line, human contact," Wilkerson explains. "That is the value of rehabilitation. It's so important for us as humans to be able to put back some of the animals taken out of the environment due to our own negligence."
Because not all of us are smart as the red and gray foxes the rescue cares for, its mission includes an extensive education outreach program. Headed by Susan Leville, a certified teacher, a variety of classroom programs are offered to Okaloosa and Walton county students as well as businesses and community groups. Often an owl, raptor or fox give a whole new meaning to "teacher's pet," acting as animal ambassadors to provide hands-on learning experiences.
Perhaps the life lessons being taught are taking hold. Though the BP Oil Spill in 2010 injured scores of local seabirds and sea life, Wilkerson is surprisingly upbeat about the uptick in animal rescues. "I think it's due to either folks being more of aware of us due to the exposure we got as an official first responder during the spill, or because people are more aware of the animals and are taking more notice of them," she says. "I always want to look for a bright side when we're getting more animals in. It's never a good day to be busy here."
Because the ECWR deals with wildlife, Wilkerson, a zoologist, said people think it contracts with the city, county or state government to perform these services. It doesn't. Instead, as a nonprofit, it depends on grants, donations and fundraisers to operate.
Over the years, Wilkerson has streamlined and improved the overall operation. "When I first started, we did the best we could," she says. "Today, we are a full-scale wildlife hospital and every one of our patients is top tier. Whether it needs x-rays, surgery or medicine, it gets the very best care. That is one of the things I'm so proud of."
Another point of pride for Wilkerson is making one particular school on the Emerald Coast a "real zoo." Wilkerson and Leville have teamed to launch the Emerald Coast Wildlife Refuge Academy of Zoological Sciences, an Okaloosa County charter school for sixth and seventh grade slated to open in the fall of 2012.
"As far as we know, this school is first of its kind in Florida and perhaps the East Coast to incorporate core ciriculum with a zoological focus, wildlife rehabilitation program and wild animals," she says. The school will take 25 students in each grade level and expand one grade each year until it offers classes through 12th grade.
Wilkerson, who majored in both political and animal science, is in her element at ECWR. "I love the Wildlife Refuge. It is who I am. I'm so thankful every day when I'm able to release an animal. Whether it is a simple gray squirrel or a cool Masked Booby, there is nothing like that feeling of being able to give back … and let them live their natural life," she says. Well, maybe all but Sampson.
The Wildlife Sanctuary of Northwest Florida
There are exceptions to rules, which is great news for a girl named Pilgrim. After some bad luck, severe injuries landed the American bald eagle in the hospital at the Wildlife Sanctuary of Northwest Florida. As federal and state permits dictate, she had six months to either be released back into the wild, put down or transferred to another facility. But thanks to a permit extension, she flew the coop after 11 months. And, unlike most visits with relatives, her surrogate family at Wildlife Sanctuary was happy to see her go.
"She was tired of us. She never ever got docile. She was fighting us tooth and nail. And it was so nice to let her go and be wild again," recalls Dorothy Kaufman, director of the Wildlife Sanctuary.
That was 2004 and Pilgrim's flight to freedom was just another good day at the office for Kaufman, who has worked at the Wildlife Sanctuary for 17 years. Before and since, Kaufman along with a handful of staff and nearly 50 volunteers have worked around the clock to care for injured or orphaned indigenous wildlife. As in Pilgrim's case, release is the ultimate success story. In fact, the Wildlife Sanctuary is only one of nine Florida facilities permitted to do eagle rehabilitation.
But when a full recovery isn't possible, the Wildlife Sanctuary, which celebrates its 30th anniversary in 2012, becomes a happy home for animals that cannot be released. Currently there are more than 100 deer and fox, as well as a variety of birds, including eagles, owls and hawks, with nests and dens in this Pensacola wildlife haven. And the cool thing is, from noon until 3:30 p.m. Wednesdays through Saturdays, humans are welcome to visit! If you have at least 15 animal lovers grouped together you can enjoy a guided tour for just $3 each.
Apollo is an American bald eagles who hold court at the Wildlife Sanctuary of Northwest Florida in Pensacola, Photo by Scott Holstein
Housing 100 wild animals may seem like a lot, but for an organization that rescues upwards of 4,000 animals a year, it's quite low. This is due to the fact that the Sanctuary's release rate is high. Of all taken into the Sanctuary, 68 percent are released back into the wild. The meticulous care and long hours required is just a walk in the (preserved) park for Kaufman, who can't imagine doing anything else. "It's really fun. A doorbell rings and you don't know if it's a pelagic bird from the Galapagos, a baby armadillo or little creature the size of a quarter," Kaufman says. "You just have to be prepared. We're expecting a bobcat tomorrow, so we have to get our ducks in a row, so to speak."
At the Wildlife Sanctuary all creatures count when it comes to care. "If someone takes the time to bring in a frog that got hit with a weed eater. Why in the world would you tell them you're too busy to do it? The fact is it's showing nurturing and caring of animals," Kaufman says, pausing only to add, "I mean, how hard is it to put Neosporin on the back of a frog?"
Kaufman is the first to say weed eaters have their place — in the garage. Along with all of the other temptations humans unknowingly lure Florida fauna with. Unless you want to become the next Matt Damon–Scarlett Johansson zoo duo, Kaufman suggests you roll up the welcome mat with some backyard basics.
"Their main goal is food, shelter and water. If you've taken a tree down, you've taken their shelter; if you're leaving dog food, then all the animals are habituated to know it's there. The same with a catfish pond; you just put a big bowl in front of them," she says. "(It's) like putting a big container of chocolate on my desk. If you don't want me to eat it, don't put it there," she advises.
Though it's easy to develop attachments and play favorites with the endearing animals, Kaufman cautions, less is more. In fact, if a bond is formed it can be life threatening to a wild animal. Though nearly 20 years on the job, Kaufman admits there is still a lot to learn. "When you get to release a red-tailed hawk or a yellow-billed cuckoo that you've been really working hard with and weren't sure they were going to make it, it's definitely the payment for all of the hard work."
In addition to animal care for numerous species and breeds, she has learned that giving care also means letting go. To do that, she has formed an informal network with other rehabilitation facilities throughout the state. "You always want similar species together, so they can bond with each other and not with you. If I get a single bobcat baby, I need to give it up to another facility that has one. You work out a system. I'll take the otters this year, and they'll take them the next. Otherwise it's being very selfish," she explains.
For Kaufman, getting a little wild is only natural. "No matter what kind of a day I've had, it's still a good day. Working with animals and making a difference … it's a privilege and it's really fun. It's the best thing I've ever done. Life is too short to do something you don't get enjoyment from," she counsels.
Florida's Gulfarium
Things are going swimmingly at Florida's Gulfarium in Fort Walton Beach. New leadership, a renovated facility and a refreshed brand image are just the beginning of the changes in store for one of the oldest marine parks in the world. Nearly the only thing that is not being flipped around is the attraction's core mission: marine life conservation.
Patrick Berry, the new general manager, is quick to credit Gulfarium founder Brandy Siebenaler for the park's altruistic environmental vision. Siebenaler, an unassuming marine research scientist educated at the University of North Carolina, was a pioneer in his field, discovering new life forms in the Gulf of Mexico and remaining on the cutting-edge of marine mammal science. After conducting several research studies off of the Okaloosa Island Pier in the early 1950s, he conceptualized a dream project that opened in 1955: Florida's Gulfarium. "Conservation has always been and will always be a part of our mission," Berry says.
Sea turtles, in particular, are a focus of their conservation efforts. Though there are no formal records of how many green, Kemp's ridley or loggerhead sea turtles have been rescued over the past 57 years, the Gulfarium's staff took in 18 and released 15 back into the Gulf in 2011 alone.
Three of the rescued turtles that move a little slower these days now call one of the Gulfarium's observation tanks home. Floater, one of the staff's favorites, was injured when a boat hit him and put a hole in his shell. When his shell healed, air was trapped underneath it, restricting his ability to sink and survive in the wild.
Floater's sinking story is all too common. Though some rescues are a direct result of annual cold spells that stun the turtles and get them off track, most sustain their injuries from boats and entanglements in line, rope and fishing hooks. "It's too often human impact. We urge everyone to recycle and make sure trash gets to where it belongs and do our part for the environment," Berry says.
If Berry's strategic planning efforts are realized, that's just one message visitors will learn even more in 2012. The marine attraction veteran plans to bring "best practice" efforts from his successful experiences at world-class marine attractions in Orlando to enhance the Gulfarium's guest experience. First up on his short list is to add more interactive programs that give guests a hands-on experience.
"We want to offer a dolphin interaction program that gets you into the water with dolphin, snorkeling with rays; and experiences with penguin, harbor seals and sea lions," he says. "If we do our job right, our guests walk away with an empathy for the animals and are inspired to help conserve them."
Rescue 101
• Place the animal in a secure cardboard box with small holes placed in the side or lid. Line it with paper towels or a soft cloth The box should be just big enough for the animal to stand and turn around to prevent the animal from thrashing around and hurting itself.
• Keep the box in a warm, quiet, dark place, away from family pets and children.
• If the animal is injured or cold, put a heating pad on low setting and place under half of the box.
• Try to get an animal help as soon as possible. Some birds need to eat every half hour. If you cannot get an animal help within two hours, call your local rescue organization or your vet, who will contact the proper organization for you.
• Don't handle the animal. The more you look at or handle it, the more you stress the animal and reduce its chance of survival.
• Don't give any animal anything to eat or drink, especially cow's milk. Baby birds can't digest milk or milk products. Many baby mammals are lactose intolerant and may develop fatal diarrhea.
• Don't handle raccoons, skunks, fox or bats without protection. If you get bitten or scratched (possibly exposed to rabies), you may need to get rabies shots. In addition, the animal will be euthanized in order to be tested for rabies.
Source: Emerald Coast
Wildlife Rescue
How Can You Help?
Do not litter/Recycle instead
Make a donation
Participate in a fundraiser
Provide food or supplies
Become a member
Volunteer your time
Attend an education program
Adopt an animal ambassador
Emerald Coast Wildlife Rescue
100 Santa Rosa Beach Blvd., Fort Walton Beach
Call ECWR at (850) 650-1880 to rescue a wild animal.
Wildlife Sanctuary of Northwest Florida
105 North "S" St., Pensacola
Before you drop off an animal, call the Sanctuary
at (850) 433-9453.
The Wildlife Sanctuary is open for viewing noon–3:30 p.m., Wed–Sat.
Florida's Gulfarium
1010 Miracle Strip Pkwy.,
Fort Walton Beach
Call the park at (850)
243-9046 if you find a marine animal in need
of rescue.
Other organizations you should know:
Florida Fish and Wildlife Conservation Commission, myfwc.com
South Walton Turtle Watch, southwaltonturtlewatch.org
Coastal Conservation Association, joincaa.org
The Nature Conservancy, nature.org
Venture out of doors to explore and observe the Emerald Coast's beautiful bounty. Each of these locations offers either a unique vantage point or hands-on experience unlike any other.

Seacrest Wolf Preserve
3449 Bonnet Pond Rd, Chipley
(850) 773-2897
A rare opportunity to "run with
the wolves."

Gulf Islands National Seashore
Okaloosa Island/Pensacola/Perdido Key
This stunning expanse of preserved national beachfront spans 160 miles from Cat Island, Mississippi, to Okaloosa Island in Fort Walton Beach. Come here to swim, hike, bike, fish, bird watch, boat or camp. In the Florida district, informative visitor centers are located at Naval Live Oaks, Fort Pickens and Fort Barrancas. Trails are located at Naval Live Oaks, including the historic two-mile Andrew Jackson trail.

Adventures Unlimited
Canopy Zipline
8974 Tomahawk Landing Rd., Milton
(850) 623-6197

Get a fresh perspective while soaring above sugar white sandbars, flowing streams and verdant forests on a mile-long ecological zipline adventure tour.
E.O. Wilson Biophilia Center
4956 Highway 20, Freeport
(850) 835-1824

Visit the center nestled in the Longleaf Pine ecosystem — the sixth most bio-diverse area in the continental U.S. — and walk trails, see displays and videos and hear presentations from knowledgeable docents and staff on the center's many conservation projects.
Emerald Coast Utilities Authority Bayou Marcus Nature Boardwalk
3050 Fayal Drive, Perdido Key
(850) 458-1658

The award-winning nature boardwalk is a section of the Great Florida Birding and Wildlife Nature Trail, a 2,000-mile self-guided highway track connecting nearly 500 birding sites throughout the state. The boardwalk perches above the Bayou Marcus Wetlands, where visitors can observe as many as 17 known species that are endangered, threatened or of special concern.