Going Gray Is a Cool Hair Trend and a Gorgeous Right of Passage
From the Subtly Salt-and-Peppered to the Sensationally Silver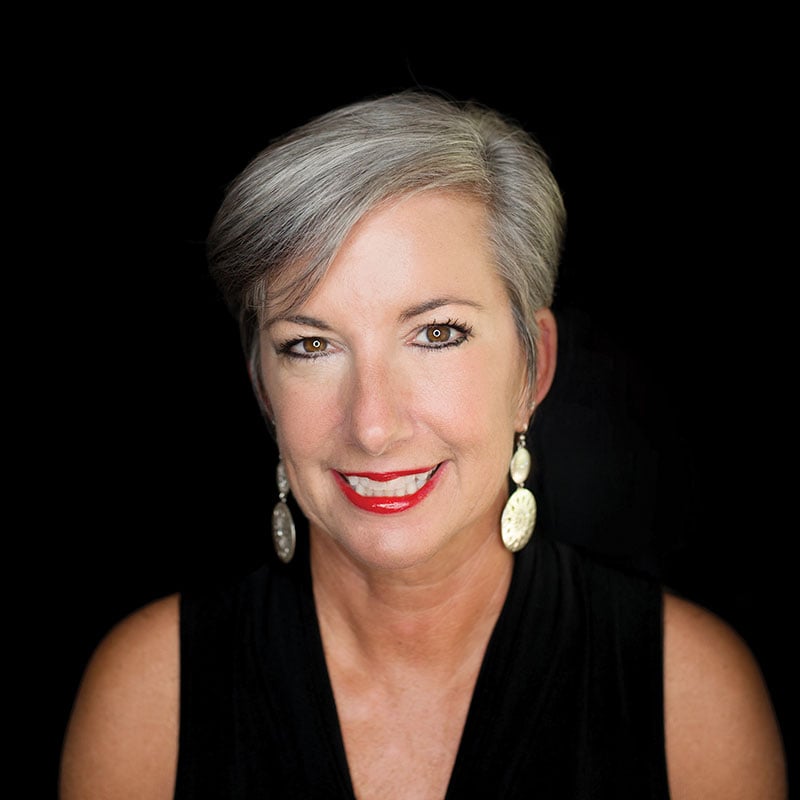 Elaine Tucker, Fort Walton Beach
All ages are doing it. From the A-list celebrity set to trendy teens, going gray is no longer, well, a gray area. 
Perspective is everything when it comes to regular hair coloring. A few hours at a fancy beauty parlor every six weeks can be a relaxing escape or dreaded chore all depending on one's mood. For many across the Emerald Coast though, it's about more than just a frame of mind. Spending money can be a hard thing to justify. 
Spending time? Well that can be even more difficult. 
If you're jonesing to go au naturel and to let your gray (nay, silver!) locks shine through, this laid-back look might just be for you. There are a few things to consider, though, before taking the gray. 
For example, could you deal with a two-toned mop if choosing to be a cold-turkey kind of gal? Or are you more of the fake-it-till-you-make-it variety? If so, stylists recommend consistently lightening your strands, utilizing the frosting method of hair coloring, for up to a year until the till the new growth fills in seamlessly. Of course, there is one other option. 
Mhmm. Snip snip. 
"Unfortunately because my natural hair is so extremely dark I decided that the best way to do (go gray) was just to cut it all off extremely short," said Elaine Tucker, a creative marketing and event planning professional from Fort Walton Beach. "So three years ago now, after my daughter got married in March, I went to my hair dresser and said 'cut it off.'"
For those willing to make the commitment, the pros can definitely outweigh the cons. Just ask Kay Phelan of Destin, who has made a local name as the "PRtographer" and is a seasoned public relations pro.
"I was a brunette with blue eyes all my life," explained Phelan. "I always swore I would never, ever let my hair go gray, that I was going to be a brunette until the bitter end." 
Along the way, Phelan's perspective changed. In 2006 she became the primary caretaker for her son who was diagnosed with terminal cancer at the age of 35. Naturally, her devotion to Brad's medical needs and numerous doctors' appointments prompted her to take a hiatus from regular visits to the salon.
"I decided at that point to just kind of let my hair grow out," recalled Phelan. "I had no idea if it was entirely gray or partially gray. I had been coloring it since my 40s, so I just kind of let it grow out — which is not an easy thing to do if you're a woman and you're out in the business world and in the community. 
"Sure enough, it was pretty gray," she laughed. Today, Phelan loves her salt-and-pepper tresses. And if the array of compliments she gets is any indication, so does everyone else. 
Situated in Pensacola, Jill White is another member of the Silver Sisterhood. 
A petite woman, White said that in her former career as the senior vice president of Northwest Florida State College (today she settles on simply being a talented and award-winning jewelry maker) she always felt that the soft brown hair of her youth didn't portray the right amount of calculated chutzpah she knew she possessed. 
With silver hair, it's a different story. "I'm a little more present now," smiled White. "I have a little more gravitas."
It's a benefit she doesn't take lightly. And one, she believes, other women of like-mind are starting to appreciate as well. 
"I think that there are more women, famous and not, who are deciding to let their age show," stated White. "It's a matter of age, wisdom and a different form of beauty."