Giddy-up to Fall in Western Wear
You could call it cowboy couture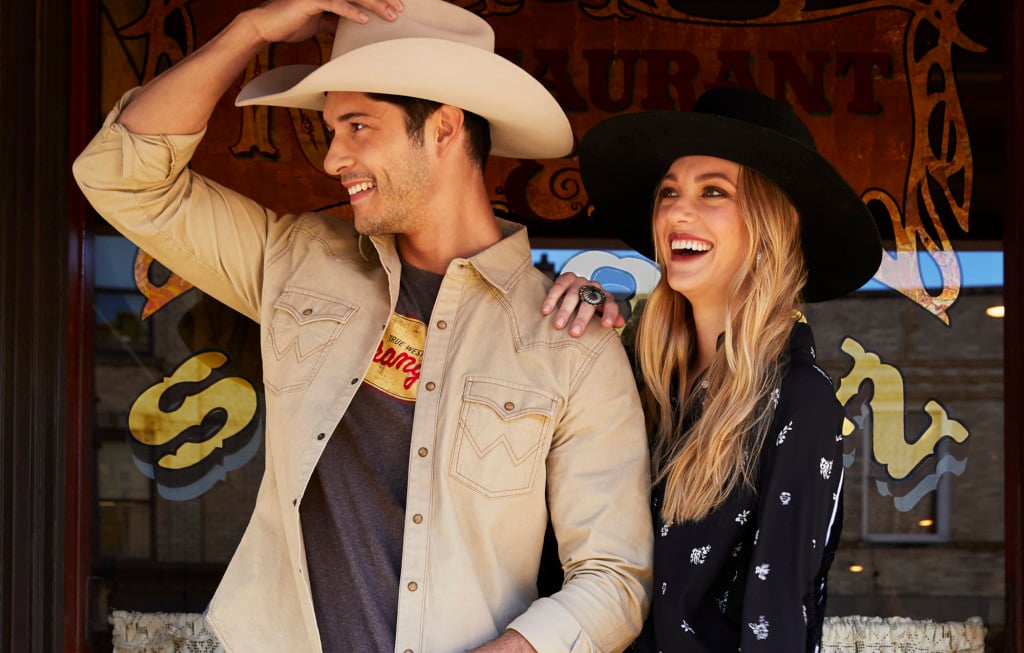 Janis Burke's got country in her genes.
In line to be a third-generation business owner of That Boot Store, her family's Western apparel shop in Panama City, Burke sold her first pair of boots at the age of five.
"My grandfather started this store
55 years ago as an all-purpose store," says Burke. "But when my father took over in 1992, we transitioned to focus on more of a work boot/Western style."
But don't let the name fool you; That Boot Store is also a retailer of country garb for men and women, hats and various Western accessories, a classic style that can stand alone or be mixed and matched with contemporary trends.
And though "fashion" cowboy boots make a comeback each fall, Burke says there's nothing like the real deal.
"Cowboy boots that have been adapted for the runway — specifically for women — are slimmer, with a tapered top," says Burke "But real cowboy boots are made to have wider tops, and they're more customized. Women often come in to looking for everything from fancy embroidery and colors that match a specific outfit, to the neutral shoe they can wear every day."
Men, she says, are more predictable. "Men either want a rugged look, or they want all-out Western; there's never really any in-between."
With brands such as Justin Boots, Ariat, Double-H and Tony Lama, cowboys and girls have plenty to pick from. The real decision, Burke stresses, is choosing either a round or square-toed style.
"Square-toes have been big in Texas for about 10 to 15 years now but found its way here around five years ago," Burke says. "It's a 'Work-Western' look. If you've never tried one on before, you're not going to love it. You have to give it a good look in the mirror, and assess them from the perspective of what other people are going to see. Then they'll start to grow on you."
Bear in mind, your authentic boot takes about two week's break-in time. For those just now dipping their toes into the world of Western, Burke recommends a Durango "Ugly" boot, an often neutral-toned shoe whose leather has been oiled and pre-broken in for instant wear.
But don't fear for lack of flash. Boot "bling" — decorative chains, toe caps and beads — makes a rootin' tootin' accompaniment for any pair.
As for clothing, Burke says men can't go wrong with a classic Carhartt work shirt or Wrangler button-up. The George Strait line by Wrangler, Burke says, is particularly striking.
"We're told George Strait is still heavily involved in the design process, piecing together all the colors and patterns he wants himself," Burke says. "You can spot a George Strait shirt from across the room, the same way you could see someone walk by in a pair of tennis shoes and just know they're Nike. They're just beautiful, and fit everyone the same."
Recently, Burke has seen a huge revival in "retro" snap shirts, whose contemporary designs still employ an old-school feel.
Women may opt for the classic cowgirl look, checkerboard, flannel prints of all colors, or borrow a little inspiration from rodeo riders: "Bold embroidery, big buttons and plenty of glitter," says Burke.
"An especially cute detail we see in both men and women's shirts today is whenever you cuff your sleeves, the cuff will feature either a totally different color or print than the rest of the shirt to give it a distinct look."
While casual "pardners" may be content to tie everything together with some standard denim jeans, Burke is a fervent advocate for the fitted and sometimes colorful Carhartt pant, which "gives with you throughout the day, but remain as sturdy as when you first bought them."
Those looking to make a statement need look no further than the iconic metallic belt buckle. According to Burke, many buckles are now made removable, so its wearer may switch up designs.
Of course, the cherry on top of a Western ensemble is none other than a brimmed hat.
"Hats are definitely personal," says Burke. "In the warmer months, people go for straw, and in winter they tend to buy felt. Whenever the rodeo comes to town, or the Gulf Coast Jam, that's when people really like to bust out the hats." (Read more about where you can wear yours this fall in the sidebar.)
For Burke, the subjective nature of the cowboy hat is reflective of the whole of Western style.
"Western brings out personalities you wouldn't usually wouldn't show," says Burke. "But because everything is so unique, however you piece them together speaks exactly to who you are."