Getting Inside The Mind of Justin Gaffrey
His Artistic Beginnings, his Creative Evolution and the Importance of Freeing Oneself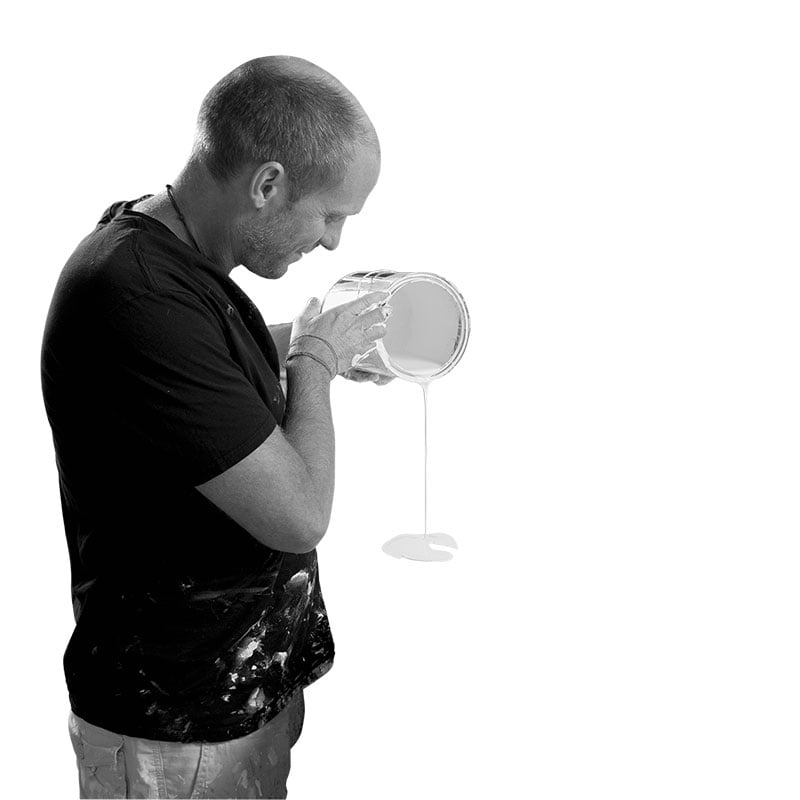 Tucked into his studio space in Blue Mountain Beach and surrounded by thick clumps of colorful acrylic paint splatters, introspective artist Justin Gaffrey is meticulously creating a carefree masterpiece. He inscribes his first name and the year at the bottom right-hand corner of the painting — "Justin, 2000."
It was a sunflower painting inspired by Van Gogh that catapulted the recalcitrant chef-turned-painter into his successful art career.
"I was painting a sunflower one day when someone walked in the door and bought it before I was finished," he says. "After that, I kept painting them and they kept selling." Next, he created the "You Are My Sunshine" sunflower series. "They had a connection with people," he notes. "The requests kept coming in, and I never stopped painting them." That was 15 years ago. Today, a larger-than-life painting from the series hangs in the Louisiana Governor's Mansion.
The 45-year-old's ties to the Walton County community took root in high school, when he moved to Fort Walton Beach with his father.
"It is hard to imagine that I have been living in Walton County since 1986," he says. "This community has changed a lot since then, but then again, so have I. When I think of community, it brings me right back home to my family."
Gaffrey still lives above the Blue Mountain Beach studio gallery that he and his former wife of 15 years founded in 1995. Billie Gaffrey, the iconic art teacher at the Seaside School, began painting when she was 18 years old. The creative couple had two children together. Their son, Justin Jr., is 21 years old and in his third year of college at Naropa University in Boulder, Colorado. Aria, their daughter, is 16 and attending Northwest Florida College.
In the early years, the Gaffreys would drive through the remote Southern countryside or into New Orleans in search of tin roofs, windows and doors. They sold furniture, art and other creations at festivals and in their gallery. During this time, Justin was also becoming an award-winning chef. He opened a restaurant called Café Sublime in Gulf Place in 1998. At some point, after weighing the return on a day in the kitchen versus a day in the studio, Gaffrey sold the restaurant in 2000 and picked up a palette knife.
In addition to family and community, the prolific creator is ever grateful for the natural environment in Northwest Florida.
"I love the Choctawhatchee River and its remote nature," he says. "It leads into the Choctawhatchee Bay, which leads into the Gulf of Mexico. All three areas provide an awesome experience where I spend quality time with the people I care for the most."
Gaffrey has always been a huge community advocate and donor in Walton County, with a particular passion for the Food for Thought Outreach organization.
"I am inspired by the devotion of Tiffanie Nelson, the founder," he says. "She helps and put others above herself many times over. Food for Thought reaches hungry children in a big way in Walton and Okaloosa counties. Little things can change a person's entire life, even just a meal to keep them strong."
A skateboarding enthusiast, Gaffrey is also excited about a new project introduced by a few passionate gentleman who have spearheaded the first approved skate park in Santa Rosa Beach at Helen McCall Park.
Artist Justin Graffrey draws on his creative talent as a former chef to "frost" his luscious paint-laden acrylic pieces.
Courtesy of Justin Gaffrey
"Walton County has just donated the land and has given a little bit of money to start the project, but we are going to need much more than the county has fronted," he says. The father of two is excited to do what he can to help. "I think a skate park is good for our community to keep our youth inspired and active. The skate park will be a year-round activity for our kids. By the way, we need money and lots of it!"
Jennifer Steele, executive director of the Cultural Arts Alliance of Walton County, was introduced to Gaffrey's work in Seaside.
"It was a painting of pirate skeletons juxtaposed against the ocean in a whimsical way," Steele says. "I found it so appealing." She believes that Gaffrey took a leap of faith in becoming a full-time artist in Walton County. "He has paved the way for other artists in our community to follow in his footsteps. Over the years, Justin has been so generous with his time and talent in supporting Walton County," she says.
Seaside was founded in 1981 and is the first traditional town to have been proposed and built since the 1920s. Andres Duany is the urban planner for Seaside, Rosemary Beach and Alys Beach and a founder of the worldwide movement known as New Urbanism. He is watching the evolution of his handiwork with interest.
"I appreciate the tension between the commercial aspect of art and the truly inspired works," he says. "What New Urbanism has contributed to the Gulf Coast is the emergence of culture."
Duany speculates that artists such as Gaffrey might be remembered as pioneers of a regional art movement.
"There is little chance that there could have been artists like this along this coast, had it not been for Seaside, Rosemary Beach and Alys Beach, Duany says. "The art scene would have remained bracketed between seashell paintings and garage sale discoveries. Instead, it has become a vehicle for cultural evolution. True 'urbanism' does this."
At this point for the regionally known artist, it's not only a matter of choosing which organizations he wants to support, but what he really wants to do.
"I used to think art was about making something beautiful or cool," Gaffrey says. He still gravitates toward the sunflower paintings that sell as he transitions into contemporary works. "My perspective of art has shifted from just being visual to having deeper meaning. Much of my new work reflects changes in myself; about the psychological shift of being present and letting go of the ideas of who we thought we were or should be." From an outside perspective, it has been a graceful transition.
"One thing I have learned over the years of being an artist is that the decisions I make will affect my freedom to be unbiased in creativity," Gaffrey says. "The best thing about being creative is to be free. To me, technique is not as important as being free from the duties of the world. One should be able to create and have the freedom that allows us to help others and inspire."
Inspired by the natural scenery the Northwest Florida's Gulf Coast, The Seascape — on exhibit at Fish Out of Water restaurant on 30A — is the most popular style with Gaffrey collectors. 
Courtesy of Justin Gaffrey
Gaffrey recently moved his working studio into a warehouse space near his home and gallery in Blue Mountain Beach to allow more room for building his creations.
"I have been really excited about incorporating new techniques," he says. "I have always loved building things. Much of my new work incorporates welded steel and wood, but I'm certainly not restricted to those materials alone. Over the years, I have primarily painted with acrylics, but now my work has no limits on material, and it brings a lot of inspiration."
The artist now has two distinct markets for art collectors: contemporary and decorative.
"Overall, people in this world have given me more support than I could imagine," he says. "Some may lose interest based on my direction, but that is understandable when you follow someone for 15 years."
Last year, Gaffrey expanded his artist résumé with 10 art shows. Some of the international juried exhibits have introduced his artwork to the contemporary art world.
"Right now, our hub is the original Blue Mountain Beach Gallery," he notes, "but we traveled and participated in many art fairs in 2015. We exhibited in ArtHampton in New York and the Houston Fine Art Fair, and we will be doing one of the fairs during Art Basel week in Miami."
Ed Toole, a Seaside homeowner and longtime collector of Gaffrey's work, seems unfazed by the artist's leap into the contemporary art world.
"Justin's art vividly captures the culture, creativity and lifestyle that we love about the Scenic 30A area," Toole says. "I remember many outings with my kids over to his studio in Blue Mountain to watch him work and to explore his completed works, particularly the fresh art laid out to dry."
Despite his success, Gaffrey values his perspective on being an artist and the benefits that it intrinsically contributes to his lifestyle.
"So many people use success to be the driving force in their career," he says. "What I have found is that success in a career is not necessarily success in life. Being an artist allows one time to explore and challenge life and to see it in a different way."
Today, Gaffrey loves talking to kids and young adults who are interested in taking a path in the arts. He believes that pursuing art as a career has many benefits for a fulfilling life.
"To be an artist is not to be able to make cool things, but to make life beautiful and to challenge old ways of thinking that do not work anymore," he says. "Art is about inspiring others, and it gives freedom from the ordinary rat race of life. If you set yourself up to be free, you will have all of the creativity you want."
While the regional art scene grows, Gaffrey's beginnings will be forever preserved inside the vibrant paints that compose his myriad sunflowers, as we watch and wait for his next contemporary creation.