Generous Giving Adds up To Mega Millions
Allowing our most vulnerable to finally cash in and rebuild broken lives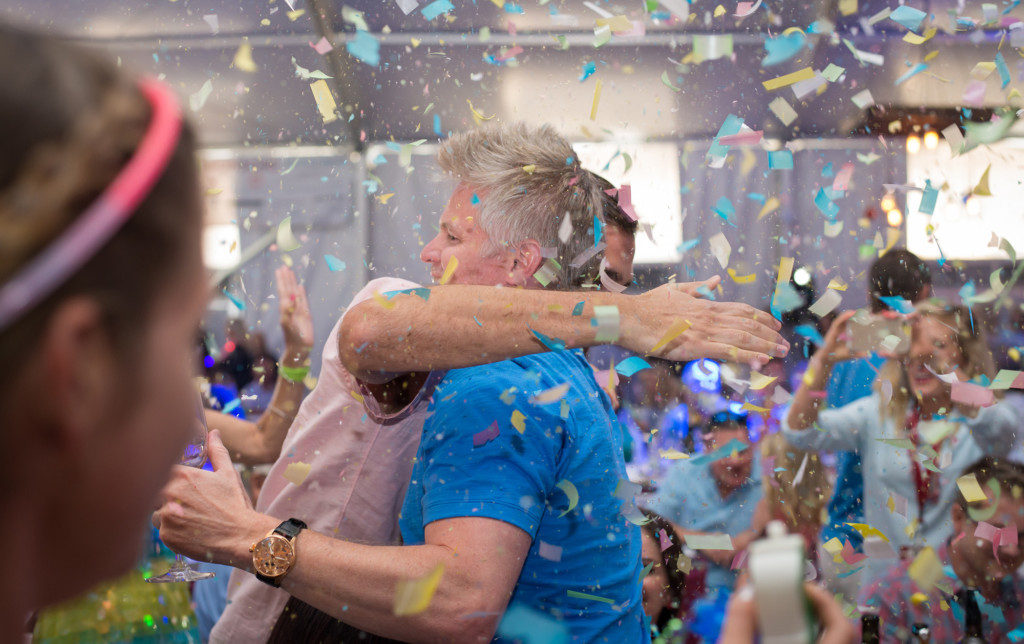 The Destin Charity Wine Auction Foundation (DCWAF) knows something about that. Founded in 2005, the Miramar Beach-based nonprofit foundation connects wine enthusiasts and raises money to benefit children in need in Northwest Florida.
To date, DCWAF has donated $21,897,244 to local charities and other causes by hosting wine and culinary events and inviting high rollers to attend them.
These funds have impacted the lives of more than 100,000 youth along the Emerald Coast, including those afflicted by health issues and abuse. Currently ranked No. 4, DCWAF has been recognized as one of the nation's top 10 Charity Wine Auctions in the U.S. by Wine Spectator magazine for the past seven years.
There also is truth in facts. In 2017, Americans donated $410 billion to charity, a record amount, according to Giving USA.
The Foundation Center says donations to foundations also increased 15.5 percent in 2018. These figures show that the success of DCWAF — and other organizations along the Emerald Coast — appears to be a part of generous giving trend sweeping the nation.
Emerald Coast Magazine wanted to take a closer look at the phenomenon of "mega fundraising" and what is happening in Northwest Florida.
We were curious how millions of dollars are raised in a coastal community that is not an urban mecca, but rather a tight-knit cluster of small towns.
Most importantly, we hoped to put a face to some of the little benefactors of these big spenders … and hear their stories.
Small Town Big Spenders
The idea of a charity wine auction started with entrepreneur Chan Cox of Wine World, who launched the Sandestin Wine Festival 33 years ago and founded the South Walton Beaches Wine & Food Festival in 2013.
John Russell, 63, who joined the DCWAF board in 2009 and stepped up as president in 2012, credits the foundation's success to "years of work creating trust and branding."
Because of that strategic work over its 15 years, the organization has skyrocketed from a small community auction to a national player producing sold-out events netting seven figures.
DCWAF is just one of many successful annual fundraising efforts on the Emerald Coast. Since it formed in 2010, the White-Wilson Community Foundation has raised nearly $500,000 to date to support women's health care with its annual Little Black Dress party.
The Chi Chi Miguel Throwdown, which Valerie and Mike "Chi Chi Miguel" Thompson began in 2006 as a private backyard barbecue, is now a multi-day, star-studded event hosted by the Emeril Lagasse Foundation.
It attracts "regulars" such as Oscar-winner Morgan Freeman, easily raising a cool million each year for several local charities.
The Mulligans band, formed by golf entrepreneur Edwin Watts, has raised nearly $900,000 for a range of local charities with its popular Summer Jam concert.
At this year's fourth annual event, the eight-member band performed a three-hour "dance" concert to a sold-out crowd at the Emerald Coast Convention Center.
How can such a small community give so much? "I think it speaks to the quality of people here," Watts says.
"We all believe individually in charity giving. As for The Mulligans, we present a fun format by providing a concert, so not only are you giving to charity, but you have a heck of a lot of fun."
Not everyone can be a "big spender." Donations showed a slight dip of 1.1 percent in 2018 due to changes in tax policies, but the proportion of money given through mega-gifts against overall giving is increasing, according to Dr. Patrick Rooney, executive associate dean for academic programs at the Lilly Family School of Philanthropy.
That bodes well for DCWAF and all the charities along the Emerald Coast. Still, how does a region with a population base of less 200,000 in most of its counties continually fill the charity coffers?
It turns out, they don't — well, not necessarily.
"Because we do have a generous but small market, we strategized how we could have a ripple effect," Russell explains.
"We have a core donor group that recruits people from outside the market. They have houses here and invite their friends they have made in places where they are from or where they made their mark."
The Carters from Kansas City, the Hallsteads from Houston, the Palmores from Memphis … he continues naming key donors from other major markets in the Southeast and beyond.
"That's been impactful," Russell says. "They are essentially what we call 'multipliers.' They spend and recruit spenders who average $30,000 to $40,000 a donation."
Doing Their Bidding
Though DCWAF accepts donations at any time, its big fundraiser is an annual auction each April produced in concert with the South Walton Beaches Wine & Food Festival.
The four-day fete draws 4,500 wine lovers to taste hundreds of domestic and international wines, nibble chef-prepared bites, attend celebrity-studded seminars and hear live music.
On Saturday, for $2,500 per couple, you can enjoy a chef-prepared lunch, sip some of the winemaker's best vintages and … bid on auction lots.
Gone are the days of raising money with a gift basket covered in cellophane.
Today, charities are "selling" rare private label wines, jewels, original art (sometimes created live at the event) and luxury excursions that will whisk you by limousine into winemakers' private cellars, seat you in the nation's top chef's kitchens, and land you with VIP passes and front row seats to the hottest sold-out Broadway shows and music acts.
"You can say what you will about the '1 percent,' " Russell says, "but we see a positive side of people who have been financially successful and have adopted our community."
One family in particular has made a transformative impact this year: billionaire businessman Ryan "Jume" Jumonville, 47, and his, wife, Raven.
They relocated from Louisiana to Destin with their four young children and donated $1 million — the largest single donation in DCWAF's 15-year history.
We asked Jumonville why he gave this generous gift — which incidentally places him on The Giving Pledge roster with other billionaires such as Jeff Bezos and Bill Gates.
"DCWAF has been doing great things for children and families in need in the Panhandle area, and I wanted to see what they could accomplish with more resources," he said.
Chuck Palmore, 71, is another loyal DCWAF donor convert … and a passionate "wino."
An operating partner of two car dealerships in Memphis, Tennessee, he and wife Glenda have a second home in Destin and began to get involved with the foundation at the urging of friends.
"The first year or two I didn't get that involved financially, but when we saw what good things could be done in the Panhandle, I thought it was just the right thing to do," Palmore says.
His high auction bidding has taken he and his wife to Argentina, Europe and the time we spoke in September, he was preparing for 10-day trip to Napa.
"This is about passion and compassion," he says. "This is our home now, and we want to contribute and be a part of the community."
The Art of the Business of Wine
Russell has put much of his business background as a seasoned hospitality industry leader to good use.
He has conducted donor surveys, held annual strategic planning sessions with his board and learned that the basic tenants of business development can be successfully applied to nonprofit fundraising.
"You have to eventually be prepared to replace bidders, just like a customer base. They fatigue and eventually age out," Russell says. "So, we are happy to see more and more younger people from the next generation getting involved."
But as donor's household incomes rise, so do their expectations.
"We love wine, it will always be our bedrock, but we can only offer so many trips to wine country," Russell says. "People are seeking experiences that are interactive. They want to be a part of things, they want unique access."
As Russell explains it, to make a home run package to the Super Bowl, it should come with a private jet, a 150-foot yacht and tickets on the 50-yard line. "It's like Apple, who has to produce something beyond the new iPhone every year," he says.
Demetrius Fuller is the maestro and music director for Sinfonia Gulf Coast, whose unofficial tagline is "a symphony redefined." He understands the need to continually try to hit a high note for discerning patrons.
For years, Sinfonia's highly-anticipated annual fundraiser — now called Crescendo! — has included a live, high-end auction component.
But in addition to procuring auction lots, Fuller designs high-touch cultural experiences for his discerning high-level donor patrons. This past summer, he hosted three couples on a 10-day immersive tour of the United Kingdom that he called "Ultimate UK."
Fuller's guests dined at private chef's tables in Michelin-starred restaurants, stayed in five-star hotels and spent their leisure time sipping champagne while seeing the sights by private car.
They also shopped boutiques, strolled castle gardens, revitalized in mineral pools, shot clay pigeons and even enjoyed cocktails as they wore 18th century Lyric Opera costumes in Dublin's most lavish 600-acre Regency mansion estate — Ballyfin Demesne. Guests plunked down upwards of $40,000 per couple.
Heavenly and Bill Dawson are local business owners in Seaside who have supported Sinfonia Gulf Coast for the past four years. They ventured on the Sinfonia's Ultimate UK trip.
"I love music and my grandchildren are involved in music, so personally we love to support Sinfonia knowing it helps their music education programs," Heavenly says. "It was a magical experience all the way around. The connections Demetrius and Sinfonia Gulf Coast have with restaurants, vintners and hotels make it absolutely fabulous and well worth it. What better way to go when you don't have a lot of time, and it's all planned out for you and planned well? That makes it an even more fabulous adventure."
Big Impact on Little Ones
Though Russell and wife Michelle do not have children, his work has made him a father figure to tens of thousands of kids. He feels grateful to have a job with "purpose," but he doesn't seek the credit.
"The organizations we help are the heroes in this; they have to see pain in children's faces every day," he says. "Let's face it, I get to go to Napa for business."
Because the focus is taking care of kids, Russell says it's easy to get people to embrace DCWAF's mission. It's a task made easier, because those they help are local. "These people are not nameless or faceless. These are people we see when we go to Publix," he says.
"We just got notification that Habitat for Humanity's next house is going to be built for an employee in one of the Grand Boulevard facilities," says Russell. "I know her personally, and that's what I love. I can go help her build her house, and so can anyone else, so that's pretty cool."
He proudly rattles off more recent charity news — groundbreaking for a youth village in Fort Walton Beach.
Instead of paying rent, this is the first time they have had their own building, so they will be able to help twice as many children by expanding their reach to preschoolers.
Food for Thought, which started with a $300 budget, is now feeding 3,300 children each week year-round.
The Emerald Coast Autism Center, which just marked 10 years and started with five children, now has a staff of 70 that aids 90 kids with one-on-one support.
After 20 years, AMIkids, which works with at-risk kids, will remain open because of DCWAF funding.
A ribbon cutting for a new organization, Westonwood Ranch in Freeport, means older autistic children will have support.
"We give a lot of money — $3 million is a lot. That said, there is more we need to do," Russell said.
Another "multiplier" is how DCWAF charities partner and collaborate with one another.
Children's Volunteer Health Network sends their mobile dental bus to several of our DCWAF charities to provide free dental care to the children at Children in Crisis, Youth Village and Boys & Girls Clubs.
Food for Thought opens its Full Circle Kitchen up to AMIkids and kids at Youth Village to learn how to cook sustainable, healthy meals for themselves.
Dr. July Manning, who handles operations for Children in Crisis, has worked with children in need for 35 years.
"In a sense, charities do compete for the same basic dollars, but because of our community, you don't feel cut-throat competition with others. Its more cooperative," she says. "When one of us does well, it helps our entire community."