Game Changers
Generosity transforms charities and the lives of those they serve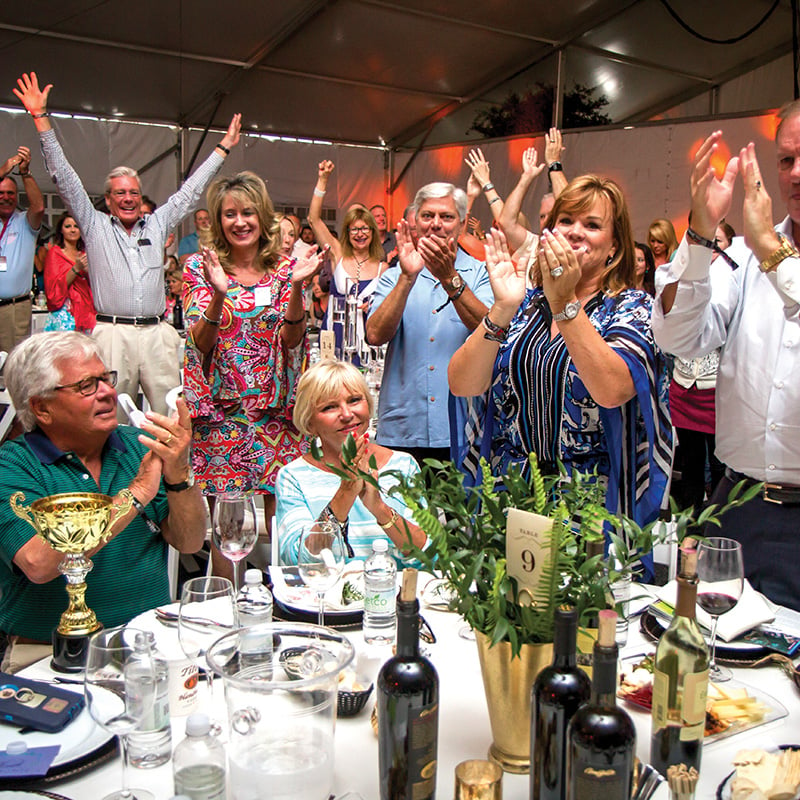 What would you do if you hit the jackpot? Many of us can only dream of holding a winning lottery ticket. But thanks to Destin Charity Wine Auction Foundation (DCWAF) and IMPACT 100 Northwest Florida, Inc., two 501(c) (3) nonprofit organizations dedicated to serving the Emerald Coast, 22 local charities are indeed winners. Meaning, they collectively have received more than $14 million since 2005. In 2016, 90 percent of the charity finalists received six-figure checks.
For this story, we took a look at the impact of major cash gifts on our community. After meeting with several local charities on both the giving and receiving ends, common threads emerged — the vetting processes are stringent, the selected charities all are deserving, the funds are being put to good use and, not surprisingly, the influx of big dollars has indelibly transformed these charities and the lives of those they serve in meaningful ways. Aside from funding, a rewarding side benefit has been the formation of mutually beneficial partnerships among many of the finalist charities. In short, DCWAF and IMPACT 100 are "charity game-changers."
There are many more stories of deserving charities and causes than we possibly have space to share on our pages, here, and we will share some of those stories in coming editions. But, for now, we take a closer look at one particular teen to find out what happens after you earn a "golden ticket." Here is his story:
AMIkids Emerald Coast — Bryan's Story
You may have seen him pedaling rain or shine on a bright lime-green bicycle to his summer job at a restaurant on Okaloosa Island in Fort Walton Beach. At a glance, he may appear to be just any ordinary teen whizzing by. But if you ask this particular 17-year-old, he will gladly tell you he is on his way to fulfilling his dreams.
Unlike many teens, for Bryan Deans, landing and keeping a job isn't for pocket money. It is a matter of surviving in the world. A job means an eviction notice won't be posted on his family's apartment door. A job means there will be food on the table this week. A job means he finally has a grasp on the keys to freedom. It means he has the means to begin to unlock his potential.
And moving forward is important for someone who was once stuck.
Deans was making poor choices that got him in trouble. He was court ordered to AMIkids Emerald Coast, a day treatment facility located in a two-story house on a tree-lined street in Fort Walton Beach. For many "at-risk" youth, it's considered "the last stop."
For Deans, it was a "blessing," because the 12-member staff at AMIkids did one thing no one else had done. They believed in him. They surrounded him with support, gave him structure, enrolled him in educational programs and today, he finally sees what they saw from the start — his potential for a bright future.
Not only did Deans earn a G.E.D. and land his first job, but his shiny new wheels are also thanks to an IMPACT 100 member who donated the bicycle to AMIkids. That donation became Deans' sole transportation for his 40-minute commute to work.
Deans' life has been transformed in a matter of months, and he is grateful.
"I didn't expect everyone at AMIkids to be so nice and caring and just all-out amazing. They were that turning point, and I needed that, and it was just the biggest help that I could've ever asked for," Deans says. "I just want to say thank you to them and keep doing what you're doing because you're going to help a lot of kids get to where they need to go."
Deans' story is one of many. About 30 kids in similar situations are currently enrolled in AMIkids Emerald Coast. The facility has a capacity for about 45 students.
After getting hands-on experience in a fact-paced restaurant kitchen, Deans aspires to enlist in the U.S. Air Force when he turns 18 to further his education and expand his world of opportunities. Maybe even set his sights on running the show in a kitchen.
"My whole life I wanted to be a chef. I like the lively environment, the fun vibe. You are never hungry, and I like food," he says with a chuckle.
Audra Ray is a seasoned professional with more than 20 years helping kids fulfill their personal potential. AMIkids has locations across the country, positioned in potential need areas, and before joining the Emerald Coast location as executive director in March 2015, Ray was with the company in Louisiana for eight years.
"My passion is helping kids, and AMIkids is one of the best at doing just that," says Ray. "It is an honor to have the opportunity to lead AMIkids Emerald Coast and to help our kids overcome their issues and positively impact our community."
In 2015, Impact 100 donated $107,667 to AMIkids, and DCWAF gifted $125,000 (an increase of $50,000 from the previous year).
Ray says the donations have enabled her organization to staff, equip and launch two certification programs (Serve Safe — a food safety program — and an IT skill-based program.)
"We can offer something we've never been able to offer before," says Ray. "Our kids are so excited knowing when they apply for jobs, they'll have an edge when they get out there."
Education cannot be overvalued. For Ray, it is a critical piece in breaking the cycle that at-risk kids are caught in. "Our sole job is to focus on helping kids make better choices in the classroom, the community and in life," she says.
Normally, no one likes to be a statistic, but in this case, Deans is hoping he is counted among the 78 percent of AMIkids nationwide who successfully complete the program and do not reoffend.
"What they taught me the most is that discipline is good. It's everything actually. It's not just for at school, at work or with your parents, it's everywhere in the world. You just gotta have a little a bit of respect and you gotta be a good person," he says.
Deans may not have had a picture-perfect beginning during his adolescence, but he clearly can envision his future as he approaches adulthood. "If I paint a picture of my life, I see something beautiful, bright and sunny," he says. "Sure, there may be some darkness at first, but as it goes to the right, it goes to light. I see myself with others together walking side by side to the light."
AMIkids 
Emerald Coast
The concern:
Juvenile crime in the United States has reached epidemic proportions. Nearly three million crimes are committed each year by kids under the age of 18, and when a teenager is jailed just once, their odds of reoffending are 75 percent.
The charity on the case:
Since 1998, AMIkids Emerald Coast has been dedicated to helping kids discover their potential, transform their lives and strengthen communities. By empowering kids through care and guidance, AMIkids helps its students reach their potential and, as a result, break the cycle of failure and poverty.
Local Results: 
80 to 120 kids served each year
+1 grade level — AMI kids gain an average of one full grade level
100 percent of kids who complete the program return to school, complete a G.E.D. or enter the workforce
Partnership Power
DCWAF and IMPACT 100 are often the bridge between charities. Food For Thought Outreach, which also receives funds from DCWAF, has supported AMIkids students by providing backpacks of food during holiday breaks for kids who would otherwise go without.
How you can make a difference:
AMIkids is looking for volunteers, mentors, board members and a new 10,000-square-foot facility, preferably in Fort Walton Beach. If you are interested in helping, call (850) 244-2711.
---
Impact 100 of Northwest Florida, Inc.
This chapter of Impact 100 was formed by five local women in 2012 with a simple idea: 100 women give $1,000 each to create a $100,000 grant to meet a community need. In just four years, the organization has given $921,000 to local nonprofits in Okaloosa and Walton counties. Today, there are 369 members who are poised to give $369,000 in 2016, which will push the organization past the million-dollar mark for year-to-date giving.
Since its inception, Impact 100 has funded a new building for family visitation for Safe Connections in Crestview; new trucks and freezers for Destin Harvest in Fort Walton Beach; veterinary medical equipment for Emerald Coast Wildlife Refuge; a pool for ARC of the Emerald Coast; a new building for Shelter House; a facility for Matrix Community Outreach Center in DeFuniak Springs; a new therapy barn for Grace Rides; and a vocational training project for AMIkids Emerald Coast.
On a Mission
The mission is to provide financial support to nonprofit organizations in Northwest Florida by empowering women as philanthropists,  bridging the geographic areas of our region and leveraging the talents of women to be a positive force for good in our communities.
Do you qualify?
Eligible recipients for IMPACT 100 funds must:
Be recognized as tax-exempt under Section 501(c)(3) of the Internal Revenue Code.
Be based in the counties served by IMPACT 100 or be the recognized local chapter of a national charity.
Submit a proposal for a project or program serving the residents of these counties. (May be a new program, an expansion of an existing program or a collaboration of several agencies)
Complete your project and spend funds within 24 months of the award date.
A Process in Place
July Grant applications are due in the categories of Arts and Culture, Education, Environment, Family and Health & Recreation
August Applications reviewed, site visits conducted October Committees choose finalists and winners announced at annual meeting.
History of Giving
2012 – Safe Connections (formerly Judge Ben Gordon Family Visitation Center), $128,000
2013 – Emerald Coast Wildlife Refuge, $110,000; Destin Harvest, $110,000
2014 – Shelter House, $125,000; Horizons of Okaloosa County, $125,000
2015 – AMIkids Emerald Coast, $107,667; ARC of the Emerald Coast, $107,667; Matrix Community Outreach Center, $107,667
2016 – Okaloosa County Public Schools Foundation, $123,000; Walton County Habitat for Humanity, $123,000;
COPE Center, $123,000
MPACT 100 uses 100 percent of its membership dollars to fund grants and depends upon Friends of Impact and its Member Plus program (members provide professional services such as accounting, legal counsel, printing, etc.) to help offset administrative costs. To learn more about membership and partnership, visit impactnwf.org.
Save the date! 
Get involved by participating in these upcoming events.
Impact 100 Membership Events
January 
19, 5:30 p.m., Cuvee, Miramar Beach
28, 3 p.m., Twisted Grape, Shalimar
31, 5 p.m., Painting with a Twist, Fort Walton Beach
February
19, 2 p.m., Solaris Yacht,  Miramar Beach
23, 5:30 p.m., Shelter House, Fort Walton Beach
March 
6, 5:30 p.m., Wild Olive, Crestview
14, 5:30 p.m., The Boathouse, Niceville
21, 5:30 p.m., The Matrix, DeFuniak Springs
26, 3 p.m., Dragonfly Yoga, Fort Walton Beach
April
6, 5:30 p.m., Acme Ice House, Panama City Beach
18, 5:30 p.m., Ruth's Chris Steak House, Destin
---
Destin Charity Wine Auction: Assisting Thousands
AMIkids Emerald Coast received $125,000 to fund one mental health counseling academic interventionist for high-risk youth. Funding will also allow the purchase of a new, safe bus for students to be transported to and from school.
Boys & Girls Clubs of the Emerald Coast received $200,000 to allow double the amount of students from last year (200 children across four counties) to attend programs for one full year.
Children in Crisis received $225,000 to fund the facilitation of housing for abused, neglected and abandoned children. The Opportunity Home, Sue Sue's Cottage, YaYa's Home and the Travis Tringas Home provide stability, shelter, house-parents, food, clothing and necessary items to help children live a healthy lifestyle.
Children's Volunteer Health Network (CVHN) received $200,000 to fund and serve underinsured and uninsured children in need of dental care. These funds will allow for two hygienists on the Mobile Dental Clinic and one full-time dentist and support staff at the CVHN Dental Clinic to assist with children in need of dental and medical care. The funds will also provide new dental supplies and will cover the maintenance and repairs of their equipment.
Emerald Coast Autism Center received $200,000 to fund scholarships and their capital campaign, a new facility to serve children on the autism spectrum. The new NWFSC Campus Facility will allow Emerald Coast Autism Center to increase their capacity levels, serving up to 130 students.
Emerald Coast Children's Advocacy Center received $300,000 to aid in construction costs for the new Walton County facility, a child-friendly atmosphere which will provide counseling, family services and the  facilitation of investigations of child abuse and neglect.
Food For Thought Outreach received $175,000 to provide nutritious meals for school-aged children on weekends, holidays and summer break.
Habitat for Humanity of Walton County received $180,000 to fully fund the building of two new homes for families with children in Walton County.
Homelessness & Housing Alliance received $20,000 for long-term solutions to homelessness.
Opportunity Place received $75,000 for immediate housing for homeless children and their families.
Pathways for Change received $200,000 for comprehensive addiction treatment programs, including men's residential treatment and operations for the family center.
Sacred Heart Hospital on the Emerald Coast received $225,000 to fund the expansion of the Neonatal Intensive Care Unit, which will provide a larger nursery to accommodate a 10-bed Level II Neonatal Intensive Care Unit in the future.
Shelter House of Northwest Florida received $155,000 to fund support groups, counseling and advocacy for youth ages 6 months to 17 years, who have been affected by domestic violence.
The Arc of the Emerald Coast received $200,000 to support its Early Intervention and Family Education Program at the Early Intervention Center for children living with disabilities.
Youth Village received $125,000 to fund its capital campaign purchase of land and facility construction. The money will also be used to support afterschool programming for more than 40 low-income children along the Emerald Coast.
DCWAF Children's Fund received $55,000 that will serve as a contingency fund for charity partners and children in need.
Do you qualify?
Eligible recipients must be a 501(c)(3) and serve local children in need.
Timeline 
May Applications accepted and reviewed; selected applicants are contacted and invited to continue through the process, which reviews the charity's application, mission, staffing and financials.
August Process closed. Checks presented along with stipulations for use of funds presented at the end of the month.
Try, try again
If your non-profit was not selected, try again. Each year every charity is required to reapply.
Lend a helping hand
Contact DCWAF at info@dcwaf.org or call (850) 650-3732 to learn more about how you can volunteer, host an event, donate an auction lot or make a cash donation.