Furry Support
Pets provide a calming distraction for patients along the Emerald Coast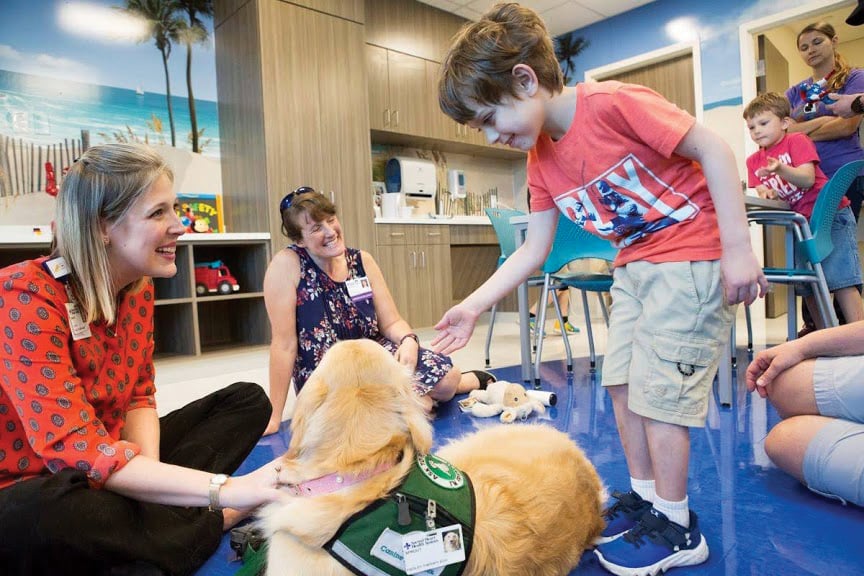 She fetches 40 hours a week at Pensacola's state-of-the-art children's hospital. She does her rounds like all other caregivers, and she sports a badge with her photo on it.
That makes Sprout a bona fide — you might say bone-a-fide — employee.
"Not only do I see her that way, but our HR department sees her that way," Julia Humphries says.
With Humphries at her side, Sprout stands as the four-legged pioneer of the Sacred Paws facility dog program at Studer Family Children's Hospital.
Humphries manages the program and serves as keeper and handler of Sprout, a 4-year-old golden retriever who became the hospital's first facility dog in the fall of 2018.
"I put on her vest every morning, and she literally pulls me into the hospital to come to work," Humphries said. "She knows her route. She knows exactly where she's going. She knows exactly what she's supposed to do."
Sprout and Studer exemplify the growing practice of pet therapy, also called animal-assisted therapy, in which dogs, cats and other species provide a loving, calming and positive effect at hospitals, hospice programs and rehabilitation centers.
According to the Mayo Clinic, animal-assisted therapy can significantly reduce pain, anxiety, depression and fatigue in people with a range of health problems.
Animal-assisted therapy comes in various furs and feathers, including rabbits, parrots, horses, llamas and guinea pigs. It also comes
in different forms: Gulf World and Water Planet in Panama City Beach promote interaction with dolphins as beneficial for children with special needs.
But in Northwest Florida, dogs point the way. At the Emerald Coast Children's Advocacy Center, several trained therapy dogs and their owners make regular volunteer visits to its locations in Niceville and DeFuniak Springs.
In Miramar Beach, Sacred Heart Hospital on the Emerald Coast joins Pensacola's Studer Family Children's Hospital in Ascension's Sacred Paws program.
That hospital partners with dogs and handlers who register jointly through Pet Partners, a national organization that aims to "improve human health and well-being through the human-animal bond." Pet Partners registers volunteers based on criteria, including teamwork and the animal's sociability and adaptability.
"When you're in a hospital, there's so much stress and anxiety," says Sharon Abele, the hospital's volunteer services manager. "For us to be able to bring these dogs into patients' rooms, it's such a joy to be in there, to see how it changes their whole mood."
At their service is Sam, a 13-year-old Labradoodle who has worked in pet therapy for almost 12 years, including about two at Sacred Heart.
Handler Chris Kent calls his dog a professional who will let all patients pet him for as long as they want. But Sam seems less interested in spending time with patients who appear happy and healthy, he said.
"I think it would give me great joy in a hospital to be told that he doesn't interact as closely with you simply because he thinks you're too healthy," Kent says.
For patients who are depressed or particularly ill, Kent says, Sam lies partially under their bed in a posture that suggests he'd like to stay there.
Kent recalled a time when he explained to a patient why Sam wasn't interacting with her. "She said, 'That's a good thing because I'm getting let out of the hospital today,' " Kent says.
Then the woman mentioned that her own dog had gone missing. She began to cry, prompting Sam to plant himself under her bed.
"That's his way of responding to his work," Kent says.
At Studer Family Children's Hospital, Sprout lets children pet, hug and play with her all day. Unlike Sam, who's part of a volunteer team, Spout is a full-time employee. She works four to five hours a day and otherwise goes full dog: She naps.
She works with Humphries, her handler, in the hospital's outpatient infusion center. She serves as a warm distraction for children who receive treatment such as medication or chemotherapy.
She's joined by tail-wagging colleagues Sherlock, who works in the medical-surgery unit, and Klio, who serves in the outpatient pediatric rehabilitation department.
The hospital says it expects two additional dogs this year.
Until then, "Sprout is here," Humphries says, "and there's so much laughter in our clinic. There are still a lot of hard things that go on, but Sprout can also support them through that, whether they're playing together, napping together. She's a nap specialist."