From Emeralds to Tiaras
Former Seaside Resident Laura McKeeman is Miss Florida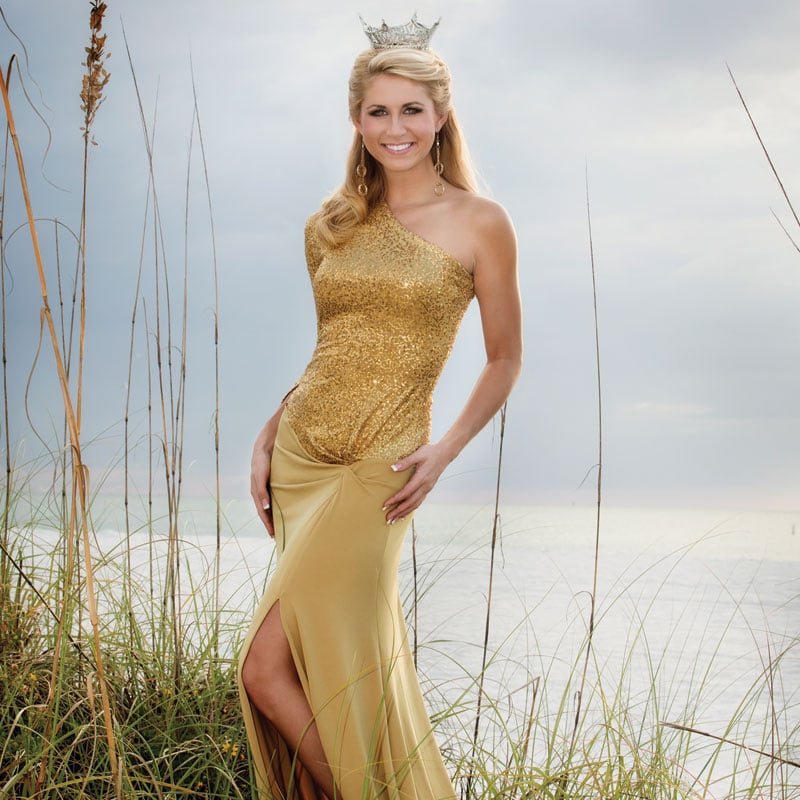 Miss Florida spent many of her childhood days splashing in the surf right here on the beaches of 30A. Armed with her drive, focus and good humor, not to mention considerable brains and beauty, 24-year-old Laura McKeeman represented Pinellas County in the Miss Florida pageant in St. Petersburg last July … and won!
The Seaside/Blue Mountain Beach resident, who left her family and friends behind in the United States as a teenager to study dance in China, wasn't unfamiliar with wearing a royal title. In 2010 she was crowned Miss Suncoast.
The McKeemans moved to the Seaside area from Atlanta in 1999 when Laura was 10 years old. The entire family loved the area. Since Laura's father was able to manage his new mobile communications company from the beach, a move to their annual vacation destination was a dream come true.
"That's where I associate my childhood — Seaside, Blue Mountain Beach and Panama City," McKeeman said. "I think about going to jazz festivals and the white sands. It was just an amazing time."
The family routine might sound familiar to Emerald Coasters. The kids would go down to the beach after breakfast and enjoy the sun, sugar white sands and surf. Their mother, Deborah, would have to coax her children, Alex, David and Laura, from the beach for dinner. The beautiful blonde is quick to point out that it was home, acknowledging that she received a terrific education, while enjoying the perks of the beaches.
"When I was in middle school I went to Seaside Neighborhood School, which was an incredible experience," the beach lover said with a smile. "It was a big part of my education, because it was a charter school, so we had a lot of one-on-one attention. The teachers were great and the curriculum was wonderful. That's where I actually learned to play the drums and violin. We had the Seaside Neighborhood School Band, and we also had a jazz band. They were able to embrace what children wanted to do and hone in on those skills that were already there. It was really an enriching education, because you don't really see that in other mainstream schools."
On to a Bigger Stage
The budding performer and her family returned to Atlanta for a short period, and when the family's business expanded they moved to Orlando. That's when McKeeman began to take a strong interest in dance. At 16, she made a bold move to study dance in China with the Shanghai Theater Academy for two years while taking online courses through the Florida Virtual School. She returned to the states a disciplined, goal-oriented young lady — and an accomplished dancer. Rather than sign with a professional dance company, McKeeman opted to enroll at the University of Florida and study broadcast journalism.
Looking for an opportunity to gain journalism skills, she landed an internship at WRUF radio co-hosting a sports talk radio show with other students called, "The Cheap Seats." Once again, her drive and self-discipline kicked in, and she dove into college football learning all she could about the game.
It paid off as she began writing for Florida fan websites covering recruiting. Informative and popular, McKeeman was offered a job by Fightin'Gators.com/Fox Sports Interactive covering the Gators football team. One year later, while still a University of Florida student, the budding journalist was hired to co-host pre-game broadcasts for the Tampa Bay Rays. She was again signed to work Rays' games and added a sideline reporting job with Fox Sports in their Big 10 broadcasts.
Different Kind of Shoulder Pads
It was the scholarship funds, not the notoriety, that lured this career-minded college beauty to the stage. Considering it a long shot at best, no one was more surprised than McKeeman when the big moment came. "I never in a million years was thinking that way. It's amazing because you're talking about 42 of the smartest, most talented, well-rounded, beautiful women in the state. I'm thinking, 'there's no way that I stand up with these girls,'" the newly crowned queen said.
On the big night in July, five nervous young ladies stood on St. Petersburg's Mahaffey Theatre stage in anticipation. Soon, only two finalists stood in the spotlight: Miss University of Central Florida, Alexa Schmidt, and Miss Pinellas County, Laura McKeeman.
McKeeman remembers the moment being at once exciting and tense. "When it was just down to the two of us, I thought, of course she had won. I'm telling her, 'You're going to be an amazing Miss Florida. This is so awesome for you.' And then it was me instead. I thought, 'Wait a second, do we have a mistake here?' It happened to be me, but it could have been anybody else."
Posted on her Facebook page is her favorite quote: "Always do right. This will gratify some people and astonish the rest." These words were a comfort to McKeeman who grew up feeling self-conscious, as most teens do. She pushed through with equal measures of drive and good humor. And continues to hold Twain's words close to keep her focused and motivated during her reign.
"Miss Florida is my priority," our 2013 Miss America representative says. "There is only one year to do this, and I want to make sure that when I look back on this and the people of Florida look back at this, they will say that I devoted myself to this role."
Her title will demand that she spend considerable hours in preparation for the Miss America contest. The pageant winner says the 10-minute interview portion is "grueling," because the judges score your every word, action and reaction. For many it's where they fall short of a chance to wear the crown. The dancer will showcase her talent in a ballet titled, "La Esmeralda," performed with a tambourine, the same performance that helped earn her the Miss Florida title. And, of course, every reigning queen is expected to make numerous special appearances during the year at events throughout the state. "I want to make sure that I give back to the community as much as possible," McKeeman said.
The Emerald Coast community, where this beauty started, could not be more proud.