Forgotten Coast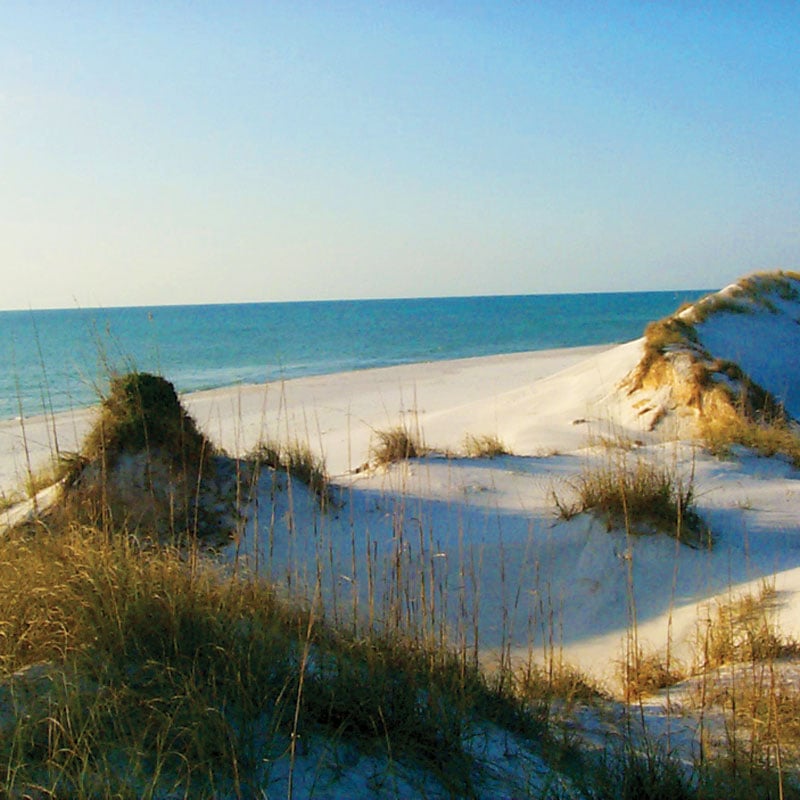 Franklin County has a lot to offer anyone who just wants to get away from it all. Along the bays, beaches and byways there are many opportunities to slow down and take it easy. The area is well known for hiking, kayaking, canoeing, beachcombing, swimming, golfing and even bird watching. Perhaps the greatest natural attraction is the 202,000-acre Tate's Hell State Forest, which is called home by many species of wildlife like the Florida black bear and red-cockaded woodpecker. There are 35 miles of rivers and streams for canoeing and boating, and primitive campsites are scattered throughout the woods.
But even loafers need a break. The mealtime fare here is more than fair, and surf 'n' turf restaurants are tucked away on the back roads and beaches, just waiting to be discovered. Oysters and shrimp are the two most important food groups in places like Apalachicola and Eastpoint, where commercial fishermen still work hard to bring in fresh seafood.
Had enough eco-tourism? Then try "histo-tourism." Visit the Crooked River Lighthouse in Carrabelle and the newly restored St. George Lighthouse for a taste of the coast's maritime heritage. The Camp Gordon Johnston World War II Museum will take you back to the days when thousands of troops trained to take on the Axis powers. And the humble John Gorrie Museum in Apalachicola focuses on the 19th century physician whose refrigeration machines paved the way for modern air conditioning.
Tired from a day of loafing? Then stay the night and enjoy some quiet downtime at the Coombs House Inn or the Gibson Inn, both in Apalachicola. For a longer stay, check out the many vacation rentals on St. George Island, or get a room at the beachfront Buccaneer Inn. You may fall in love with Franklin County and decide to come back soon.