For Some Doodles Are Just The Right Mix
The new "designer" dog craze has a new member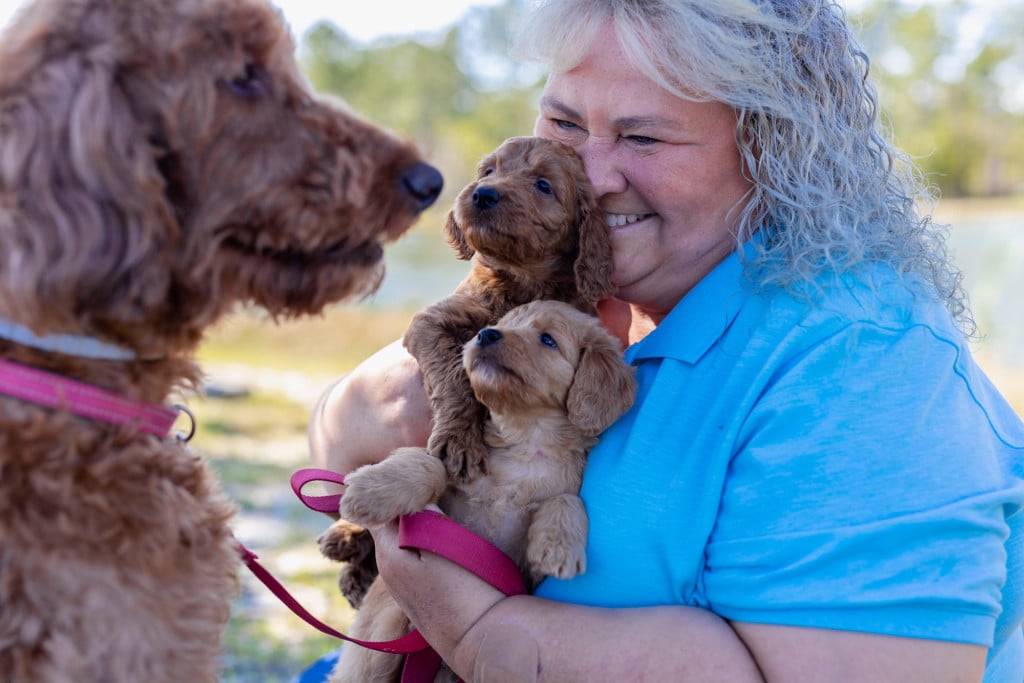 Jennifer Mayo's philosophy on doodles is that they are akin to potato chips: You can never have just one.
She's referring, of course, to the latest craze of "designer" dogs, which are hybrids of the Standard Poodle and another pooch, such as a Golden Retriever, Bernese Mountain Dog or Old English Sheep dog.
The result? Litters of Goldendoodles, Bernadoodles and Sheepadoodles, each boasting unique temperaments and physical characteristics. And with names as precious as the pups themselves, it's easy to see how oodles of these doodles (along with some poodles) have wiggled their way into the hearts of Callaway residents Jennifer and her husband, Billy Mayo, for the past 15 years.
The flame was lighted when Jennifer, who started out as an exclusive breeder of toy poodles, began researching doodles online. She was immediately captivated by their winning characteristics: They don't shed much and don't trigger allergies; they are given to an inherent intelligence that facilitates training; and they possess a healthy "hybrid vigor" obtained from crossing two parents with optimal genetics.
Still, Jennifer never thought about getting one … until she came across a photo of the red, curly-coated Irishdoodle, Bailey.
"It was love at first sight," she says. "I had to coax Billy into it at first, but we eventually ended up driving to Tallahassee to get her. Once we'd had her for about six months, I knew doodles were what I wanted to do for the rest of my life."
By the time Bailey matured, Jennifer had scouted out a Standard Poodle stud in Louisiana who checked all the right boxes. Breeding them would yield a second-generation litter, thus boosting their hypoallergenic properties and trainability.
"I thought she was crazy," Billy says of his wife's vision. "At the time, we were living on the other side of Callaway at a much less spacious property. We already had four dogs, and I thought that was enough. Our kids are grown, and now she wants a bunch of dogs running the place?"
Meanwhile, Billy has a squirmy, 9-week-old poodle puppy called Penny in his lap. He works as a roofer at Tyndall Air Force Base and is every bit a man's man, yet his gravelly voice softens and coos for Penny as she yips and gnaws on his calloused fingers.
Jennifer chides him, explaining that Billy is onsite groomer at their Emerald Coast Kennels. He constructed the massive kennel in the Mayos' backyard, which currently houses 18 dogs: silver labs, standard poodles, Bernese mountain dogs, a golden retriever, several doodles and a rescue chihuahua. Whenever Billy's not working, she says, he's likely out back with the pack.
"He leaves the mommas and the babies and the deep-cleaning to me," she says.
Pampered Parents
Through years of mentorship from other experienced breeders, extensive research and hundreds of successful deliveries, the Mayos have nailed the maternity process down to a science.
In fact, Jennifer says, it starts with science. "All of our dogs are genetically tested to ensure they don't have any issues," she explains. "If they do, they don't get bred. That's why we like to raise all our potential parents from puppies, so we can keep an eye on them and make sure their temperaments are suitable for breeding."
Samples of saliva obtained from dogs are shipped to the Paw Prints Genetics lab in Spokane, Washington, and tested for over 150 neurological, musculoskeletal, metabolic and blood diseases.
The assessment reveals any indication of gastrointestinal issues, anomalies in eyesight or urinary tract concerns. (Results are posted for each prospective buyer to see at emeraldcoastkennels.com.)
With a clean bill of health, a female is bred and expected to give birth 63-65 days later. And, for the Mayos' mothers, that period is pretty dog-gone great.
Knowing they're not eating for two, but up to 11, Jennifer keeps a kettle of chicken and rice simmering on the stove. The dish's blandness combats morning sickness and ensures an adequate nutrient supply.
"They're all spoiled rotten and are such love bugs," she says. "Even my most independent and rambunctious mothers will come and lay on you, demanding to be snuggled. That's why I'm happy that I'm around all day to give them the attention they need."
Mothers live separately in a modest structure attached to the back of the Mayos' house known as the whelping unit. Built, insulated and puppy-proofed by Billy, the unit encloses a cozy, sterile environment of blankets and pillows.
During my visit, Bailey and her litter of 10 are its current tenants. A one-week-old, rusty-red Irishdoodle fits into the palm of my hand, its eyes and ears still closed to the world. He suckles on my finger, and I wonder if I'm sly enough to slip him into my pocket without alarming my hosts.
"Bailey and the rest of our mothers are never bothered by us when we are present during labor," Billy says. "They find us comforting, and we prefer to be there because there have been times when puppies have come out unresponsive, but by generating a little heat and stimulating them, they've come through."
Puppies are weighed, measured and given a colored collar for identification (Jennifer isn't allowed to name them, Billy says. Otherwise, she'll keep them!)
"After being in the medical field for nearly 30 years, I couldn't be happier taking care of them," Jennifer beams. "The first four weeks are the best because they're just so small, and you get to see each individual personality come out — no two are the same."
The pups are integrated into the rest of the pack at about six weeks, and eligible for their fur-ever homes by week eight.
More Than Just a Business
Doodles are notorious for costing an arm and a leg. At Emerald Coast Kennels, pups are priced anywhere from $1,100 to $2,800, but a close look at the care and feeding they receive reveals that you're getting a decently solid deal.
Every 10 days, Jennifer orders nine new bags of dog chow. Sonograms run around $125, and vet trips are frequent. The Mayos purchase wormers, flea collars and vaccinations for every single puppy, and about 600-1,000 potty pads are consumed per litter.
Not to mention Jennifer's 24/7 devotion to both puppies and prospective buyers.
Future owners can't visit their pup prior to its six-week checkup (parasites, particularly coccidia from foreign environments, are often fatal for litters), but pictures, videos and updates are readily available upon request.
"People correspond with Jennifer months before a litter's even due," says Billy. "It's like she's their best friend! She'll be up until 11 at night sometimes just chatting away, and I'll have to drag her off Facebook."
He's not sure how people go about choosing a puppy they've never met, but most do. Rarely, buyers have fallen for another upon arrival, and made the switch.
Clients hail from all over the Southeast, but the Mayos refuse to inflict upon their babies the stress of shipping by air; they will either deliver the puppy or meet you halfway.
"We've had people complain about the prices, and say some pretty nasty things," Jennifer says. "But for us, it's never been about breeding and selling. It's always been about taking care of that animal, and seeing it go to a good home."
Though, with doodles, you often wonder who's caring for whom.
Jennifer reveals in discussing her struggles with anxiety and depression why she found Bailey irresistible.
"She just knew," Jennifer explains. "If I was about to have a panic attack, she'd just lay her head on me. She helped me so much, I knew it was something I had to give back to other people."
Once a year, the Mayos donate a doodle to a family in need. To prevent scams, contenders must supply a note from the doctor to prove there is a need, and agree to have the puppy trained as a therapy dog.
Last year's recipient, a 2-year-old boy who suffered from a mood disorder that produced frequent tantrums and outbursts of anger, took to the doodle immediately.
"Calmed him right down," says Billy. "If there's ever a need, we're not going to turn someone down over some money. You sell three or four out of the litter, make back your money and you're left with some wiggle room to help people out. Seeing their faces light up when they meet their new dogs is priceless."