For Paul Busuttil, Bar Business Was Just the Beginning
Busting at the Seams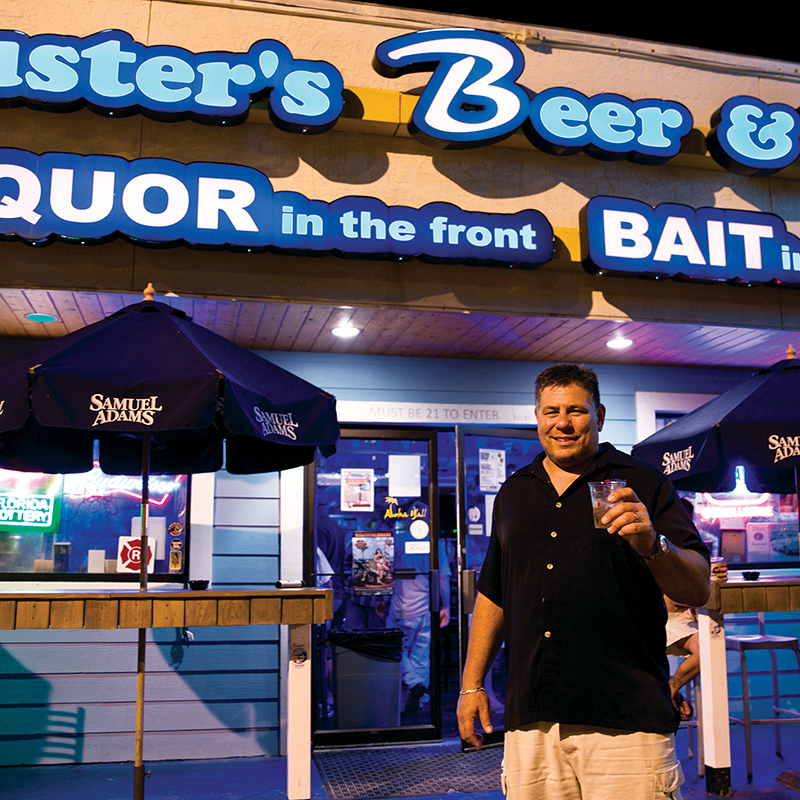 Tucked next to the cash register is a dog-eared notebook that has been inscribed like a guest book by many hands. It's a log book that might best be called a grog book.
On its pages, regulars, employing the honor system, keep track of how many beers they have downed at Buster's Beer and Bait on their way to 69. Customers reaching that milestone are rewarded with a personalized china beer mug bearing a "handle" assigned them by the proprietor.
"You don't have to consume the beers all at one sitting," clarifies bartender Carmin Baxter. "We don't want anyone getting into trouble. But the first guy to get to 69 got there in a week."
They don't call him Dave anymore.
Nor was Paul Busuttil always "Buster." It was the call sign given him in the course of a 28-year career in the Air Force in which he specialized first as an aircraft mechanic. He went on to complete Officer Training School and graduated to service as an air battle manager working with the Airborne Warning and Control System (AWACS, known affectionately as "America's War Against Common Sense" among people who know it well) and the Joint Surveillance Target Attack Radar System (JSTARS).
A South Florida native, Buster completed six tours of duty in the Middle East (Afghanistan and Iraq), earlier spent time in Kosovo and discovered North Florida when stationed at Tyndall Air Force Base.
How does a battle manager become a bar owner?
Buster long harbored a desire to become a self-employed businessman and entrepreneur. Attending night school, he tacked a master's in business administration from Emory Riddle onto his bachelor's degree from the University of Maryland. And, when he retired from the Air Force, Buster was in an acquisitive mood.
With a Veteran's Administration loan, he purchased a long neglected liquor store at 5900 Thomas Drive in June 2012 and transformed it into a cheers bar where a seemingly endless supply of war, fishing and other conquest stories are swapped.
"I got a steal on it," grins Buster, whose affect is that of a big teddy bear, but whose neck and biceps suggest that he could go grizzly if he had to.
About 90 percent of his customers are local and the majority of them have military backgrounds, but everyone is made to feel welcome. Buster's serves the Regency Towers condominium across the street as a sort of adult-beverages annex.
His advanced degree and nearly three decades spent working for what he calls "the world's largest bureaucracy" notwithstanding, Buster found that nothing prepares you completely for going into business.
"You're on the diving board and, at some point, you just have to go for it," Buster says.
He would find that the deep end is populated by far more taxes and licensing requirements than he anticipated, but a growing number of customers kept Buster encouraged, serving him as an extended family.
Indeed, whenever Buster needs something, a family member emerges to help him out. For example, when Buster's son, Christian, a member of the Homecoming Court at Arnold High School, had to have a convertible for the homecoming parade last fall, a BB&B regular was there to provide one. (Buster is rightly proud of his son's appointment to the United States Air Force Academy.)
For Buster, one business activity led to another and resulted in a somewhat improbable collection of enterprises known collectively as the Aloha Village. As an extension of his fondness for fishing, he added a bait shop behind the bar, thus bringing about Buster's stance line, one that borrows from a lurid motto made famous by Vegas – "Buster's: Liquor in the Front, Bait in the Back."
You won't find another beach business where you can buy a Budweiser and a dozen bull minnows at 2 in the morning.
Buster offers this wrinkle, too. His businesses are located not far from the public boat landing on South Lagoon Drive, where parking is at a premium. Buster permits anglers to park their trucks and trailers in a fenced-in yard next to the bait shop and ferries anglers and supplies to and from the landing with a golf cart.
Building on the success of the bar business, Buster acquired the building immediately to the west at 5908 Thomas Drive. And, at this writing, it is home to a restaurant, Shore Dogs Grill; a board shop — surf, stand-up and skate; and a cross-fit gym.
Buster is making use, too, of the space between his buildings, which he calls Buster's Back Yard. There, you'll find a cornhole court, a ping pong table and "Panama City Beach's only outdoor pool table." On the latter, green felt has been replaced by blue vinyl.
And, Buster has dipped into real estate. He owns a rental property dubbed Buster's Beach House.
Buster is an active networker with a strong sense of community. He has a seat on the board of directors at the Panama City Beach Chamber of Commerce and is a member of the Grand Lagoon Coalition, an organization that serves to promote the interests of businesses at the east end of Panama City Beach.
"We're not corporate America," Buster says, putting on his Coalition hat. "And we are the gateway to the Gulf."
Today, out front of the bar, a young woman in a yellow bikini washes motorcycles.
"She's pretty, but you should have been here yesterday," Buster says, then scrolls through pictures on a cell phone to prove his point.
"How 'bout a beer?" Buster suggests.
We duck inside and check the FOX News crawl on the TV above the bar. I have 19 craft beers to consider. Carmin draws a mug of my grog of choice.
"Sixty-eight more to go," I say a few glugs later.
Buster busts a broad grin.