For Jason Sloan, Mandolins Are His Next Frontier
Taking his passion from performing to crafting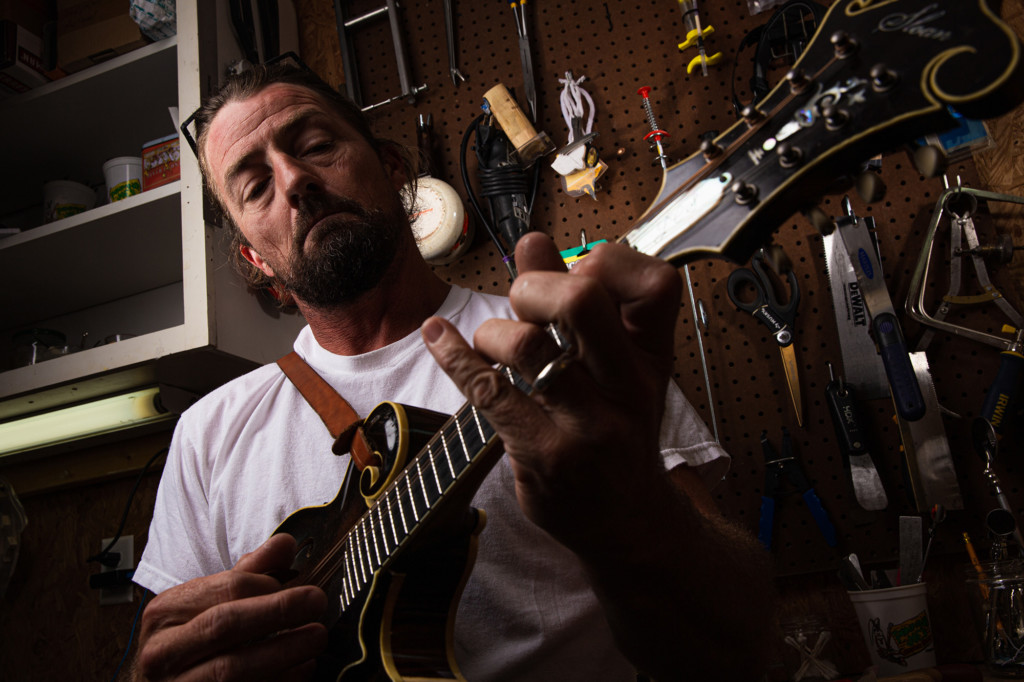 Jason Sloan is a musical jack-of-all-trades and a master to come.
He leans toward bluegrass, often playing mandolin for the Panhandle bluegrass band, Copper Line, but nobody who knows him is surprised to catch him at Hammerheads in Sandestin, backing up jazz guitarist Clinton Hall.
Sloan grew up in Thomasville, Georgia, listening to rock and roll and taking up the guitar in his teens — pretty standard stuff.
Other than his father playing harmonica, he doesn't recall his family being all that musical.
In his 20s, Sloan "twigged" to bluegrass. Maybe it was a natural modesty that led him there, because however much hell other country artists might raise, for blue-grassers, anything beyond a poker face and a quick wink or taciturn smile in performance might look like showboating.
On stage, with Copper Line, Sloan's surely no mic-hound. He leans forward only on the refrains to kick in on the "high and lonesome."
But on the musical bridge, he steps up, cradling his mandolin cross-chest like a baby, and plays it like he's driven.
Sloan's affection for the mandolin is not a "showy" kind of love, but it's one that sets his "baby" tripping like a high-speed tap dancer on the treble clef.
What makes Sloan a musician's musician isn't just his "chops" on the mandolin. It's as much his carving and finishing of wood.
He had played the guitar seriously before coming, by chance, upon a neglected mandolin in a closet at a friend's home. Curious, Sloan asked to put new strings on it and try it out.
"So (the mandolin) kind of found me," he said. The inspirational mandolin still holds a place of honor in his house.
Mandolins are in the lute family. Historians say the bowl-bellied, classic-style mandolin, sometimes called "tater-bugs," evolved from instruments built with turtle shells.
Gradually, after his discovery in the closet, Sloan began ruminating on the idea of mandolin construction, frequenting the workshops of mandolin luthiers.
By and by, he commissioned luthier James "Winky" Hicks to build him one for which Sloan himself selected the materials: trim, hardware and such.
As a carpenter and Walton County building contractor, Sloan already had sawdust in his beard. So, finally, he took that one big step for luthier-kind, ordering maple, rosewood and spruce.
He tooled up, cut and bent the Carpathian spruce top, "tap-tuning" it with an oscilloscope before gluing. Finally came mother-of pearl embellishments and a meticulous French finish.
Sloan subjects his completed mandolins to 100 hundred hours on a "string-vibrator" device to integrate the instrument's parts acoustically.
His first mandolin, the "F" model which he still uses in performance, took him two years to complete.
Since then, his production time has shortened substantially, and Sloan mandolins have found homes and kudos with a growing number of regional bands from Georgia to Idaho.
Today, after 10 years of crafting mandolins from home-garage workshops, Sloan has found an ideal location outside of DeFuniak Springs on Bob Sikes Road and started construction on a 600-square-foot, climate-controlled workshop.
Even after a decade, Sloan, always modest, thinks of himself as a "journeyman" luthier and is honored to have been offered an apprenticeship with the widely regarded master luthier Ronnie Griffin.
It's a commitment that will take Sloan to Woodbine, Georgia, once a month, and though one suspects Sloan is tickled pink at the prospect, it would probably be bad form to ask.