Football Gains Ground at UWF
The rising Argonauts football program has taken the community by storm.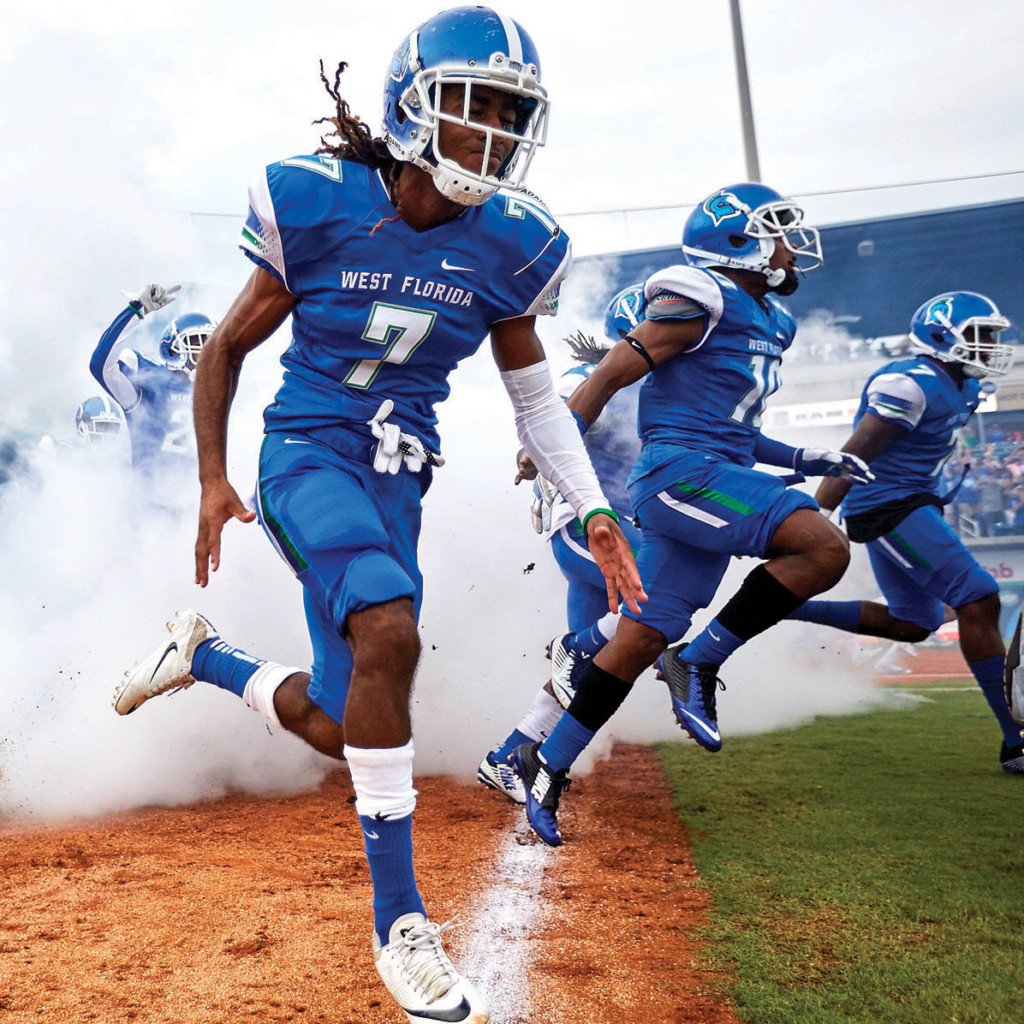 University of West Florida President Martha Saunders always figured the university's new football program was a hit on campus. But she's been blown away by the interest in Argonauts football shown by the community.
"I run into people at the grocery store who say, 'How about that football team?'" she says. "It just gives us all a common connection. And we are the hometown team. I mean, you might be a fan of Auburn or Alabama or Florida State or Florida, but we're the hometown team!"
With scores of tailgaters celebrating throughout the inaugural 2016 season, UWF sold out their first football games at Blue Wahoos Stadium in downtown Pensacola, drawing more than 31,000 fans to the venue over five home dates — an average attendance of 6,300.
UWF Athletic Director Dave Scott says that kind of growing popularity serves as a powerful marketing tool.
"Football has just created a greater awareness of our brand," he says. "One of the things they say about athletics is that it's the front porch of the school — just a way that people get to know the institution."
That means the program has the potential to increase enrollment across the board.
"When you're recruiting another hundred student athletes to come to your campus … typically, there's another three or four students connected to those student athletes who could potentially come, too," Scott says. "I took my family to Disney World this year, and every time I turned the corner, I'd see a UWF shirt. I don't know if I would have seen that five years ago."
Saunders says the new football program has added a "wonderful zest" to UWF's campus life, offering that social experience so many students seek during their college years.
"We've got a wonderful coach," she says. "I've met a lot of the players. I'm proud to have them as students, and I'm proud to have them as athletes."
Although the Argos lost their final three games of the inaugural 2016 season, the team placed sixth in the Gulf South Conference (GSC) after a pre-season coaches' poll had put them at eighth place.
"They came to play," Head Football Coach Pete Shinnick says. "They gave everything they had."
By all accounts, fans can expect that same effort and commitment in the 2017 season, which opens Sept. 2 in Rolla, Missouri, when UWF takes on the Missouri University of Science and Technology.
This fall, fans can also look forward to more home games, afternoon and evening start times and a roster of players eager to apply some hard-won lessons.
In fact, Shinnick says the Argos will take the field as a wiser team with greater knowledge of their opponents.
"I think our team learned how difficult the GSC was," he says. "It's tremendously competitive every time you go out there."
Since last season, Shinnick has hired a new defensive coordinator, Darian Dulin, and added former quarterback Kaleb Nobles as an assistant coach.
"It's been a big help," Shinnick said. "(Nobles) really knows the team."
Shinnick also praised the skills of his latest recruits. "I feel very good about the class we signed," he says. "We're looking forward to season two, and we're looking forward to improving."