Food For Thought
Charity fights childhood hunger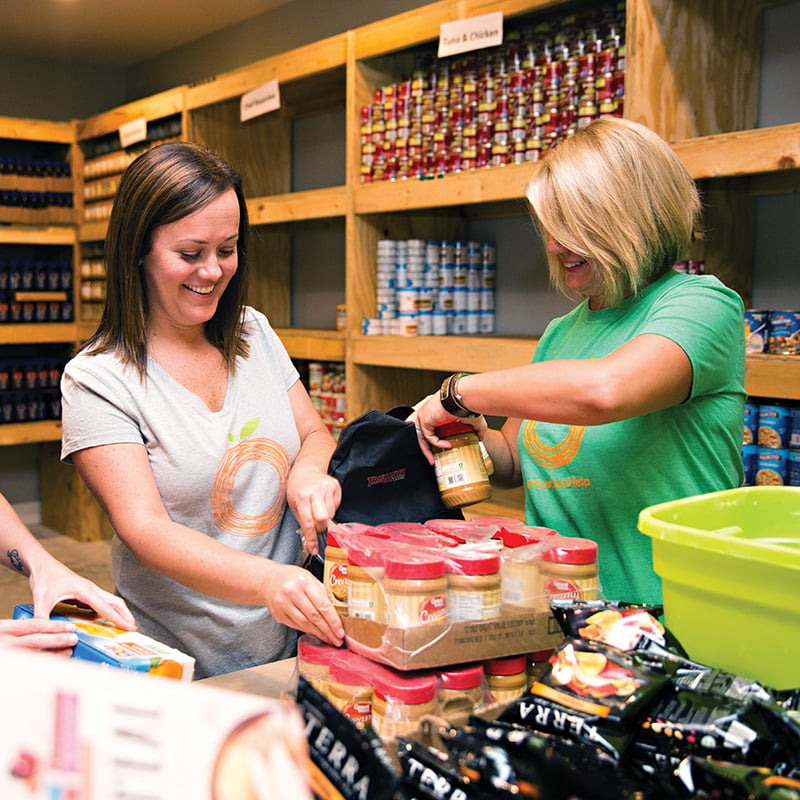 When someone asks Tiffanie Nelson about her work, she tells them she is responsible for 1,503 children. And she is. Not as a school principal or as head of some government agency, mind you. No, Nelson heads up Food For Thought Outreach, the much-admired organization she founded to fight hunger in schools in Okaloosa and Walton counties, and it's a job she loves.
"It all started in 2010," she explains. "I was searching for an opportunity for our family to demonstrate our faith and values beyond our church. That year, enrolling my son in school, it struck me that the papers I was filling in were all about assessing the student's need for assistance. I realized that many children in our area were in need and this was where we could make a difference.
"The next morning I called the school to determine their need," she continues. "We had $300 to serve six children. This quickly grew to 36 in just a few months, and that summer we filed our nonprofit status. Food For Thought Outreach was born." 
Year-round schedule
The organization, headquartered in Santa Rosa Beach, provides food to bridge the gap on weekends. Every Friday, children take home backpacks containing easy-to-prepare, healthy foods. On Monday, they return the backpacks to school and volunteers collect them from school personnel. Then Food For Thought repacks the bags for the following week. The organization stresses anonymity. It never knows the names of the students it helps.
Special pickup and distribution options are provided during Thanksgiving and winter breaks as well as in the summer months.
"We operate year-round," says Nelson. "That's so important. Many kids who get school lunches go hungry weekends and during vacations. Our children face circumstances like homelessness, lack of electricity, being alone for extended periods of time and caring for younger siblings. So the backpacks contain foods that are easy to open and prepare."
A typical backpack includes a loaf of bread, fresh fruit, packaged vegetables and healthy snacks, as well as peanut butter and jelly, or canned soup, chicken or tuna. Nutritionists are consulted to make sure the backpacks provide a healthy, balanced diet. 
Today, Food For Thought distributes over 54,000 backpacks in a school year and an additional 85,000 food items in more than 2,800 snacks bags. The organization also provides more than 9,000 meals during school breaks and 800 bags of food throughout the summer program. This adds up to more than a million food items a year. It reaches 20 schools, serving 1,400 students every week.
Volunteer force
Nelson ran the program in her spare time and on evenings and weekends until Food For Thought's third year. Then she had to leave her 15-year career in retail leadership and became the organization's executive director.
Today, Nelson still works frugally, with only two full-time staffers, focusing instead on volunteers. "We have over 200 volunteers, who gave 520 hours last year," she says. "But we always need more. There are always more kids needing support."
The organization is privately funded through area businesses, families and foundations, including the Destin Charity Wine Auction Foundation and the Emeril Lagasse Foundation.
Food For Thought never stands still. It is now building its Full Circle Kitchen with funding from the Pierce family, Howard Hospitality and O.B. Laurent Construction. There, students will be offered classes.
"We'll use this kitchen for classes that will replace our food delivery system at the high schools," Nelson says. "Rather than receive a backpack, high school students will cook a meal that they will take home. The skills they learn will help them land jobs; we want to break the cycle of poverty."
---
This ongoing series shines a spotlight on individuals making a difference. These social champions from all walks and stages of life are equally zealous about the community causes to which they have dedicated their lives. Check out more champions online, by clicking here.
---