Flyboarding Kicks Summertime Fun Into High Gear
Power Play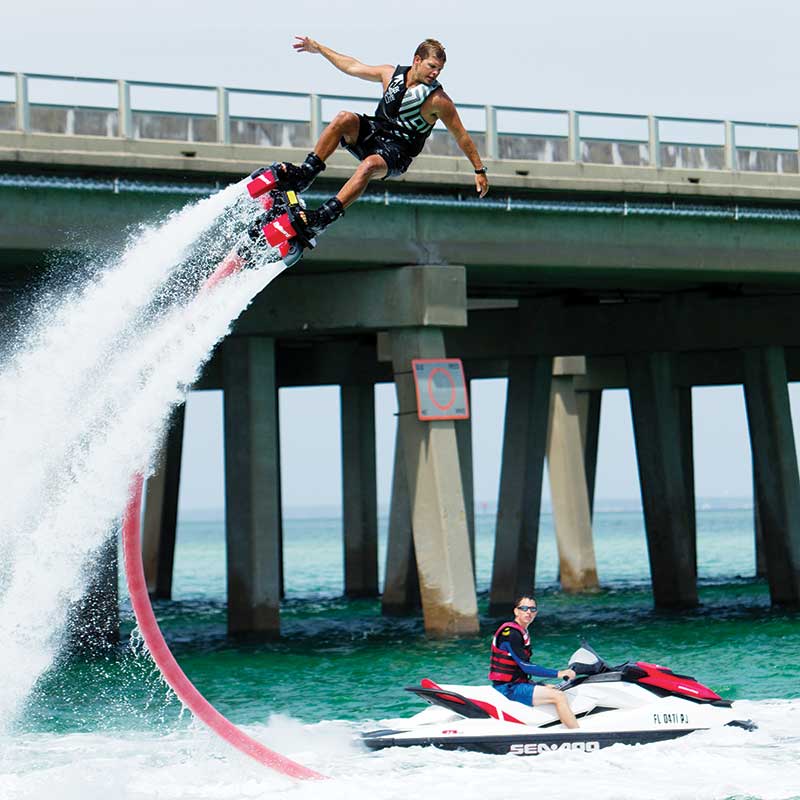 A blond man in a dark swimsuit and ski vest rose slowly out of the green water ebbing around Crab Island. He wore jet-propelled boots attached to a skateboard-like platform, secured to a 55-foot-long red fire hose stiffened by water jetting out of a personal watercraft. He hovered around 20 feet above the water, then, looking around from his solitary perch, he smiled before taking a deep breath and diving into the water. Disappearing for only a second, he surfaced and soared up 15 feet before diving down again, resurfacing, trailing an arc of water streaming from below the boots, looking like a playful, human dolphin.
As he vaulted toward the U.S. Coast Guard Station in Destin, his acrobatics stopped foot traffic on the shoreline and caught the eye of boaters and kayakers near the Destin Bridge. He finished the feat with a magical-looking elevated hover 50 feet away from the beach.
The sport is called Flyboarding and the man, Ben Merrell, is bringing it to Destin for anyone with an adventurous spirit and $250 an hour.
"That's like some real-life Spider-Man," shouted Reggie Williams from the water's edge to the daredevil Flyboarder. The Kansas City visitor and his wife paused to watch. "I've never seen anybody be a dolphin." 
"We get called Iron Man quite a lot," said Merrell, a 29-year old former U.S. Army serviceman who co-owns Power Up Watersports with his wife, Amber. The couple launched their Flyboard rental business last summer, which also includes Aqua Cycle Water Trikes — those floating tricycles with gigantic puffy wheels you can pedal around in the surf.
Joshua Sullivan, a 34-year-old local musician, is the assistant instructor and the person driving the personal watercraft. Sullivan controls the throttle to limit the height and increase stability of the rider. The craft forces the water stream through the hose. "It's like two fire hoses of water coming out of the board," said Sullivan of the lift's power. 
Crab Island is the business' base of operations every day (weather and water conditions permitting) from mid-May to Labor Day. A Flyboard rental includes with 20-minute demo lesson for $100, with times and prices going up from there. To get to the launch dock, you can hail a water taxi ($10 round-trip, refunded if you rent a Flyboard) or swim to it from your boat. Locals and military get a 10 percent discount on rental fees.
Flyboarding is easy to learn at any age (although riders must be at least 16). "I had three teenage girls all take a 20-minute flight," said Merrell. "It's all intuitive — I give you three minutes of instruction and 99 percent of flyers get it, feel it. There's a happy balance of forward and backwards and confidence — equals sweet spot." Merrell has gone as high as 47 feet on a Flyboard but would not take a customer that high. He flies clients around 3 to 5 feet off the water and teaches them how to fall. "Show me they can control the board, then I'll take them up to 15 feet," he said. "I had a 67-year-old man learn in four minutes."
Merrell said recently a deaf girl swam out to him. After establishing some ground rules, "A guy on a jet ski signed her instructions and she flew," he said. 
The Flyboard was patented and introduced in many countries by Zapata Racing, based in France. Merrell said he bought the first board sold and distributed in the United States in June 2012. The water sport is popular with thrill seekers in Florida, Texas and in Chicago's harbor, where Merrell plans to demonstrate his stunts this year. 
While he's a flying fish in the water, Merrell admits that on shore he's far from athletic. "I can't stand here and do a flip. I can do a really ugly cartwheel," he laughed. "There's a back flip coming soon on the board. I'm always pushing the limits."