Float Brothers Float Spa
Float on. Float Free.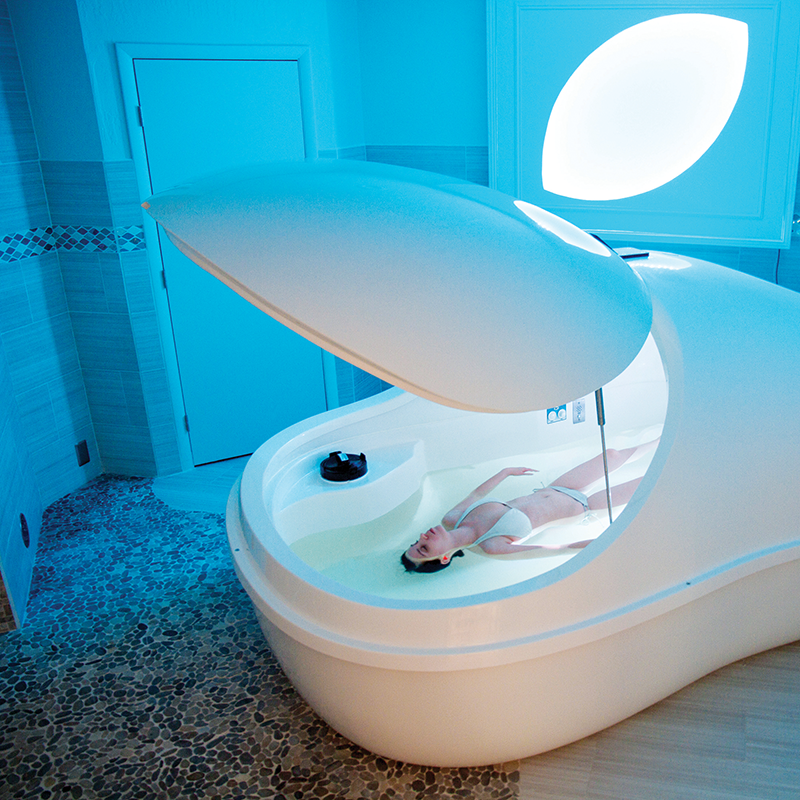 Trey and Chris Hearn are pod people. For this pair of blue-eyed brothers and former military men, however, that doesn't mean following the crowd — it means floating to the top.    
It means tapping in to health and wellness in a way that's proving its salt (literally) and revolutionizing the way the medical industry is thinking of natural healing. Sometimes, studies reveal, the best way to a better life isn't found on the labels and bottles of drugs pushed by the big pharmaceutical companies, but instead in the quiet warmth of a pod full of salt water, where stress flows away and healing seeps in.
Unfortunately, stress is a growing concern for men and women of all ages. We live in a fast-paced world, where downtime seems almost a thing of the past. Technology never sleeps, and disconnecting ourselves from it seems virtually impossible. It's no small surprise, then, that finding relief from all that stress has become such a common priority as people search for something — anything — that will offer them even a moment's peace and relaxation.
In ways too numerous to count, people seek to achieve balance in their lives and reverse the mental, physical and emotional damage caused by stress.
For the Hearn brothers, the idea of opening their own float therapy spa was born unexpectedly after the pair had the opportunity to try floating in Orlando. After returning home to Destin, however, the glaring lack of float spas served as inspiration for their business concept: Float Brothers Float Spa.
"Floating was an almost instant passion, one of those life-defining experiences, and we knew we had to start this business," says 33-year-old Trey, who currently works as a civil servant for the Department of Defense and is in the Air Force Reserve.
As former members of the Air Force, Trey and Chris personally appreciate the emotional and psychological benefits of float therapy for people, including military veterans suffering with post-traumatic stress disorder.
"Stress is a byproduct of our current society, regardless of who you are," says 28-year-old Chris, a barber in Valparaiso. "It's amazing to see how effective floating can be in reducing that stress, and it's helped us in a huge way. Because of our own military backgrounds, it's one of our top priorities to help our local military and fellow veterans."
As they bring their dream to fruition, Trey and Chris hope that their foray into floating is just the beginning of a revolution. They see big potential in those little pods.
"People float to relieve stress, recover from injuries, ease chronic pain, and relieve anxiety and depression," Chris explains. "It naturally increases your dopamine and endorphin levels and boosts your mood. Everything you experience while you're floating comes from within you –– from your thoughts and emotions. It's the perfect time to reflect on your life."
Float on. Float free. And find what floats up. 
---
Chic + Coastal 
Matt Burke
Jack Rudloe at his Gulf Marine Specimen Lab.
Luca + Danni Jewelry is an up-and-coming jewelry line you can be proud to support. Handcrafted in the USA, Luca + Danni is available locally at Coastal Casuals. Each piece of this fun and beautiful collection is finished in oxidized silver or brass and embellished with colorful Swarovski crystals, pearls and stones. And each represents a touching story. After graduating from the University of North Carolina, Fred Magnanimi moved to New York City to pursue a career in investment banking. His younger brother, Danny, was home in Rhode Island, working to reinvigorate the family's manufacturing company, Mag Jewelry. Tragically, in 2013, Danny lost his battle with leukemia. Just 33, he had been determined to make Mag Jewelry thrive. As Danny's death neared, Fred spent long days with his brother, helping him work. Then, dismayed but inspired by his brother's passing, he left Wall Street and relocated back home to finish the job Danny could not.