First Lady Ann Scott on Christmas Traditions, Holiday Decorating and Life at the Mansion
Governing the Holidays With Simple, Southern Style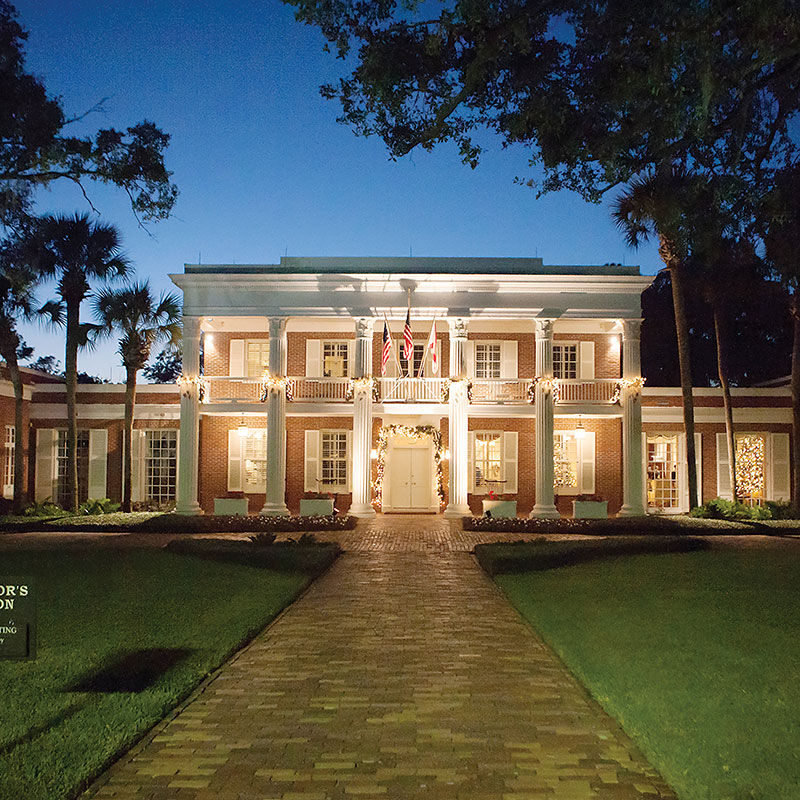 Being holed up in a mansion for Christmas might sound a bit glamorous, but for Florida's first family, the holiday season is in many ways traditional. 
Duties are upheld, of course, with fanciful holiday celebrations honoring worthy Floridians monopolizing many of Gov. Rick Scott and First Lady Ann Scott's evenings. Somehow though, family time, food and festive decorations still manage to take center stage. 
Well, at least until some lucky local entity opens with The Nutcracker. Then those pastimes have to share the limelight. For the Sunshine State's well-traveled first lady, no matter where her family has resided, the timelessness of the ballet has always been a welcomed tradition.
First Lady Ann Scott
"I think the holidays are about being surrounded by family and friends," said Ann Scott. "I've lived in nine states and 23 homes, including the Governor's Mansion. I think for me, just being surrounded by family and friends is so important."
Situated in the Florida Room at the mansion — a beautifully lighted, tastefully appointed sitting area on the north side of the estate — her words ring extra true. Pictures of the Scotts' adult daughters, Allison and Jordan, and their growing families punctuate nearly every vantage point. Their smiling faces have been thoughtfully placed alongside Scott's personal seashell collection, a small library's worth of books and an array of must-see Florida memorabilia.
"The grandchildren are taking over," she laughed, noting that photos of longtime family friends had previously been allotted more space on her shelves. The arrival of new family members, however, has prompted their relocation to the private side of the mansion. 
Along with the freshening of decor, the Scott's standing Christmas traditions are also being revisited as a result of their new familial additions — three grandsons and a fourth grandchild due this November.
"Our kids are grown up," she said, "and now we have grandchildren, so our Christmas traditions are changing. But when the girls were growing up, we would typically go to church on Christmas Eve — and it was usually a 5:30 p.m. service. And then we would probably grab something to eat, come home, get in our pajamas and watch The Muppet Christmas Carol."
"The girls loved Christmas Eve service," she added. "In fact, I asked them. I wanted to know what it was that they loved about Christmas. And it seemed like they mirrored me. The things that were always important to me became important to them, too."
This season, the once-favored cinnamon rolls might be getting pushed out for blueberry pancakes at her daughter's house, but for Scott, the holidays still look and feel pretty much the same. Her understated, family-centric style means that handmade ornaments from their daughters' youth are the showstoppers on her personal Christmas tree, which is located about a six-hour drive south of Tallahassee at the family's home in Naples, Florida.
As for the switch in breakfast preferences — the grandparents harbor no hard feelings, she assured. They're just glad Santa found the place.
"They want to come up with their own traditions," smiled Scott, "just like Rick and I did."
A diehard for the classics, Scott's decorating mantra is always "less is more." For the holidays, that means a nativity scene, lots of lush greenery and a traditional red and gold color scheme. On the tree itself, globes of similar colors in varying sizes and textures complement lifelong keepsakes. She also favors white poinsettias to their more brash red counterparts. 
"I find that the less (decorations) people have, the more you notice them," she said. "When there are too many, you don't."
Back at the mansion, her desired style of "casual elegance" is upheld throughout the season. Before vacations get into full swing for Thanksgiving, staffers and volunteer "elves" devote two days to dolling up the place. Last year, the color palette for the primary tree was an eye-catching gold and bronze combo. A half dozen happy helpers, three Christmas trees (in the entry way, reception hall and Manatee Garden) and countless garlands and knickknacks turn the place into a real life winter wonderland.
No fake snow — but still plenty to admire. 
"I don't like anything to be overdone or too formal," she emphasized. "Even the Florida Room here, that's more my style."