Fine Wine, Spirits, Food and Finery
Harvest Festival celebrates good life, benefits children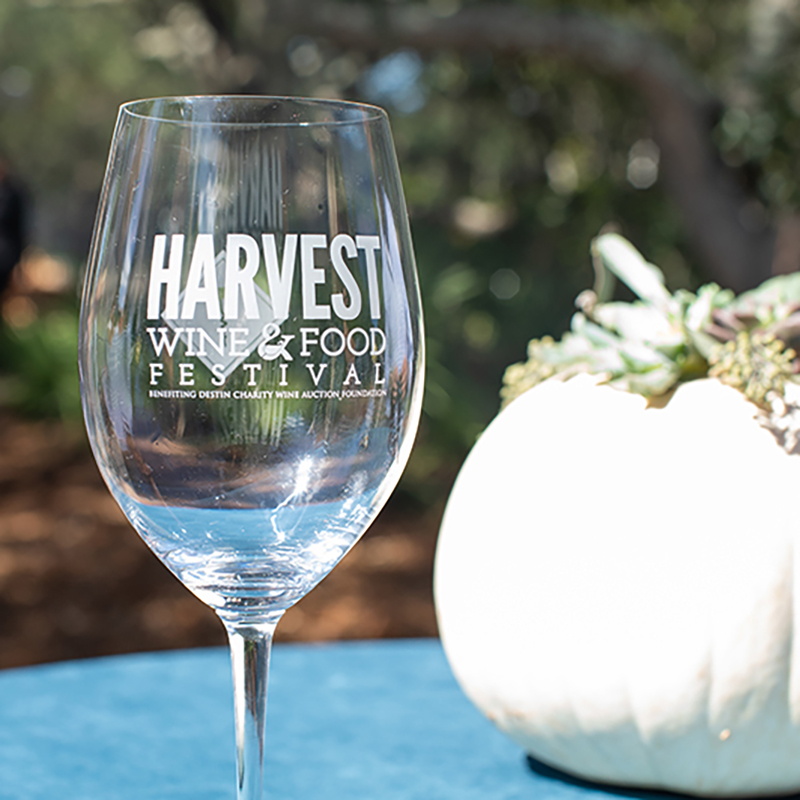 Beneath an azure sky — and a big tent — hundreds gathered Saturday at Cerulean Park in Watercolor for the second annual Harvest Wine and Food Festival, presented by the Destin Charity Wine Auction Foundation.
The Festival was in many ways a celebration of the good life, decorated as it was with fine wines, expertly distilled spirits and delectable bites.
And the setting was so flawless, well, it was enough to make a Disney property seem a bit tawdry.
"It's like a movie set with the trees and the dappled sunlight and all," enthused Kate MacMillan, the communications manager for the Foundation, speaking to the scene's near otherworldliness before talking about the event's ultimate purpose.
The Foundation, MacMillan explained, raises dollars for 16 organizations, located in Okaloosa and Walton counties and dedicated to serving the interests of children.
The work of many of those charities has been compounded of late due to the large number of families, many from Bay County, who were displaced by Hurricane Michael and have taken up temporary residence in communities to the west.
"The charities are required to reapply for funds from the Foundation each year," MacMillan said, "but there has never been a problem. Each of them does outstanding work" and so it is that each deserves a mention here …
AMIKids Emerald Coast, Boys & Girls Clubs of the Emerald Coast, Children in Crisis, Children's Volunteer Health Network, Emerald Coast Autism Center, Emerald Coast Children's Advocacy Center, Food for Thought Outreach, Habitat for Humanity of Walton County, The Arc of the Emerald Coast, Mental Health Association of Okaloosa and Walton Counties, Opportunity Place, Pathways for Change, Sacred Heart Hospital on the Emerald Coast, Shelter House of Northwest Florida, Westonwood Ranch, Youth Village.
Links to each of the charity's websites may be found at dcwaf.org.
"We measure our success by the number of children we help," MacMillan said, adding that proceeds from the Harvest Wine and Food Festival benefit children in need throughout Northwest Florida.
Departing the Volunteers Tent, which MacMillan helped hold down, and entering upon the festival grounds, I was hailed almost immediately by a woman who may have taken me for a whiskey drinker and, at that, she would have been right, of course.
While an event volunteer and not a distillery employee, she suggested she has some whiskey cred by virtue of having lived for two years in Louisville. Given her generous pour, Old Forester chased for me what little chill had been provided by the afternoon sea breeze.
Looming ahead was the Fox Bros. Bar-B-Q tent, a stop that had been highly recommended by McMillan.
The 11-year-old business out of Atlanta is the official barbecue of the NFL's Falcons, a distinction that Justin Fox mentioned to me as soon as I started talking with him.
I asked Justin if he thinks he might be able to cause a dedicated vegetarian to begin eating meats.
"Oh, I've done that," he assured me. "The woman was a vegetarian and now she's raising her kids on our barbecue."
Presently, I found myself at the VIP tent, where I was administered a dose of sweetness in the form of lavender champagne by greeters representing the Henderson Resort.
The tent, sponsored by Emerald Coast Magazine and large enough to swallow a football field, was home for the afternoon to sponsors including top restaurants, four vintners, a jewelry maker and a distiller.
Aaron Barnes, co-founder and master distiller at his 4-year-old business, Timber Creek Distillery, located on the Barnes family farm near Crestview, was a home brewer once. Laughing, he conceded that beer, for him, may have been a gateway drug.
Now a purveyor of rum, gin, vodka and whiskey, he spoke spiritedly about his business's expansion plans.
Zach Bingham, the general manager and beverage director at Cuvée Kitchen + Wine Bar, invited me to sample raw oysters.
There were two varieties on hand, Louisiana oysters and another type so small that even my wife wouldn't cut one in half. I doctored up and slurped down a couple of big 'uns.
I sampled the lamb-and-white-bean chili provided by Restaurant Paradis in Rosemary Beach and chatted up Chef Mark Eichin, an alumnus of Le Cordon Bleu. Eichin was looking forward to a return to full operations at his restaurant, many of whose employees were disrupted by Michael. He gets much of his fish from New Orleans and the Keys and from Water Street Seafood in Apalachicola, so that supply chain was unbroken.
What fish does Eichin most like to prepare? Triggerfish, as it happens.
With some amusement, I watched a man who stood with his hands in his pockets and wore a "What are you gonna do?" expression on his face.
Nearby, his wife was trying on necklaces and bracelets handcrafted by Renee Launiere of Bijoux De Mer Fine Jewelry in Destin and designed to "sing the song of the sea." For the woman involved, the jewelry sung a siren song. A large transaction was at hand.
The featured VIP tent wines were provided by Domaine Serene, the Robert Craig Winery, Roy Estate and VGS Chateau Potelle, the latter represented by Jean-Noel Fourmeaux, a Frenchman now living in California's Napa Valley. Stoppers-by were as enamored of his vocalics and his gregariousness as they were of his reds.
Kathryn Reynolds, the director of sales for California vintner Roy Estates, which was badly damaged by the Atlas wildfire of a year ago, expressed affinity for people and businesses working to recover from Michael.
At Emerald Coast Magazine's signature cocktail station — the "Emerald Coast Sunrise" combined orange liqueur, fresh pomegranate and Prosecco — I met event volunteer Tim Walsh of Blue Mountain Beach who stated simply, "I'm here because I like to help people."
His wife, he said, volunteers with a Destin Charity Wine Auction Foundation charity, Food for Thought Outreach, which supplies children with instruction about nutrition and sends food home with kids to ensure they have enough to eat on weekends and during vacations from school.
In exiting the big tent, I nodded with appreciation to musicians Allie & Salty, a husband-and-wife acoustic duet that favors Americana rock.
I next found my way to seafood vendors including Jackacudas, whose fish taco I found to be exceptional.
While there, a large man, transfixed by a tray of shrimp rangoons, approached. He should have been watching his step instead of staring at the grub.
Stumbling slightly, the big fella splashed red wine onto his splendid pressed, button-down shirt.
"There it is," he said, as if the spill had been inevitable.
Yes, there it was, an indelible souvenir of a fine day.
Check out your photo booth pictures HERE.
See more photos from the event below:
Photos by SMT Photography