Fine Arts at the Beach
School brings aspiring musicians of all ages together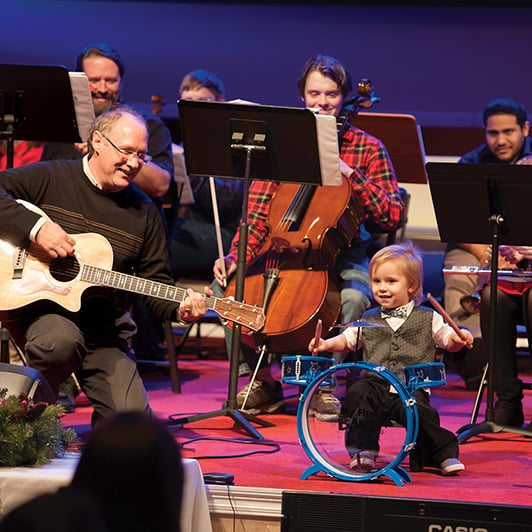 Music moves us. Unless you are without a soul, you've experienced a moment when a composition touched your very core. Your skin erupted in gooseflesh as you watched someone perfectly manipulate an instrument, and you could kick yourself for not sticking with those piano lessons Mom forced you into as a kid. While many great musicians have been practicing since childhood, adults haven't missed the train just yet. Fine Arts at the Beach Music School & Store jams to the motto, "Never Too Late. Never Too Old."
Located on Panama City Beach Parkway, Fine Arts at the Beach provides a delightfully divergent educational experience that departs from school music programs or private lessons. Founder J. Michael Karr got started in 2008 with a few students from his church. Growing up in a family of musicians and performing professionally for much of his life, Karr was elated that many others shared his passion for playing and were eager to learn. As interest grew, the academy moved into a proper studio and flourished, and now attracts upwards of 100 students year-round.
"We've secured an excellent faculty of nine instructors, all highly trained with a strong calling to share what they know," Karr described. "We keep tuition low so everybody can afford arts, but it's important to all of us here that people are taught using quality instruments, which can be expensive. We understand that and wanted to provide everyone with an easier option through our music store."
The shop, which supplies everything from bongos to banjoes, allows novice musicians to rent an instrument of their choice for as low as $12.75 a month. So, the interests of students have a lot to  with the instruments to be found in the store. Recently, Karr ordered a harp for a woman who decided she wanted to start studying that challenging instrument.
"New students can come into the store, pick up their guitar or brass, and then my wife, Netta, will figure out their schedule," Karr explained. "We divide each year into three sessions. Students fill out an application that helps us figure out seating for each lesson, and then we'll meet once a week for a 30-minute lesson."
Each lesson is curriculum-based, tried-and-true and designed to help both young and old students meet their goals. Staff members at Fine Arts at the Beach like to think of themselves as music coaches, rather than instructors, due to direct involvement with each student. The goal is not to teach a class how to play a few chords, but to guide them to learn how to make their own music and play coherently as a group.
Karr is especially proud of his academy's mixed-age orchestral groups. What first started as a beginner's orchestra blossomed into a symphony orchestra as students mastered their percussion instruments, strings, and woodwinds throughout the years. The orchestra is also available to non-students, and is free for any community member who wishes to join. (A beginner's orchestra is still operating for those who are new to music.)
For Karr, creating harmony with others is what makes his business worth it.
"My wife and I were working second jobs just to get our studios started," Karr recalled. "I remember leaning back against a wall while I was watching one of our recitals, thinking, 'Lord, I am so exhausted. We're working so hard, why are we doing this?'
"Then, I looked up and saw the father of a family up on stage, playing guitar. His wife was playing a conga, and their 8-year-old daughter was on piano. Their 4-year-old daughter was rattling a little shaker. This family was going to grow and be making music together for years to come. That's why we do this." 
---
Carol of the Bells Performance Recital 
In celebration of the holidays and another successful year for students, Fine Arts at the Beach School & Store will be hosting the Carol of the Bells Performance Recital. Individually, students will demonstrate what they have learned at the school and then will join in a grand finale that will feature musicians from age 4 to 74 playing as a symphonic orchestra. A reception will follow, offering refreshments and potluck dinners. For more information on Fine Arts at the Beach, visit fineartsatthebeach.com.
Where  Woodstock Church, 17495 Panama City Beach Parkway, Panama City Beach
When  Thursday, Dec. 14, 6 p.m.
Cost  FREE to the public