Filmmaker Cori Shepherd Stern Is Devoted to Helping Others
Making films and making a difference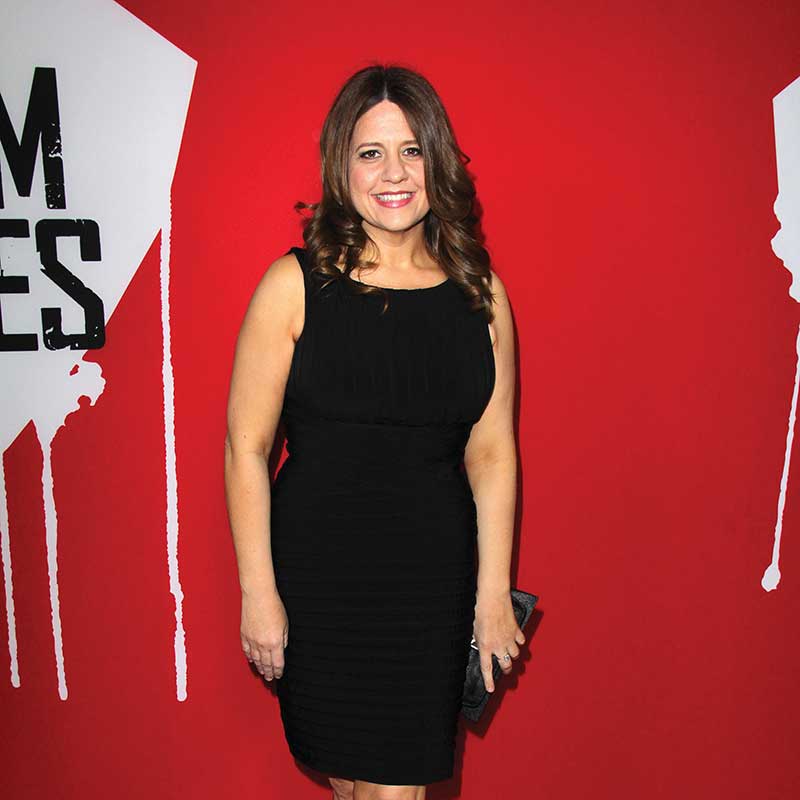 At an early age, Panama City native Cori Shepherd Stern knew she wanted to bring compelling stories to film.
So much so that, while in middle school, she phoned Disney Studios and made her first movie pitch.
As she grew older and her skills and experience caught up with her determination, she followed her heart and her mother's example and set out to make her mark in Hollywood.
She recalls how her desire to become a professional storyteller began.
"I entered the Bay Language Arts Council drama competition when I was a student at Northside Elementary," Stern said.
"I performed monologues from beautifully written plays like 'Our Town' and won several years in a row. That definitely sparked my love of well-written and well-told stories. I still have one of the trophies I won, all these years later, which is remarkable because I am a minimalist and own very few things. It's incredibly meaningful to me and has made me a fierce advocate for arts education in schools. I am a very proud product of the Bay County public education system."
Stern got started in the entertainment industry working for the producers and creators of the Power Rangers.
She created a series starring then 16-year-old Ryan Gosling called "Breaker High," and was the executive producer of a reality series, the "Great Pretenders," featuring a pre-Black Eyed Peas Fergie as the host.
Although she found much success in entertainment television, she also found herself burned out from the non-stop work.
"I was drawn to figure out how I could use my skills in a way that was more helpful to the world," Stern said.
The loss of an uncle to AIDS inspired her to assist people afflicted with that disease.
She collected AIDS drugs from people in West Hollywood whose regimens had been changed and gave them to doctors who desperately needed them for patients in Nigeria.
Her work with AIDS communities inevitably resulted in heartbreak. She got to know many people as friends who then succumbed to the disease.
Too, she lost a friend in Nigeria to tuberculosis and one who was injured in an accident and was unable to obtain medical care.
Along the way, she met Paul Farmer, an American anthropologist and physician well known for his humanitarian work.
Farmer both helped her through sorrowful times and provided the basis for her documentary film, "Open Heart."
"I'd met a little boy in Nigeria who desperately needed heart surgery," Stern recalled. "I came home and tried to find surgery for him, but was unable to do so before he died. But his doctor encouraged me to try to find surgery for another little girl who needed it."
This time, she was successful. The girl flew from Nigeria to the United States on her 12th birthday for surgery that saved her life.
"That let me know what was possible," Stern said. "And I learned about the horrors of rheumatic heart disease. I kept helping kids and some adults get surgery for various things."
Years later, while working on "Bending the Arc" in Rwanda, she found herself following the story of eight children who needed surgery, a story that would led to "Open Heart," which was released and nominated for an Oscar in 2013.
The children, who'd never left their villages, traveled by themselves nearly 2,000 miles to Sudan for risky life-saving operations. Their parents could not be sure they would return.
Their hearts had been ravaged by rheumatic fever, caused by strep throat that went untreated due to non-availability of medical care.
Stern and her film crew became family to the children, encouraging and comforting them, fretting like parents while filming as professionals, through a heart-wrenching experience.
The surgeries — and the film — were successful and strengthened Stern's faith and fortitude.
"Bending the Arc," released in 2017, shines a light on the transformative and healing work of three humble, yet unstoppable leaders in global health: Farmer, Jim Yong Kim and Ophelia Dahl, founding partners of the nonprofit organization Partners in Health.
The film focuses on their work, their impact on policies worldwide and their triumphs in saving lives.
As a public speaker, Stern has made appearances around the world and back where it all began.
As a panelist at the Skoll World Forum in 2017 at the Sundance Institute in Utah, she spoke about her work and addressed empathetic storytelling and the moral imagination.
She was there both as a filmmaker and as the co-founder of Strongheart Group, a nonprofit advocacy and public relations organization.
"Bending the Arc" has been shown across the country in educational, health centers and community settings. She was on hand in Panama City last October when the Panama City Cinema Society conducted a showing of the film. Stern took questions from audience members and discussed challenges presented by the making of the film.
While in town, Stern also was a panelist at Panama City's CreativeCon where she was readily embraced as the producer of "Warm Bodies" (2013).
"Don't ever assume that it's not possible for you," she advised CreativeCon attendees.
"Of course you have to put in the work, try, fail, and get up and do it again, but most people who are good don't know how good they are. Conversely, a lot of people who think they're gifted and don't need to put in the work aren't particularly great; they're just audacious. Work hard and be kind to everyone. That matters."
Stern believes strongly that geography shouldn't determine destiny, "but it can shape your soul." She is highly cognizant of her own good fortune, growing up in Northwest Florida.
"We take so much for granted because, where we live, we can get the help we need to sustain our lives," Stern said.
"The Emerald Coast is a very special place. It made me who I am. People from here are generally kind, deeply genuine, funny and darn good storytellers. I am proud of where I'm from. It is the place that allowed me the freedom and support to explore what I could become."
And did.
Organizations that Matter to Cori Stern and the World
specializes in implementing innovative story-to-impact strategies to bring about large-scale social change at global and national levels. They build purpose-driven campaigns around personal stories in order to create solidarity and elevate people and issues. Its voice is heard around the world.
makes house calls, builds health systems and stays to operate them. In Liberia, Rwanda and any of the other countries where its personnel work and live, Partners in Health goes where it is needed most. It works in close partnership with local government officials and the world's leading medical and academic institutions to build capacity and strengthen health systems.
SALAM CENTER FOR CARDIAC SURGERY
based in Sudan, believes that all human beings are born free and equal in dignity and rights and that everyone has the right to a standard of living adequate for the health and well-being of himself and his family, including food, clothing, housing and medical care.