Fashion Resurgence
Blast from the past trends today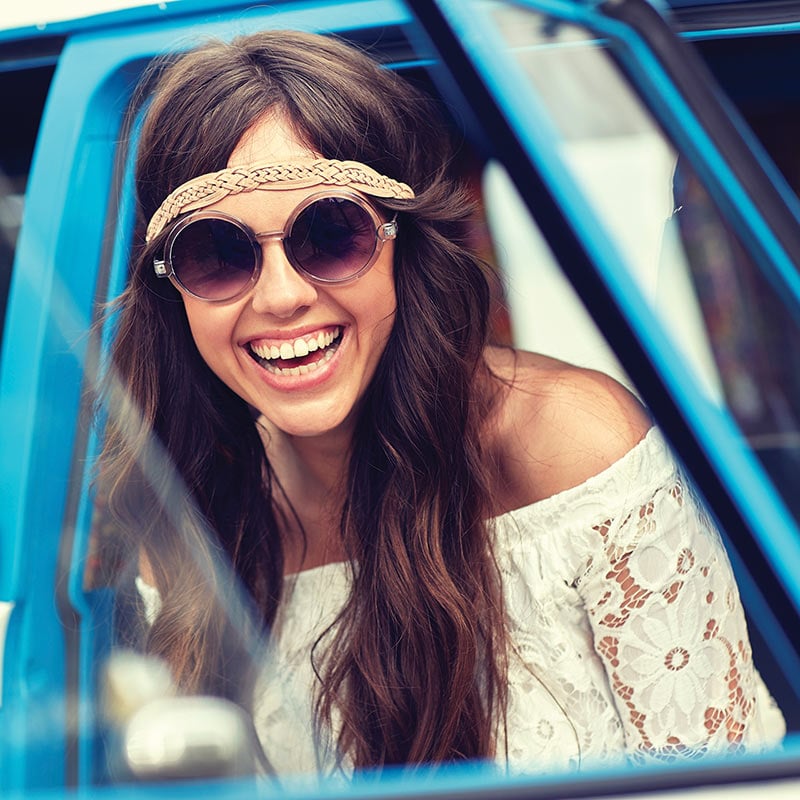 In the words of Alexander McQueen, "Fashion should be a form of escapism, not a form of imprisonment."
Escaping, perhaps to a favorite decade, is as easy as stepping into a clothing store.
For the woman who is Boho-chic, feel free to get lost among endless rows of bell-sleeved blouses and free-flowing dresses. A freer spirit can embrace her inner hippie with flare jeans, tie-dye patterns and crop-tops.
Even trends from the '80s have made an appearance (we are NOT looking at you, shoulder pads!), from acid-wash jeans to bomber jackets to iron-on patches. A stroll over to the accessories station flings you into the '90s, where you'll find dark shades of lipstick and chokers made of lace, ribbon and even metal.
Whatever you choose, all of it is back. These looks are coming right from New York's runways, where fashion designers are showing off their spins on vintage fashions. But you don't have to go to the Big Apple to enjoy the best fashion has to offer.
Melanie Schweizer is the owner of Destin's LuxExchange, a haven for those who seek designer accessories and handbags.
"We tend to sell a lot of Chanel," Schweizer says. "Chanel is dated back so far, and people love to come into the store and look at jewelry … bracelets, brooches that are from the '70s and '80s. It's not just about the trend, it's about having a piece of history from that time."
Perhaps this is why past fashions have made such a strong comeback in the modern era. We still look back upon style icons like Marilyn Monroe and Elizabeth Taylor as the epitome of beauty, though their reigns have long since passed.
"I think that fashion goes in full circles," Schweizer explains. "Designers keep creating trends, but some of the old stuff is just so classic that even though it may go away for a while, we keep returning to it with the fascination of where fashion was, to where it is today."
With that fascination for the past, fashion will continue to evolve from what has already been created. Now, one specific trend does not dominate the fashion industry, and pressuring would-be style mavens to conform to a certain look. Whether you're a hippie, an '80s fanatic, or grunge for life, 2017 is all about finding your style.
---
Retro Wear
Chokers:
DON'T pair with a high-neck top. DO wear with a sweeping collar, V-neck or other loose-cut neckline. These accessories are meant to show off and elongate the neck.
Flare pants: 
DON'T wear with a baggy top. DO throw on a fitted shirt. Flair jeans are meant to accentuate the leg and trim the waist.
Crop-tops: 
DON'T pair with hip huggers or other low-rise pants that expose your midriff. DO wear with high-waisted jeans, shorts or skirts that complement your body's shape.
Acid-Wash Jeans:
DON'T go for wide, large patterns of spot-faded denim. It will look as if someone poured bleach on your pants at random. DO look for small, evenly distributed patterns of acid-wash that are purposeful in design.
Metallic Eyeshadow: 
DON'T go overboard or use with a bold lip color.
DO remember that a little goes a long way. Select shades like gold, silver and pastels, and then pair with a nude lip.
Vintage Designer Handbags: 
DON'T invest in designer purses that come in "trend" colors, like neons and bold hues. DO what Melanie Schweizer recommends and purchase handbags in neutral colors, like black and brown, that can be paired with looks from any fashion era.