Family Firms Ride Wave of Board Sports
Chairmen of the Boards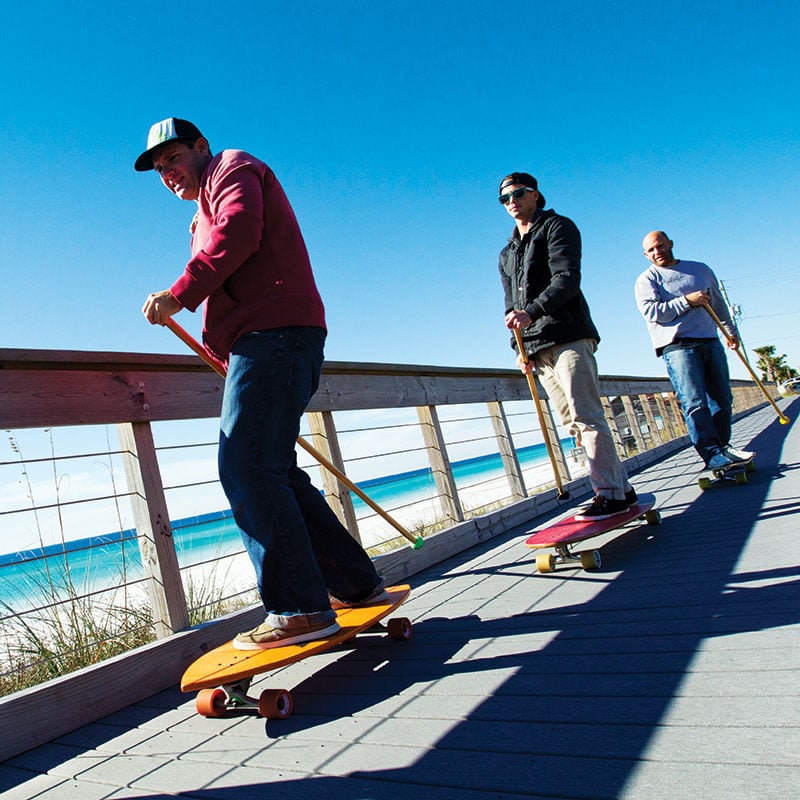 The beaches of the Emerald Coast are known as fabulous vacation spots, romantic wedding venues, even inspiration for a variety of artists. The Florida Panhandle's picturesque stretches of sand are not renowned as catalysts for manufacturing businesses. Yet concepts for two local manufacturing enterprises were born at the beach, with a wave of creative thinking that yielded some big ideas and big challenges.
A little more than five years ago, brothers Matt and Dan Cassidy operated a beach rental and surfing school on family friend Mike Meyer's beach. Meyer had channeled his passion for surfing into Meyer Skimboards, growing his company from a garage business in 1985 to a full-fledged manufacturing business that sold skim boards around the globe. The Cassidy brothers went to speak with Meyer about leasing some additional space but left with a new entrepreneurial dream. "All we went to talk to him about was storage space, and we came out with a business," said Dan, now 34, the brother who conceptualizes products. Meyer had fallen ill with terminal cancer and was ready to put his business in new hands. "He literally taught us the business from his Lazy Boy," he said.
The brothers' backgrounds in construction and surfing, plus a strong streak of hands-on artisanship, made their new Meyer Boarding Company venture a good fit. "We are worker bees who build every board we offer," said Dan. From building and marketing skim boards, it wasn't much of a jump to manufacturing skateboards, land paddleboards, custom surf boards and even stand-up paddleboards. "We diversified," said Matt, 38, who oversees manufacturing and construction. "It was a natural progression."
The firm now makes thousands of boards each year and sells them via the Internet to places as distant as the U.S. West Coast, Puerto Rico, Canada and the British Virgin Islands, as well as from a small shop in Gulf Place in Santa Rosa Beach.
Asian manufacturing powerhouses are no distant threat to the local business. Many of Meyer Boarding's competitors produce their products more cheaply in China, then seek to undercut their pricing. Meyer Boarding, however, provides quality and customization that can't be replicated in Asian factories. The company's unique manufacturing process utilizes high-grade, high-gloss epoxy resin. Mass produced boards use lacquer, which isn't as durable and doesn't look as good. "Everything we do is done here, from basically a garage in Miramar Beach," said Jesse Davis, 29, who handles Meyer's marketing and rounds out the roster of employees. "We are a niche for people who appreciate made-in-the-U.S. craftsmanship."
The pervasive financial appeal of Chinese low-cost production also impacted another Emerald Coast business that builds a different type of board, A.H. Shore Surfer.
In 2009, 11-year-old Andy Herrmann watched some younger kids struggle to ride their skim boards. He tried a ride on his knees, and his idea for a new kind of sport for youngsters aged 5 to 12 was born. His family bought into his notion of a knee-board ride, complete with handles, which would be safer and more stable for the elementary school set. His father, Joe, mother, Linda, and older siblings, Joey and Katie, pooled their various skills to create a new company to build and market the Shore Surfer. "It was basically, do you go for it, or sit back and watch someone else run with your idea?" said Joe, now 59, who brought his project management and engineering skills to the fledgling firm.
The challenge of finding willing lenders or investors led the family to self-finance their enterprise. Like many others, the lower cost production of Asian manufacturers seemed to the Herrmanns like a good economic opportunity. However, the foreign factories delivered products that were flawed and logistics made timely response difficult.
"We brought the production back into the U.S.," said Joe. "We began using expanded foam, but the cure time was a problem. Our growing demand pressured the manufacturer to cut short the cure time."
The family rethought the process and came up with a polyethylene material that facilitated adding integrated handles. The new boards were made more flat, which further improved their performance. "We found a manufacturer with the ability to handle our growth," said Joe.
Shore Surfers are sold in retail shops across the U.S., including locally at The Crab Trap, Fitness Fetish and Henderson Beach State Park. The new, flatter design solved the retail shelf space issue, as the boards now stack easily, reducing the room required for display. The new version is also less costly to ship. In refining their products, the Herrmanns devised a way to better respond to unpredictable fluctuating demand for various color boards. The kneepads on the boards now come in a variety of colors, making it far easier to fill color-specific orders from retailers.
With only a half-inch of water (or snow), the versatile Shore Surfer is three boards in one: a skim board, a body board or a sled. "When the new boards hit, consumers and retailers were thrilled," Joe said.
Shore Surfer is poised to move to the next level, the Herrmann family believes. "We know how to please the customer, we know we have a good product. Now we are looking for how to grow," said Joe. They would like to find an investor to facilitate buying materials in bulk to drive down the product cost, as well as fund development and production of accessories like a backpack to carry the board that also holds most of what a family needs for a day at the beach.
Meyer Boarding Company sees the land paddleboard as the wave of their future. People use the boards for everything from transportation to cold weather training for water paddleboard competition. "In five years, we'd love to be a powerhouse," said Matt. "The land paddle market is wide open. We hope that when people think of land paddleboarding, they think of Meyer. One day, we'd like 'Meyer-boarding' to be well known like YOLO boarding."
Meyer is also making a splash locally with surf camps in the summer months and birthday parties where attendees can paint their own skate or skim board. The company then delivers the finished board to participants within two to three days. Also in the works are logo items and new designs with a fresh color palette.
Both local board manufacturers rely heavily on the Internet for new business. Joey Herrmann, 22, handles the Shore Surfer technology outreach. "Our website is now mobile," he said. "We also upgraded our shopping cart function and are integrating more social media."
Receiving raw materials and shipping finished products is a larger challenge. "Every material we use must be trucked in," said Meyer's Dan Cassidy, noting the Emerald Coast does not have rail service. The firm uses Baltic birch wood to build its boards, involving quite a journey from Eastern Europe to the Florida Panhandle.
Shore Surfer has not yet outgrown the Herrmann's Destin home, which adds the challenge of storing inventory to that of having materials and finished products shipped in to the area. Joe recalled that finding the right manufacturer helped mitigate the storage and shipping issue. "Our manufacturer drop ships, which means we don't have to store an inventory of product," he said.
While the beach served as inspiration and proving ground for both Meyer Boarding and Shore Thing, the companies now rely on technology to reach customers and innovation to compete with other firms, compensating for their less industrial beach location even while celebrating it with their products. Neither firm has any plans to relocate away from the coast that first inspired them.
See the boards in action with this video by modusphotography.com:
MEYER BOARDING CO from MODUS FILMS on Vimeo.