Fall Brings Beautiful Bulbs for North Florida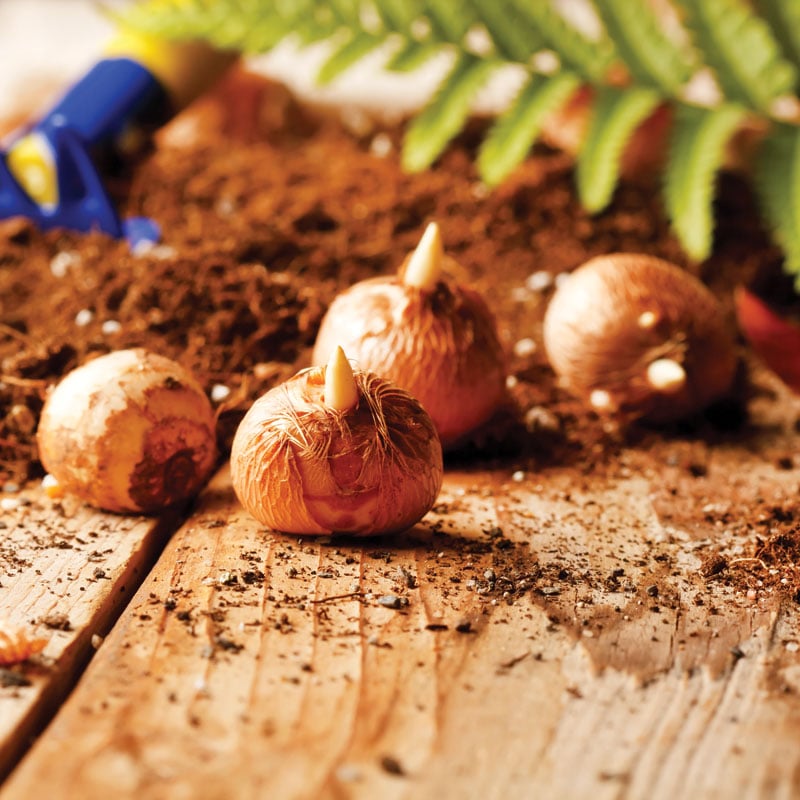 Q: I have had little luck with daffodils and no luck at all with tulips. I even chilled my bulbs in the refrigerator before planting, and they failed to bloom. I give up. What other bulbs will do well here?
A: Don't be too hasty. Lots of bulbs will do well in the Florida Panhandle's Emerald Coast region, including daffodils — you just have to make sure you're growing the right kind of daffodils and treating them properly for our climate. We're in the Southeast's USDA Zone 8b, which stretches along the Gulf Coast from Texas to Florida's Big Bend, across the upper Florida Peninsula to Jacksonville, and up the Atlantic Coast to just south of Charleston, S.C. While certain kinds of daffodils can handle our mild winters and hot summers, tulips simply cannot. 
If you want tulips, consider them annuals and replant every fall. You were correct that tulips for the Deep South need time in the refrigerator before planting, about 60 days at 40 degrees, according to the University of Florida's Extension Service. But make sure you keep them away from ripening fruit, which gives off an ethylene gas that can kill the flower buds. Some gardeners have a separate fridge for gardening needs, which is handy for pre-chilling bulbs as well as beverages. Nurseries sometimes sell pre-chilled tulip bulbs, which can be planted immediately, but never chill your daffodil bulbs; it damages them and can prevent blooming, according to the Florida Daffodil Society.
Labels can get us into trouble with many plants, so it's good to clarify terms before we start shopping. What's the difference between a daffodil and a narcissus? How do they differ from a jonquil? According to the Florida Daffodil Society, there really is no difference. Historically, gardeners in the Coastal South used "daffodil" to describe large daffodil flowers "jonquil" for small daffodil flowers and "narcissus" for daffodils with flower clusters on a single stem, according to its website. Furthermore, "daffodil" is the common name for flowers in the genus Narcissus, which is the Latin botanical name for all daffodils. A "jonquil," the site explains, is "a hybrid daffodil descended from the fragrant species daffodil Narcissus jonquilla." Nonetheless, you'll find other gardening sources that say narcissus grows well in Zone 8b, but true daffodils don't. Don't get overwrought about taxonomy; help is available.
The late John Van Beck spent years growing daffodils, both commercially available ones and historic varieties "rescued" from old home sites, meticulously documenting both successes and failures. One of the founders of the Florida Daffodil Society, he and his colleagues created three daffodil trial gardens in Tallahassee in 1994 and eventually ended up with just the one at his home. After his death in 2001, his wife and research partner, Linda Van Beck, and daughter, Sara Van Beck, published his results in "Daffodils in Florida: A Field Guide to the Coastal South." If you're serious about growing daffodils, this book is a great addition to your garden library. It contains lists of daffodils rated "satisfactory," meaning they survived four years in the trial gardens, as well as suggestions for companion plants. It also details research that had been conducted up to the book's publication, in 2004, into growing daffodils in Central Florida.
Some of the more popular large daffodils that do well here are Carlton, Barrett Browning and Ice Follies. Recommended medium-sized daffodils include Sweetness (which, as its name implies, has a lovely fragrance), Thalia and Trevithian. Other categories listed in the book are small-flowered daffodils, miniature daffodils and small-flower clusters, including the Paper White Narcissus often forced for indoor blooming during winter holidays. I have Carlton, Ice Follies, Sweetness and Trevithian in my garden, and they do well. Plan to dig and separate every three or four years, or they'll stop blooming. 
There's a much longer list of daffodils that didn't make it in the trial gardens, so you can check it against selections in your mail-order catalogue and avoid wasting time and money. 
The best time to plant daffodils in our region is in October or November, and the best locations get six hours of full sun a day or have high, filtered shade. Make sure the area has good drainage or your bulbs will rot. Don't make the soil too rich, either; daffodils prefer sandy loam. Plant your bulbs two to three times deeper than the size of the bulb. If you have a 2-inch bulb, plant it 4 to 6 inches deep. Planting four or five bulbs per square foot gives them room to grow and multiply while still creating a lush look. If you have trouble with squirrels digging up your bulbs, as many of us do, wrap them in chicken wire with the nose, or pointy end, toward one of the wire's openings. 
Water well after planting and during growing season, but withhold water after they bloom. Don't cut back the foliage after it flowers, because it's creating food for next year's bloom as it fades. If you have a sprinkler system, turn off the heads that cover your daffodils to keep them from rotting over the summer. Using a micro-irrigation system is one way to target the water where you want it, particularly if you interplant with perennials. A 2- to 3-inch layer of mulch will keep the bulbs cool during the heat of summer.
A word of caution: While there are many daffodils that can handle our heat, none can stand salt, so they're not a good selection for the beach. They'll do fine slightly farther inland, though.
Unlike daffodils grown in more northern areas, Southern daffodils have a long blooming season, with very early ones beginning to bloom in November and late-blooming varieties putting on a show in late March and early April. With careful planning, you can have daffodils blooming for months.
In addition to daffodils, other bulb-type plants (bulbs, rhizomes, corms and tubers) are recommended for North Florida by the University of Florida's Extension Service and other area gardeners:
African iris

(Morea)

Amaryllis

Butterfly lily

(Hedychium)

Caladium

Calla lilies

(Zantedeschia)

Canna lilies

Crinum lilies

Day lilies

(Hemerocallis)

Elephant ears

(Alocasia, Calocasia)

Philippine lily

(Lilium candidum)

Gladiolus

Gloriosa lily

Hurricane lily

(Lycoris)

Iris

Kaffir lily

(Clivia)

Lily of the Nile

(Agapanthus)

Louisiana iris

Shell ginger/shell lily

(Alpinia zerumbet)

Snowflake

(Leucojum)

Society garlic

(Tulbaghia violacea)

Spider lily

(Hymenocallis)

Tiger lily

(Lilium lancifolium)

Tuberose

(Polianthes tuberosa)

Zephyr lily

(Zephyranthes)
©2013 Postscript Publishing, all rights reserved. Audrey Post is a certified Advanced Master Gardener volunteer with the University of Florida IFAS Extension in Leon County. Email her at Questions@MsGrowItAll.com or visit her website at msgrowitall.com. Ms. Grow-It-All® is a registered trademark of Postscript Publishing.