Extravaganza Celebrates the Best of the Emerald Coast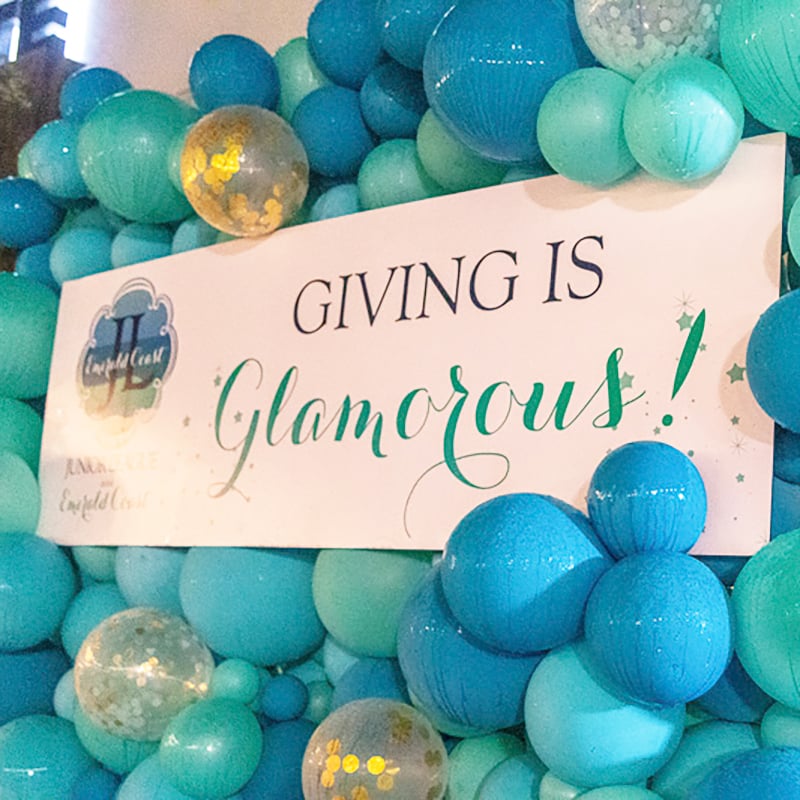 Fraser Hansen who, corpulently speaking, is anything but stout, poured me a cup of an India Pale Ale that he calls Divide and Conch'r from a can he retrieved from an iced-down cooler.
As a sponsor of the 2018 edition of the Best of the Emerald Coast event, presented by Emerald Coast magazine, Hansen, whose business, the Idyll Hounds Brewing Company, turned four years old in October, had an essential role to play: He supplied the beer for the VIP and hospitality tents.
It may be that the angular and affable Hansen — I just knew his name was spelled with an "e" versus an "o," given the faintly Scandinavian look about him — spends as much time naming his brews as paint companies devote to naming their hues.
Old Dutch gives us Aged Beauty, Smoked Rose and Bee Pollen. Hansen gives us Ghost Crab Pilsna', Cap'n Coconut and George's Cherry Tree.
Divide and Conch'r was light and crisp and refreshing and without an unwelcome aftertaste.
The beer was good, a product like all of Hansen's creations, of trial, error, imagination and tolerance of risk.
"Most breweries do what they know," Hansen said. "We're always experimenting. (MaN Mosa, for example, is said to be both sour and fruited.)
If we try something and we don't like it, we just pour it down the drain. I'm a beer explorer."
"Explorer" is a good word to use in this context, because that is what Best of the Emerald Coast, held this year on Oct. 20 and hosted by the refined Sandestin shopping and dining venue, Grand Boulevard, is all about.
All who attend move among winners' tents—it's an extravaganza, really — exploring the best that the region has to offer, as established by an annual reader's poll conducted by Emerald Coast magazine.
The public accounting firm of Carr Riggs & Ingram handles the critical task of counting ballots.
Before I so much as exited the VIP tent, I was distracted by a woman whose voice rose above the din when she exclaimed, "This is divine," about a red wine supplied by Farmer's Daughter Vineyards of Thomasville, Georgia.
And, sure, I was further distracted by an "aerialist" who was perched atop a ring atop a pole.
Event-goers, predominantly men, like bees to a bloom, approached the performer, who was clothed in sequins and violet mesh and fishnet stockings.
The bees extended cups, supplied by ResortQuest by Windham Vacation Rentals, and the Girl in the Ring supplied the nectar — in the form of champagne — while tipping over in moves that surely caused the blood to run to her head. (I found this a fine way to chase a beer.)
All of this was spectacular enough and then Emerald Coast Audio Visual turned on one of its dramatic Moon Balloon lights — I don't know how much candle power those babies have, but it's a lot — and suddenly the sequins sparkled and the bubbly shined and there was no place for a slightly flushed face to hide.
In any event, perhaps few people were aware that proceedings were being video-recorded by Land Air Sea Productions.
The light to me was welcome in that it better enabled me to take notes as I spoke with Daniele Hamrick, a Junior League of the Emerald Coast member who was the League's VIP Tent chairwoman.
Hamrick described League projects including Food for Thought, which provides nutritional counseling to low-income families; Children in Crisis, an effort to keep siblings together when children are removed from their parents by housing them in group homes supervised by house parents; and its Child Clothing Project, which provides more than 400 deserving children with $100 to spend on clothing at a Target store.
"Standing here, you wouldn't think so," Hamrick said, "but 46.3 percent of children in Walton County qualify for free or reduced-price lunches."
Proceeds of Best of the Emerald Coast go to support the Child Clothing Project.
In addition, proceeds were set aside this year to help with Hurricane Michael relief efforts. Exhibitors and others were encouraged to bring donations to the event, and funds were raised to help 30 children who were affected by the storm.
I departed the tent not the least bit self-conscious about the fact that I was carrying a tote bag donated by Silver Sands Premium Outlets and stuffed with giveaways from participating businesses.
(I never owned a cell phone PopSocket before, but I have one now.)
Along the boulevard, marked with signs provided by Eloquent Signs, I found myself among employees and owners of respected businesses who previously had gathered at a Winners Party held in their honor on Oct. 3 and hosted by Cuvée Kitchen + Wine Bar.
I chatted with Leslie Moland, the marketing and public relations director for the White-Wilson Medical Center, P.A.
She informed me that White-Wilson is the oldest hospital on the Emerald Coast and employs physicians who have treated patients from three different generations in the same family.
I sampled one of winning chef Jim Shirley's specialties, shrimp and grits with shredded sweet potato. It's a dish he once prepared at the White House.
I spoke with Anna Moonie, who was representing 654Limo and whose white dress matched the exterior of the cherry 1962 Lincoln Continental (with red leather interior) the deluxe transportation service had on display.
From Capt. Philip Blackburn of the charter boat Backdown2, I learned that the fishing season offshore had been a good one, and it wasn't over yet.
Blackburn had been out on a 12-hour trip just that day.
And I threw down a seafood trifecta: tuna dip from Destin Ice and Seafood; raw oysters with mignonette sauce from Slick Lips Oyster and Seafood House; and a tripletail slider from Dewey Destin's Seafood Restaurant.
If all of that weren't enough, I found that I had saved room for a mini-burger from MaGuire's Irish Pub.
To a man and a woman, all expressed appreciation for Best of the Emerald Coast, for the recognition and support of local businesses it provides and for its contributions to charity.
I paused briefly at the silent auction tent and paid particular attention to a Justin Gaffrey painting, featuring his heavily textured style and depicting a Gulf shore-scape with pier, sea oats and a sky of brilliant yellow.
That painting was still on my mind when I again visited Hansen and sampled a Burly Lady lager.
Had I had a few more, I might have gone back and ratcheted up the bidding on the Gaffrey piece.
But, Justin, I avoided immoderation, and I hope your work attracted the winning bid it deserved.
Emerald Coast Magazine thanks the community and the following sponsors for their dedication and support: Grand Boulevard Sandestin, ResortQuest by Wyndham Vacation Rentals, Silver Sands Premium Outlets, Idyll Hounds Brewery, Panacea Oyster Co-Op, Farmer's Daughter Vineyards, Emerald Coast Audio Visual Solutions, Land Air Sea, Cuvée Kitchen + Wine Bar , Eloquent Signs and Carr Riggs & Ingram.
See more photos from our event below:
Photos by Jim Clark