Exercising Care for Kids
Julie Hurst is a Joyful Peacemaker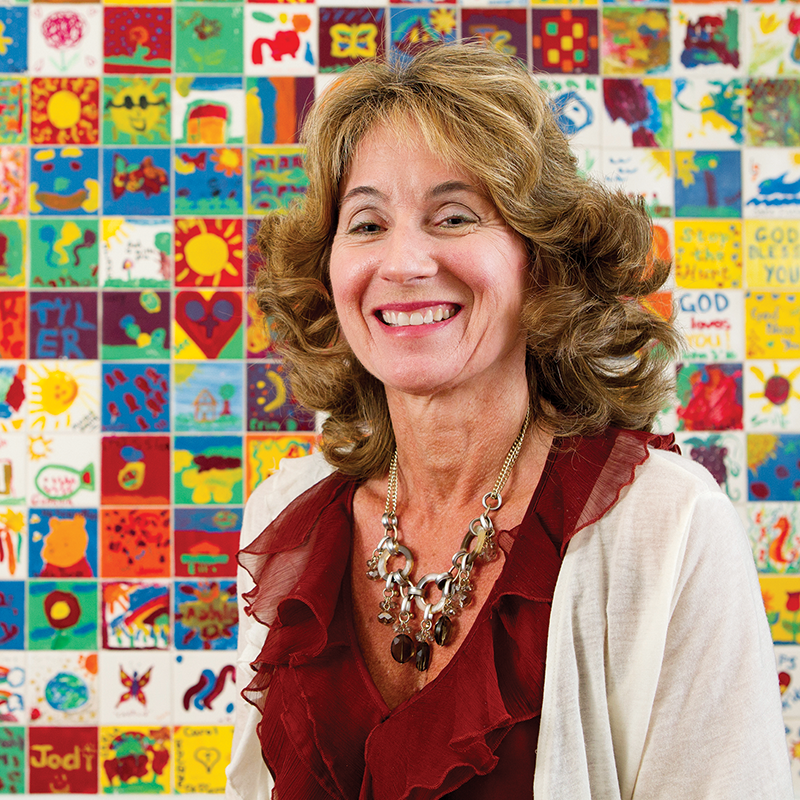 The smell of freshly baked cookies and sounds of children playing fill the air at Julie Hurst's office at the Emerald Coast Children's Advocacy Center (ECCAC). Guests are instantly surrounded by a welcoming warmth and sense of peace in the center's lobby. This is no surprise since Hurst, chief executive officer, sets the tone for the collaboration of children welfare and therapy teams at ECCAC. Equal parts grace and joy, Hurst does not shy away from the weight of her job as an advocate for children. 
Hurst began her career in the Florida State Attorney's office — a post she kept for 17 years. In 1999, she became executive director of ECCAC and was instrumental in opening the Niceville-based center in October 2000. Fifteen years later, Hurst is still passionate about her work and although quite humble is clearly pleased with the effective system that has been established.  
"If you really look at a champion for children, it is about a community," shares Hurst. "We wouldn't be here still doing what we're doing without the support of people who really care about kids." 
Last year, ECCAC served nearly 700 children — victims and alleged victims of sexual abuse, severe physical abuse and severe neglect — in Okaloosa and Walton counties. According to Hurst, two-thirds more cases likely existed that weren't reported. 
"I have seen some really broken little people come in here," says Hurst. "You see an amazing shift in children. I know we have accomplished one of our goals, because we have created a place where kids want to come." 
Hurst attributes that success to the coming together of the various agencies physically under one roof. "It's an amazing transformation of the system for care," she says with a glow.
Next on the horizon is the opening of the Pierce Family Children's Advocacy Center in DeFuniak Springs. ECCAC has always served families in both Walton and Okaloosa counties, but Hurst is confident that the new center will enable them to reach even more children in Walton County.
Whether chatting with children in her office or hosting annual events such as the Golf and Gala fundraiser, Hurst leads by example and infuses joy and peace into an environment where fear and anger could reign. 
---
The Emerald Coast Children's Advocacy Center is dedicated to preventing child abuse, protecting children and restoring lives. In so doing, it provides a child-friendly atmosphere for recording interviews and conducting evaluations and facilitates a multi-dimensional approach that employs investigative, legal, social, medical and mental health resources.