Everything's Coming Up Paisley
Tale takes mother and child on journey across Emerald Coast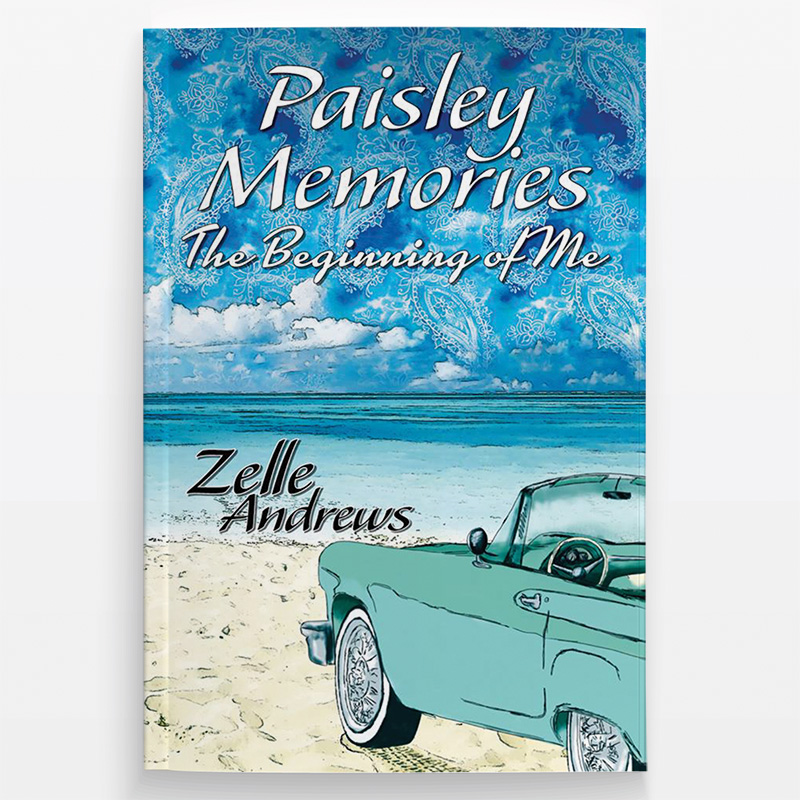 Paisley Memories: The Beginning of Me tackles heavy themes without becoming ponderous. The story follows Tess Cooper, the young mother of baby Paisley, who has Down syndrome. Ready to strike out on the search for a new life, Tess packs up a suitcase and her daughter and leaves her Alabama home in a 1957 Thunderbird. The road is rough — sometimes literally — but after a year of traveling across the Emerald Coast, trying to make a new life in one small town after another, Tess and Paisley wind up in a tiny Gulfside town. Tess sees it as a pit stop on the road to somewhere better, but her neighbors are ready to welcome Tess and Paisley as new residents … if Tess will give them a chance.
Q&A with Mary "Zelle" Andrews
Emerald Coast Magazine: You go by Mary Andrews, but your pen name is Zelle Andrews. Why did you choose to use a pen name, and why did you choose Zelle?
Mary Andrews: There is a famous author that has a name similar to mine. I realized I had to get creative and come up with something different. Initially I chose my middle name and decided to do a Google search to make sure there wasn't another author using that name. Well, a Hugh Hefner playmate popped up on my screen. I'm sure I would have scored big on the search engine, with lots of hits — but not the kind I wanted. I was very close to my grandmother and always loved her name, so I "stole" it, as my daughter, Sarah, would say, and added an "e" on the end. Thus, Zelle Andrews was born!
ECM: How did your writing career get started?
MA: I've always wanted to be a writer and finally found time when my children were teenagers. It actually started out as notes scribbled on a small scrap of paper. My husband found the scrap while cleaning and asked what it was. I hadn't yet told anyone what I was doing. He and our daughter, Sarah, have been supportive all the way and have had more confidence in my writing than I've ever had, myself. My son, Dylan, rescued me several times from a computer-driven meltdown. Without the never-ending encouragement of my family, this book wouldn't have seen the light of day.
ECM: Where did you get the inspiration for Paisley Memories?
MA: The inspiration behind Paisley Memories was our daughter, Sarah, who has Down syndrome. When she was born, I was 19 years old and completely unprepared. I had a "pity party for one" for about two weeks, and then, when I realized that this little human was 100 percent dependent on me, I grew a backbone. There wasn't much in the way of reading material back in the '80s about Down syndrome — at least, nothing encouraging. Everything I came across made me feel like I was reading a textbook and didn't at all prepare me for what to expect as Sarah grew.
When I wrote Paisley Memories, I basically wrote the kind of book that I would have loved to read at that time in my life: a book that would make you laugh, cry, laugh again and expect the unexpected. While Sarah was the inspiration behind my novel, the book is fiction. The main character and I have entirely different backgrounds and experiences in life. Though I have included a few funny events that actually did happen to me, which I may have elaborated on a smidge.
ECM: Paisley Memories contains some beautiful, vivid descriptions of the
Gulf of Mexico. What areas, in particular, inspired the settings of this book?
MA: As a teenager, with no responsibilities, I frequently spent my weekends slathered in suntan lotion, soaking up the sunshine on the sugary white sands of Panama City Beach. Even though I was surrounded by people, I felt it was a peaceful place to calm the soul and sort things out — much like Tess does in my novel. The beach was the perfect setting for her to find herself. As a native-born Floridian, I can't think of a better setting for a novel than the beach.
I don't get to enjoy that carefree lifestyle as often anymore, but this month, several friends and I will get together for a weeklong writers retreat at a beachfront house in Panama City. I'll be working on the third novel in the series, hoping inspiration strikes while strolling the beach on those cold mornings while watching the sun rise.
ECM: What are you working on now?
MA: I have submitted the second novel in the Paisley series, Dancing with Dandelions, to my publisher, and the third book is in the early draft stage. Both books feature Emerald Coast locales.
---
About Mary "Zelle" Andrews
Mary Andrews, whose pen name is Zelle Andrews, resides in Crawfordville with her husband and daughter. Her first book, Paisley Memories, was published in 2015 by Southern Yellow Pine Publishing. In 2016, Andrews won a bronze and a silver medal from the Florida Authors & Publishers Association (FAPA) for Paisley Memories.
Learn more about Andrews on her website, zelleandrews.com, or visit her on Facebook at facebook.com/ZelleAndrews.