Everyone Loves Baby Turtles
A child's-eye view of a Gulf Coast city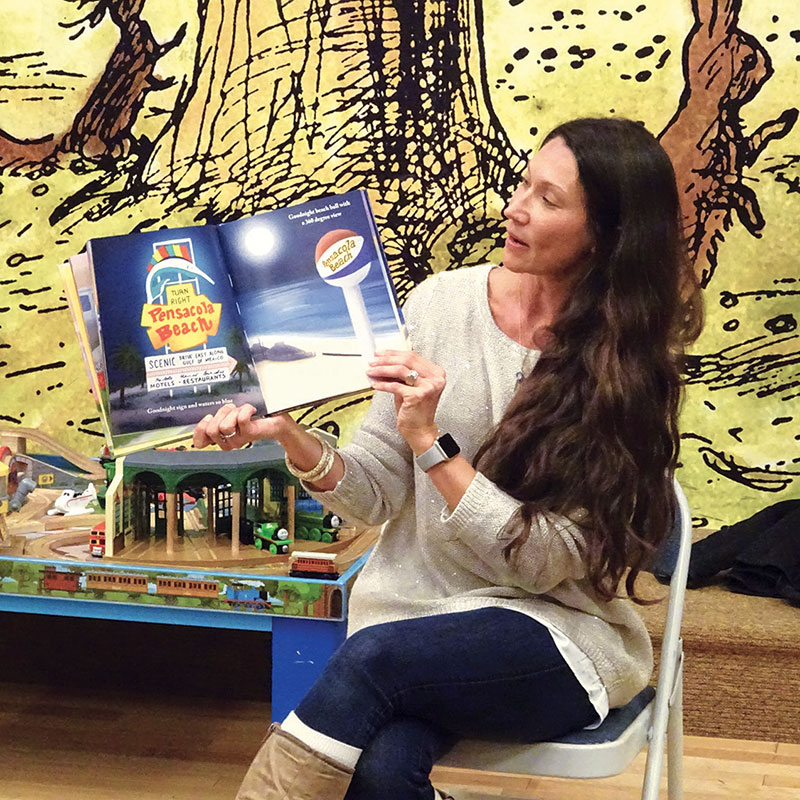 ---
When Anna Theriault wrote her book, "Goodnight Pensacola," she wasn't looking to make it big in the children's literary market, and she didn't want to make a large profit from sales; rather, she looked forward to witnessing the expressions on her babies' faces as they listened to her read to them of some of Pensacola's best-loved local treasures.
For Theriault, an area native and a licensed mental health counselor, the greatest rewards that have come from her book-writing experience are knowing that her children are growing to love the same city she has always loved and sharing with them a lifelong passion for reading.
"I was born and raised in Pensacola, and I'm still in awe of the beauty that surrounds us every day. I wanted to write a book that would encourage my children to explore the landmarks that make Pensacola unique," explains Theriault. "My favorite page is the last. There's an illustration of baby turtles making their way through the sand to the Gulf waters, and who doesn't love baby turtles?
"The illustrations appeal to the young and the young of heart who have a love for Pensacola," Theriault continues. "Parents and grandparents who have read the book have said that they enjoy sharing a story with their children about the landmarks that they love from their own childhood, and kids seem to really enjoy the illustrations. Every time we drive over the bridge to the beach, my own kids get excited when they see our famous Beach Ball water tower."
Theriault's roots lie here, and her civic pride runs deep. "My grandfather was mayor for many years, and he instilled a love for this city in all of his grandchildren that I hope to pass on to the next generation."
Theriault aims to share her love of Pensacola and of reading with other children besides her own, too. In her work over the years with at-risk youth, she's seen first-hand the ways in which a book can open doors to a child's heart and help that child find true connection. Her hopes, in publishing "Goodnight Pensacola," are that she can reach those little hearts and welcome them to the place that has long brought her joy.
"I hope that 'Goodnight Pensacola' can be used as a tool to develop a love for learning in the youth of our community," Theriault says. "I also hope to write books in the future that can be used with children that are dealing with difficult life issues. I feel that books can be so therapeutic and extremely beneficial in building rapport with children, so I hope to write books for many years to come!"
As the moon climbs high in the night sky, it shines bright on Theriault, who reads "Goodnight Pensacola" to her children. And somewhere, in homes much like her own, those words are being echoed, and children are following a path down the streets of a unique and colorful city that is steeped in history — a city that is truly the stuff of dreams.
---
Want to read 'Goodnight Pensacola' for yourself?
Find it online at Barnes & Noble and Amazon, or purchase it in person at Celebrations, Artesana, Storkland and Pizzaz, all in Pensacola. Published in 2015 by Mascot Books, ISBN 978-1-63177-143-9.