Ever Wondered About Escape Rooms?
Your trapped...but in a fun way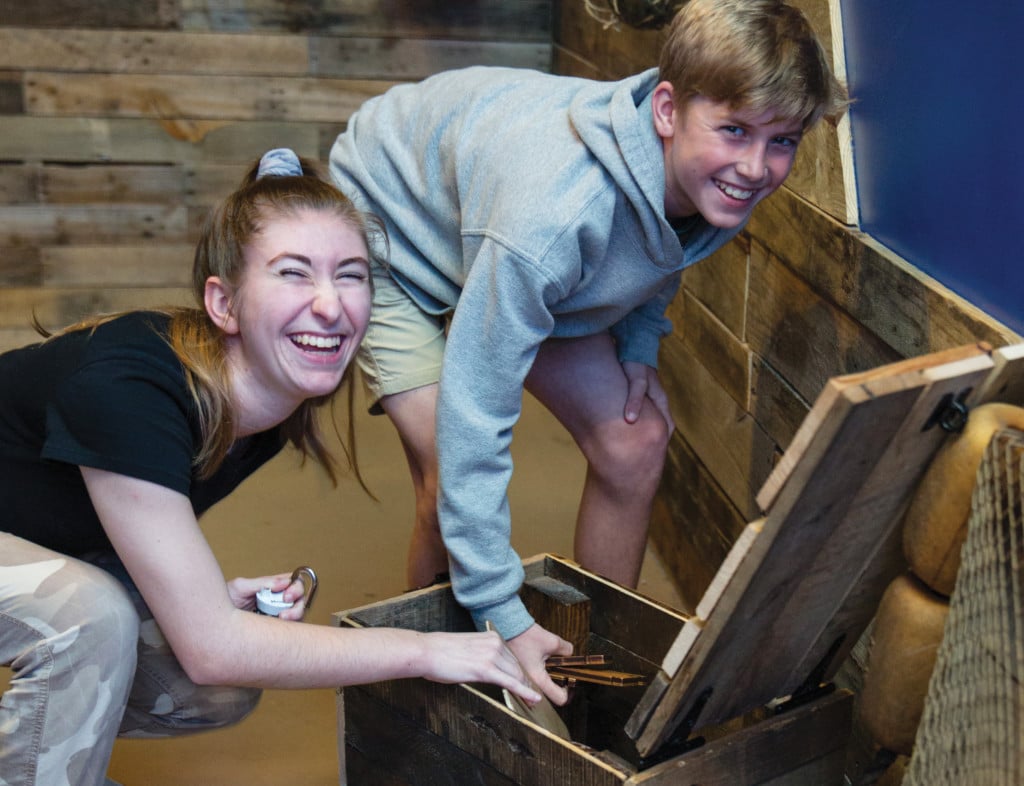 Escape rooms are like real life video games where players become immersed in a story, look for hidden clues and employ strategy, codes and communication to ultimately find the exit to a locked room. As it happens, they can be an effective way to discover just how well you work with others.
Businesses including Escape Zone 60, with six locations on the Emerald Coast, have become popular in recent years and take pride in providing an experience that is both physically interactive and delightfully consuming.
"People like to play games," said Escape Zone 60 partner Lynn Dominique, "but too often the games are one-dimensional because you play them by yourself on your phone, tablet, computer or game console. Escape rooms are different because you are with four to eight live people and everyone has to rely on each other to solve the puzzle."
"Escape" is a bit of a misnomer as the rooms generally are not locked, and they are spacious enough to prevent claustrophobia.
"Those things are a big concern for some customers," noted Dominique.
"But we always reassure customers that they can easily get out of the room if the need arises. We want them to have a good time and immerse themselves in solving the puzzle and not thinking they will be trapped for an hour."
Most escape room businesses have two or three themed adventure rooms to choose from; players book the game of their choice.
Each room is decorated like a stage set and contains hidden and visible objects, images, riddles, codes and technology to match and enhance the theme.
At Escape Zone 60's Miramar Beach location, for example, one room is a pirate ship, another is decorated to look like a Las Vegas casino and a third is a realistic-looking meat locker.
The escape room themes involve fictional locations with storylines that place players in roles as detectives, spies, thieves, secret agents, explorers, zombie hunters and even researchers.
"The object of our rooms," says Dominique, who co-owns the business with his partner, Shelley Kaiser, "is for players to gather artifacts, make observations and decisions that enable them to unlock the mysteries and twists they find and still beat the 60-minute time limit to escape."
Many businesses, corporations and even the military use escape rooms as an alternative to traditional team-building exercises.
"It is a fun way to invigorate workers and improve group dynamics," said Dominique. "Once that clock starts running, the players' personalities emerge.
"One person generally takes the lead," he continued, "while others might be more passive in how they communicate. But it takes everyone's cooperation and ability to reason and problem-solve and not overthink the obvious. The end result is that people become engaged and more cohesive when they get back to work."
Like all detectives, however, the puzzles can and do stump the players.
"We have a game master that monitors all the action in the room via one-way video," said Dominique.
"Players can ask the game master for up to three hints. The hints are displayed on a video screen in the room. We don't give away the answers, we just nudge the players with a little bit of information."
"We take a slightly different approach," noted Tonya Duke who, along with her husband, owns Mission Escape Adventure Rooms in Niceville.
"Our rooms are based on a mission that needs to be solved. Instead of a game master, we use an agent handler that monitors the action. Players can ask for unlimited hints, and the handler will even come into the room and help if necessary."
While escaping the room and beating the clock is the goal, only about 30 percent of players actually crack all the codes.
When the time on the clock has expired, the game master or handler debriefs the players and unlocks the mysteries that went unsolved.
While escape rooms are great for adults, kids as young as 9 years old are allowed to play. The games stay the same regardless of the age of the participant.
Josh Duke of Mission Escape Adventure Rooms is sometimes reminded of the television show, "Are You Smarter Than a Fifth Grader."
"Kids can often see what adults miss and they use logic and skills they learn in school to figure things out," he said.