Ethiopia on My Mind
A wandering spirit finds magic, beauty in an ancient locale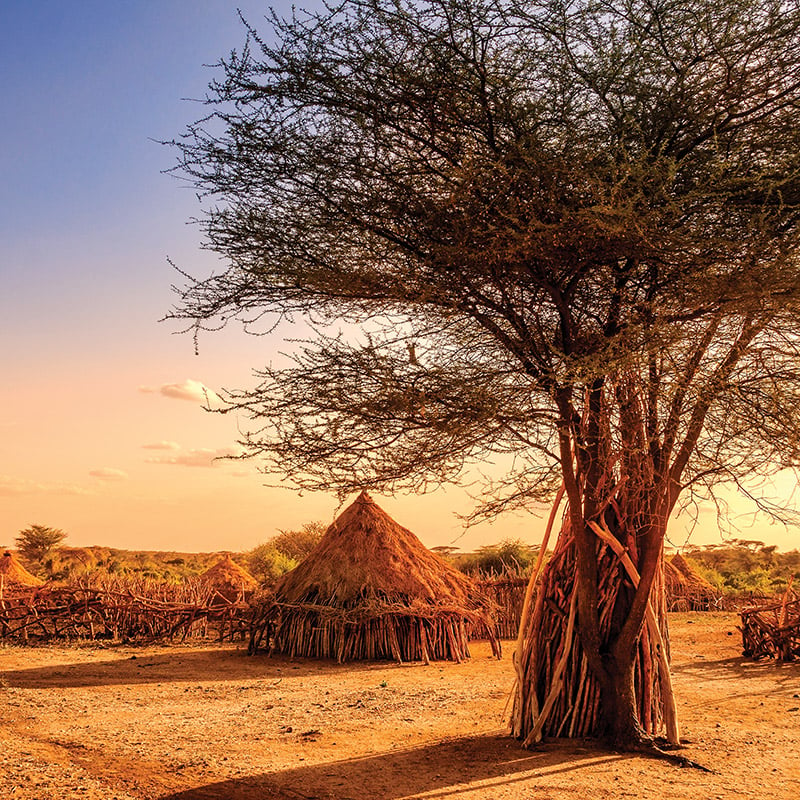 Whether travel is short-lived or the red thread that gives life meaning, it is the change, the surprise, the difference from the expected that is thrilling. And nowhere on Earth can that more be found than in the landlocked African nation of Ethiopia.
Galyna Andrushko / Shutterstock.com
A priest reads a holy book inside the St. George Church in Lalibela
What? Where? What about Italy? Isn't Paris nice? Why visit one of the poorest countries on the continent, a country twice the size of Texas where 88 languages and hundreds of dialects are spoken, where faith ranges from the most devout of Christians to animists who wear plates in their lips and ritually beg to be beaten?
Yet it is just this schizophrenic mélange of mystery, magic, unspeakable physical beauty and a sense that at last, like gazing deeply into a transparent sea, one can grasp the undulating images of ancient times as clearly as say … the aromatic goat now bleating beside you, that makes Ethiopia the most astounding of countries.
Surrounded by places whose names are guaranteed to make you shiver — Somalia, Kenya, Eritrea, Sudan and South Sudan — Ethiopia has managed to keep its turbaned head above the fray. And although drought and food shortages are currently affecting everyday life, the chants of bearded priests wrapped in white shammas drift upward in the smoky morning air; dancers shake their shoulders in giddy joy at the drop of a hat; and elegant, doe-eyed women repeat the hour-long coffee-making ritual three times a day. Like everything in Ethiopia, they each take their cue from the past.
Addis Ababa is the more or less central capital. There are a few tall buildings there. A university. Hotels. And certainly many Chinese businessmen trying to build yet another factory in the country's agricultural belt. But it is in the mountainous and lake-dotted north that one finds the ancient, beating heart of Ethiopia.
Sitting at the feet of a white-robed priest in a rock church near Lalibela, I listen as the old man thumbs through an ancient text painted on goatskin and describes Ethiopia's glory days when the country's queen, Sheba, traveled to Israel to meet King Solomon. In a love-at-first-sight scenario, the queen begot a son who later returned to the land of Israel to meet his father, then brought back with him the Ark of the Covenant to Ethiopia. The old priest, smelling vaguely like the rock niche where he sleeps at night, points out that the Ark is kept under monastic guard in a special palace in the holy city of Axum — never seen, but venerated as the touchstone of the country's fiercely Christian beliefs. The right "arm" of the True Cross is also claimed by Ethiopia, and also secreted under lock and key.
Courtesy of Marina Brown
Writer Marina Brown with a bodyguard
During a bone-jarring, 12-hour ride through the UNESCO World Heritage Site of Simien Mountain National Park, whose amethyst peaks reach 13,000 feet and whose fields of yellow meskel flowers sprawl across valleys, I make another friend — one of our three AK-47-toting "helpers," bodyguards who boarded our small bus and sat amicably down beside us. Elderly Muskula and I giggle over the babooshilada — big, nit-picking baboons that show off their 5-inch incisors in the valleys; he teaches me to say, "I want a fish" and "I love you" in Amharic … neither of which I planned on using. We share M&Ms; draw pictures of each other; and marvel at the churches carved from the top down into volcanic rock and the ivory-draped monks who live there like holy troglodytes. And when we hug and part ways, Muskula waves his AK like a hankie in the air … goodbye to a human cousin from very far away.
From the northern mountains, south through the Great Rift Valley where tectonic plates collided and where mankind arose, life changes. There, tribal customs shrug off Christianity. The Hamer, the Mursi, the Karo, the Konso peoples shelter in mud and dung thatched huts, carve elaborate symbols on their torsos and arms, modestly cover in goatskin skirts and force plate-sized discs into their lips.
I watch a man leap over the backs of nine cows in a rite that would ready him for marriage; women begging to be beaten by men with switches, proudly showing their lacerations as proof of how strong they are as possible wives. And I feel my own aesthetic shift watching a young woman being coated with cinnamon-colored mud — and ultimately, along with her friends, finding her beautiful.
And that is why I travel. To feel myself change along with what I see. To look through the eyes of the people I watch. To shift my gaze to their points of view and practice. And, for a moment, to feel our separateness disappear.
Even now, as I sniff the interior of a small cup made from the horn of a bull, I can smell the animal it came from. I think of my little bodyguard whispering, "Babooshilada." And I feel the warm hand of a priest blessing me in a stone church with his ancient iron cross. Ethiopia changed me, blessed me indeed. As all places do, if only we open our eyes and wander.