Envisioning Peace
Margaret Biggs Hopes Her Collection of Coastal-Inspired Paintings and Poetry Will Lead People to Find Self-Love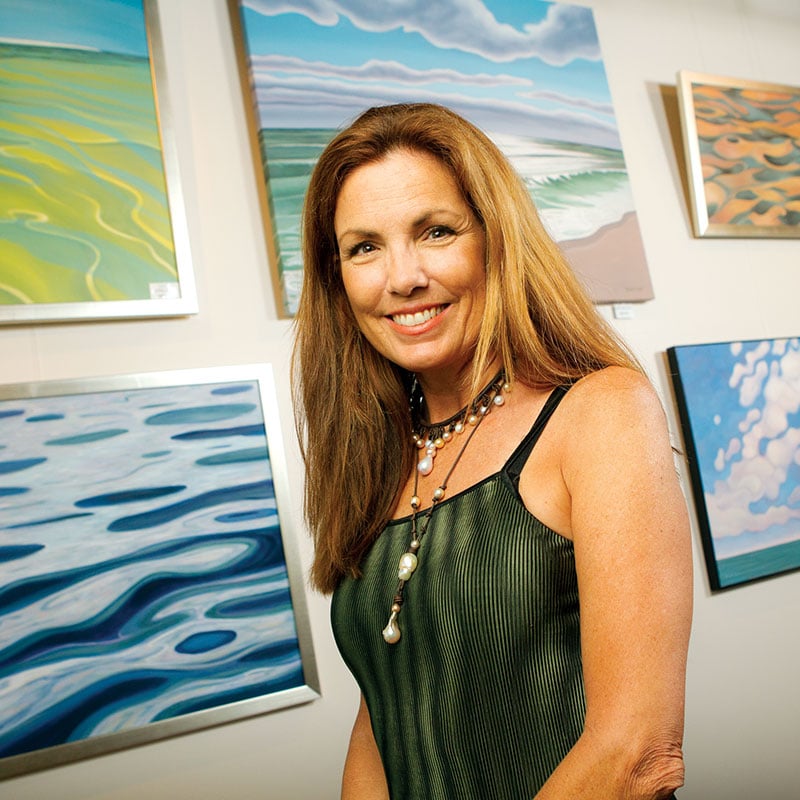 What started as Margaret Biggs' individual quest for inner peace and healing has become an unexpected life mission to help others realize self-love through her art, compiled in her book, "Visions Through Painting and Poetry."
Biggs, 52, is a student of meditation while she practices yoga or paints in the quiet of her studio. "Visions" was never something she set out to do, but about two years ago the poetry started to flow from her while the paint on her brush moved to canvas in the calm.
"The poetry will come to me when I paint. It became a source of healing. It's where I found and still find my peace, my calm, my stillness," Biggs said.
When she began to let others read her poetry, they were brought to tears and commented on the tranquility they found inside her words.
"That's what I'm trying to do," Biggs said. "I'm trying to help people find their peace."
Inner peace wasn't always something Biggs had. Though she was born and raised in Pensacola, in 1979 she left the coast and didn't return for 30 years. During those years, Biggs described her life as a square peg trying to fit into a round hole. Nothing fit, not her marriage, her career, where she was living. So in 2009 she sat beside her dog in a rented truck and trailer and moved back home and made her true passion her career — painting.
"I believe that is what we are put on this earth to do: to learn, to grow and to give," Biggs said. "We learn from our mistakes and from the people we spend time with if we choose to look within deeply enough and long enough to do so."
Her work on canvas is with oil paints to recreate the coastal areas that surround her home in Gulf Breeze, where she lives with her two sons. The paintings hold designs that intrigue a viewer to look closer, but to also step back with a restful sigh. Biggs described her work as modern realism with an abstract quality or a design element. She may combine both, but neither takes precedence.
"It flows and everything is interconnected," she said. "If you take on a small section of a painting, it can be abstract because of the fluidity, the connectedness of it. I paint the harmony that can exist and try to show that we are all one, a part of a larger whole."
That fluidity comes across even in her book as the paintings move from somber grays and dark blues to organic greens and finally sunset oranges. The poetry moves in the same pattern, a pattern Biggs said was accidental.
"I went through some very troubling times, as such is life, and you can see my personal growth. … It wasn't intentional. I just looked at it and was like, 'Look what I did,'" Biggs said.
"Visions" chronicles love, forgiveness, healing, joy and dying through the same things that inspire her paintings, nature.
"People don't know what they've got until it's gone," Biggs said. "Having traveled and lived away and moved back, it has heightened my appreciation for the natural beauty here."
Though nature plays a leading role in her poetry and paintings, there's a strong spiritual aspect threaded throughout. Biggs said she had to look within following the years she was "just a shadow" of who she is today. She credits her friend and spiritual mentor, Ruzica Wiesen, whom she dedicated the book to, as the one who got her through to a better today. It was through this woman's help that Biggs found self love by connecting with her spiritual side.
"To truly love yourself, you are loving the divine within yourself," she said. "I hope ["Visions"] would remind people that they don't have to go far to find the divine."
To follow Biggs' ongoing journey to find inner peace, you can purchase her book through her website, margaretbiggs.com and see her work at Arriaga Gallery in Seacrest Beach on 30-A or in the Edward Montgomery Gallery in Carmel, Calif.