Emerald Coast's Cake Boss
Jason Hendrix Learns Life, Like Sweets, Should Be Savored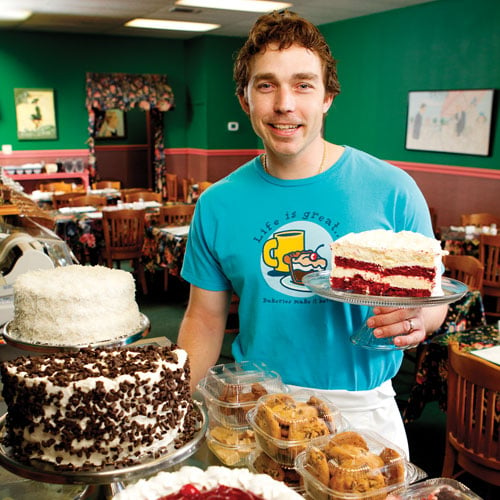 The comforting aroma of warm freshly baked breads fills the air of the little café nestled in a shopping center. Pie fillings spin in mixers while handmade crusts lie waiting to be filled with creamy cheesecakes.
Sitting with a flour-covered timer, Jason Hendrix waits patiently to finish the next batch of decadent desserts. Now a co-owner of Sugar Mill Sweets Café with his brother, Will Waller, Hendrix has become the mastermind behind some of the Fort Walton Beach café's favorite desserts.
Self-taught baker Jason Hendrix concocted this Red Velvet Cheesecake Cake confection, among many other sweet treats and baked goods, at Sugar Mill Sweets bakery and café located at 913 Beal Pkwy. in Fort Walton Beach. Photo by Scott Holstein
"I've come up with a few recipes," he said in a modest voice as he leaned back in one of the small wooden chairs one evening. "I usually just take a recipe and modify it. That's how I came up with the coconut almond cream cake, red velvet with New York cheesecake and my newest one, a chocolate with layered strawberries cheesecake."
As the face of Sugar Mill Sweets, Hendrix appears to be a typical gentleman. His blue eyes, enticing smile and delectable desserts invite customers into a home-like atmosphere. But there is more to 37-year-old Hendrix than what meets the eye.
He is a survivor.
A native of Fort Walton Beach, Hendrix grew up under the caring and watchful eye and around the baking magic of his mother, Rebekah Miller. He learned about the best foods and about family. Summer visits to his grandmother's 40-acre farm in Alabama allowed him to experience the freshest foods. He learned even more when he joined the U.S. Marine Corps. But none of this prepared him for the harsh realities and challenges of young life. Just after 9/11, his new bride was diagnosed with breast cancer.
"We thought she would get chemo and radiation and we'd be done," he said. Hendrix left his job as a Niceville police officer to work with his mother at Sugar Mills Sweets Café, so that she could retire. "Sometimes I miss being a police officer and mentoring young people, but we wanted to keep the business in the family," he said.
In 2006, his 28-year-old wife lost her battle with cancer, and Hendrix learned the most important lesson in life. "Every second counts," he said as his eyes lit up. "Every minute is a blessing. Most importantly, don't focus on trying to achieve success. You cannot quantify success with material possessions. Form bonding relationships, and find true love."
And that's exactly what Hendrix has done. Through pouring his heart into his work and keeping his family close, Hendrix found the strength to fall in love again and remarried in February 2011 and moved to Niceville.
Though he's had a lot of challenges in his young life, there is a lightness to Hendrix. Sitting with his back to the glass display cases flaunting chocolate cakes, cheesecakes and fudge, the baker shared a confession. "I love pie. My favorite is chocolate chip Kahlua. I once ate a whole pie in two days," he admitted.
Hendrix doesn't have to worry about the pounds being packed on by the tempting treats. Some of his stress-relief activities include going to the gym, running, biking and spending time with his mixed-breed dog, Outlaw.
For now, Hendrix will begin to build a family of his own and continue the family business at Sugar Mill Sweets, where his mouth-watering desserts have a mission all their own. "Our business model is not to make money, but to make people happy," he said.
If passion has anything to with it, Hendrix is sure to enjoy many years of sweet success.