Emerald Coast Wildlife Refuge Moves To A New Home
Wildlife on the mend get a facilities upgrade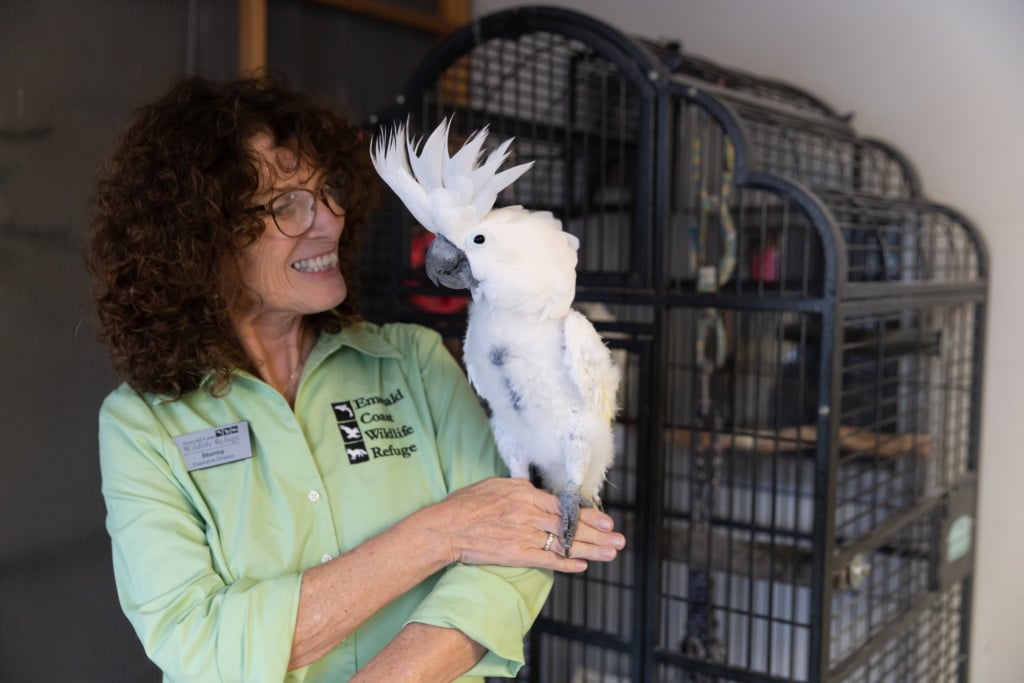 The Emerald Coast Wildlife Refuge has moved to a new home in Navarre.
"We're planning for our grand opening to be March 1," said executive director Carol "Stormy" Andersen. "For the first time in our history, we'll have purpose-built facilities."
When it was incorporated as a nonprofit organization in 2004, the refuge operated out of volunteer homes. It was later located in Destin and then on Okaloosa Island. Its coverage area extends from Escambia County to western Bay County.
Most people are familiar with the rescue of sea creatures or birds, as well as woodland creatures such as foxes or raccoons.
But only refuge insiders know that the organization dealt with 127 different species last year.
"We might get a critter in here that we've never seen before," Andersen said, "so our wildlife technicians and our interns will get online, and they'll call whatever specialist there is out there to make sure we're treating those animals appropriately."
Bill Andersen, president of the board of directors, and wife Carol donated the 2-plus acre parcel for the new location of the refuge in 2017. Its site in Navarre is on Clopton's Circle, near East Bay and just off State Road 87.
Carol Andersen estimated the total cost of the project at slightly more than $720,000. That money came from donations and fundraising.
The new refuge includes:
▪ A medical center with a full surgical suite — pre-op, post-op, recovery and nursery as well as a necropsy suite.
▪ An education outreach center that includes a visitor center, gift shop and education center with displays and indoor/outdoor classrooms.
▪ Animal habitats that include both rehabilitation and animal ambassador enclosures.
"Our med center plans were drawn to our veterinarian's and technician's specifications and reviewed by other animal care experts," Andersen said. "We'll be able to keep our supplies and equipment where they are needed, instead of in a closet because that's all we
had available. We'll certainly be able to work more efficiently."
And that's not all.
"On the education side of the house, we'll actually be able to use all of our tools and supplies when we're making presentations," Andersen said. "In the past, we've had equipment we could rarely use because it was too big to load into vehicles."
The Andersens became familiar with the refuge through unforeseen circumstances.
"We got started because my dog Quigley caught a squirrel that had been mauling the house," Carol said, the memory producing a hint of a smile. "And we didn't know where to take it, so Bill called around and he found the wildlife refuge and started volunteering the next day."
Not long after that, the Andersens fostered and released seven pelicans.
"Seeing them after putting them back in the wild was just everything to me," Carol said.
The refuge staff includes Shelby Proie, wildlife rehabilitator and marine mammal stranding coordinator; Michelle Pettis, wildlife rehabilitator and volunteer/intern coordinator; and Dr. Phil Blumer, veterinarian.
"You get to help save lives, and every day is different," said Proie. "It's very challenging all the time but in different ways. I took this position because I've done wildlife rehabilitation for over five years, and I wanted to get back into the marine mammal field. I like the diversity of being able to do both, and there's not many places in this country you can do that."
Six types of volunteers contributed a total of 10,000 hours last year:
▪ Refuge volunteers (diets, feeding and cleaning).
▪ Foster volunteers who take animals home and bring them in for weekly checkups.
▪ Marine mammal stranding team.
▪ Rescue volunteers.
▪ Docents and education volunteers.
▪ Student volunteers.
"What the volunteers give us is phenomenal," Andersen said, "and we really rely on them to keep the organization going."
Anna Hackney of Navarre is working toward a wildlife rehabilitation license while serving on the rescue team. She attended the University of West Florida and Troy University in Alabama and has a master's degree in public administration.
"I was born and raised in Gulf Breeze, and my mom (Mae) was an Audubon volunteer," Hackney said. "We used to rehab owls on our back porch. Now, as I've gotten older and I see their habitats are being destroyed, there's a need for people to step up and rehab the animals and educate people along the way."
Intern Tabitha Hall has a degree in wildlife biology with a minor in wildlife rehabilitation from Lees-McCrae College in North Carolina. Her husband, Jacob, is stationed with the Air Force at Hurlburt Field.
Since joining the refuge last July, Hall has made it a point to give hope to people concerned about the survival of an animal.
"It's amazing when people think it's a lost cause and we can turn it into a really good situation," Hall said. "There's a lot to do when you think you can't do a lot."
New Location! Emerald Coast Wildlife Refuge is relocating and expanding to Clopton's Circle, near East Bay and just off State Road 87 in Navarre.