Emerald Coast Wildlife Refuge Mission
Emerald Coast Wildlife Refuge Continues Mission through Rescue of Crestview Zoo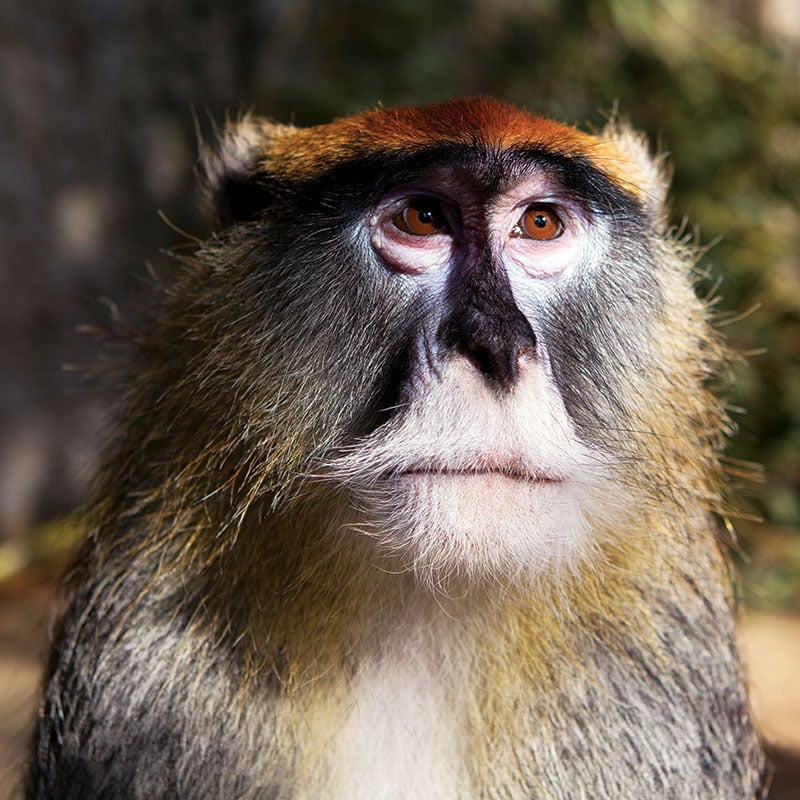 A white tiger paces in a garage. A monkey looks through the bars of a birdcage. A fox is scolded for acting like … well, a fox.
Each of these animals was once labeled an exotic pet and kept in a person's home. Exotic might be an appropriate designation, but not one of these animals should have been a pet. It didn't take long before their owners were overwhelmed by the animals' behaviors and locked them away or mistreated them, simply for acting like the wild animals they are.
But now each one resides at the Emerald Coast Wildlife Refuge (EWCR) Zoological Park in Crestview, where its natural instincts are understood and celebrated. Through their rescue and rehabilitation, zoo officials want to educate the public about these animals, continuing the work begun by Debbie Mattox, the former owner of what was once called Sasquatch Zoo. 
Mattox, a woman of 64 from Crestview who feels more at home outside than inside, started this mission nearly three decades ago. Her name for the facility came one day as she surveyed the terrain around her zoo and joked that it seemed Sasquatch might appear at any moment. You might not see Sasquatch, but today you can see Kahlua, the white Bengal tiger once housed in a garage, who is busy batting her eyes at Kota, the male Bengal tiger in the enclosure next door. (They're "sweet on each other" according to Mayo Krabbe, animal care technician at the zoo.) You might also see the scolded fox cozying up to one of seven other foxes with beautifully colored coats. Or you might see Sebo, the 30-year-old spider monkey, happily swinging about his enclosure or reclining in his hammock. 
After her decades of work, Mattox said she realized that she needed someone else to continue it for her.
"I wouldn't have worked so hard for 28 years if I didn't have a passion for each of these animals, but I realized I was being selfish to think I could keep it up on my own," Mattox said. "It was time to retire."
Her wish was to keep the animals in their home and not sell them to other zoos, so she offered the zoo to the county. County officials refused the offer but suggested she look to EWCR, according to Amanda Wilkerson, executive director of the Refuge. After a feasibility study, Wilkerson said the Refuge came to the zoo's rescue in January of 2013.
"We didn't just rescue the zoo, we rescued Debbie Mattox, the zoo owner," Wilkerson said. "This zoo was hidden. Debbie had been working the zoo for more than 25 years by herself, and it takes a staff of at least four people. We have brought new life to something that I think was wonderful to begin with."
"New life" is a key phrase for EWCR. Its mission at the Refuge, headquartered in Fort Walton Beach, is to provide a new life for injured and orphaned animals native to the area, but with the acquisition of the Crestview zoo, that mission has been expanded.
"At the Refuge we are limited to native species, but with the zoo we can handle any number and kind of species," Wilkerson said. "We're not going to be a facility that is interested in breeding animals for display. All the animals have a story on how they got here and why. We try to let everyone know their stories."
Brittany Patrick, wildlife health technician, shared Albert the black bear's story during a "keeper talk." 
"Albert was a circus bear and he came to the zoo when he retired. When the refuge took over the zoo, we built him this new enclosure. It was the first time he'd been on grass in 23 years," Patrick said, feeding him his favorite treat, an egg. 
Keeper talks are opportunities for the staff to speak to visitors about the animals, educate them about the species and give the animals a chance to get some much needed interaction.
"We have the keeper talks every day, and we educate the public about the animals. Education is important because without it we're not doing (each) species any justice," Patrick said. 
Albert isn't the only animal who has seen dramatic improvements to his living situation. The big cats, Kahlua and Kota, were each given a swimming pool, though Kota's still not sure about his. The zoo also had the opportunity to rescue baboons from a New Jersey zoo that had left the animals exposed to the elements, resulting in frostbite.
"We're proud to give them a better life and to have them live out their days here," Krabbe said as he fed Levi the lion a piece of raw meat through the fence. "I feel like our zoo is a sanctuary for animals who have nowhere else to go."
Jordan Denius, a mom from Moseyhead, had visited Sasquatch Zoo in the past and came back with her family to see the changes made by the refuge staff.
"It's really exciting to see the new animals and to see what has changed. The bear used to be where the baboons are now, and he looks much happier in his new habitat with the extra space," Denius said as the children ran around the picnic tables in awe of the turkey, hens and geese wandering the zoo. "We'll keep coming back to see what else they rescue."
The zoo already has plans in the works for several new enclosures, but Wilkerson, the foster mother of a lemur rejected by its mother, said she wants the zoo to be more than just something to look at.
"Twenty-five or 30 years ago, zoos were just a roadside menagerie of animals. Today, most funds for conservation come from zoos," Wilkerson said. "The zoo brings people to us every day, and we're able to educate people about conservation and protecting these animals. We want it to be a very hands-on and interactive educational facility. We want kids to be able to experience the natural world from every angle."  
The day-to-day work of the rescued zoo, which runs on the generosity of donors and the hands of volunteers, requires an incredible amount of work and funds.
"We definitely need volunteers," Wilkerson said. "For people who want to be outdoors and work with larger animals, this is a great place. Or, if you don't want to pick up poo, then you can help with the camps, lead tours or sell concessions."
If you aren't able to sponsor an exhibit, lay sod in a habitat or donate meat and produce. You can do your part in helping these animals comfortably live out their days by simply visiting the zoo and giving animals, like Levi the lion, someone to show off for.
---
How to do the Zoo
Emerald Coast Wildlife Refuge (EWCR) Zoological Park 
Address: 5262 Deer Springs Dr., Crestview
Hours: Tues–Sun, 10 a.m.–4 p.m./5 p.m. (seasonal hours)
Cost: Donation of $8 for adults, $5 for children ages 2–10
What to see and do: More than 100 animals, including tigers, a lion, monkeys, tortoises, wolves, lemurs, antelope, llamas, a bear and many species of birds.
Concession stand, field trips, and birthday and private parties are available.
How to help: To volunteer, donate or for more information, contact Susan Leveille at (850) 650-1880.