Emerald Coast Tennis Stars Climb The Pro Ranks
The Will to Win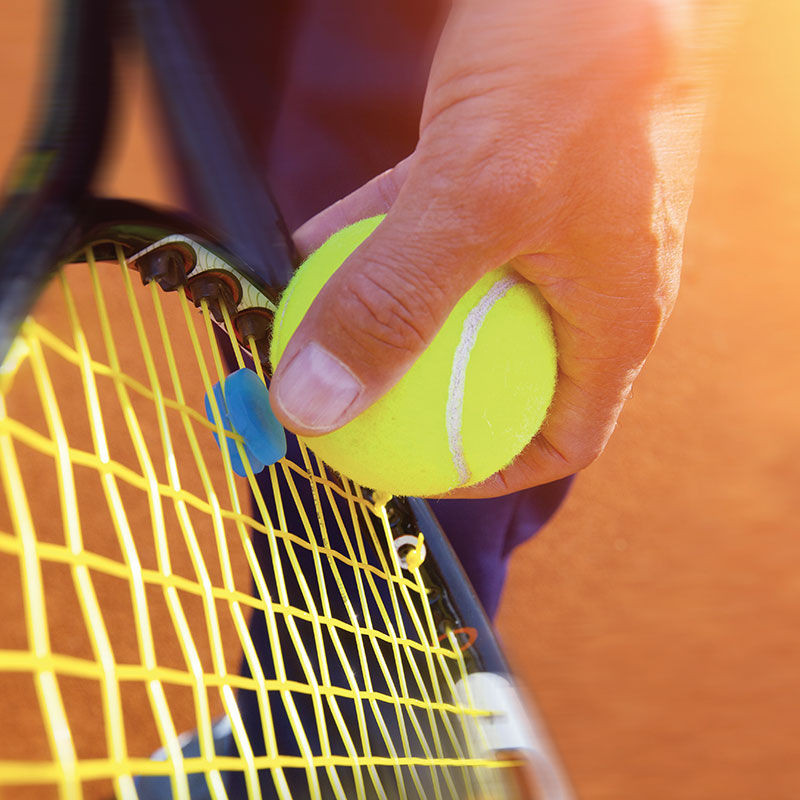 South Florida's reputation as a proving ground for tennis's biggest stars is well established. The likes of Serena and Venus Williams, Andy Roddick and Maria Sharapova prepared for the sport's biggest stages by honing their skills at prestigious tennis academies including the Chris Evert, IMG and Rick Macci clubs. But the path to tennis greatness doesn't always go through Boca Raton or Bradenton. Two hometown junior champions developed their games on the Emerald Coast and have emerged as rising U.S. stars.
Long-Shot Victory Lands Wil Spencer a Global Ranking
On a brisk fall morning in November 2014, Wil Spencer, 25, stepped onto a clay court at the Bluewater Bay Tennis Center in Niceville for his professional debut. He wore a University of Georgia T-shirt representative of a time when his motivation sputtered and stalled.
Wil Spencer
His father passed away when he was a 19-year-old college student playing for Texas A&M. He took a year off. He transferred in 2010 to play as a junior for the University of Georgia, where the Santa Rosa Beach native climbed to rank third in the nation as a Division I singles player.
Life as a student-athlete was demanding, but Spencer lacked the sponsor he needed to make a jump to the pros financially feasible. After graduating in 2012 with a degree in international affairs, Spencer stepped off the court. He said his heart was not in the game. He studied abroad for 12 weeks in Oxford, England, then moved to North Carolina to be close to his mom and teach tennis.
"You've got to enjoy what you do, whatever it is that gets you motivated," he said, reflecting on his trials and aspirations. "If you love it, you'll put in the time because it's not so much like work."
On that gusty, cold November morning, Wil Spencer's broad smile reflected his future. The 5-foot-11, chiseled athlete had the will to win and the courtside support of a hometown crowd. He warmed up for his first match in the main draw of the ITF Men's Bluewater Bay Pro Circuit $10,000 Futures Championship, held annually at the Bluewater Bay Tennis Center. Coming off of a two-year sabbatical from competitive play, neither Spencer nor the crowd could anticipate the events about to unfold.
"He's fresh. He's ready to go," said Brett Beattie, Spencer's high-school tennis coach. Over the previous week, Beattie watched Spencer win five consecutive matches to earn a wild-card entry and a match in the main draw against Germany's Peter Heller, the tournament's second seed. When the top seed, American Conner Smith, dropped out, Heller, ranked 477th in the world according to the ITF, was the favorite to win, given his ranking and experience.
The Heller-Spencer match featured scores of long rallies, one lasting 22 shots. Momentum shifted back and forth as local fans cheered Spencer on. Then, three hours and 25 minutes after the match began, they rose to their feet. Spencer had scored an upset victory.
"I'm back," Spencer said. Shaking with adrenaline, he struggled to sign a tennis ball for a young fan. "My tank was about empty; the fans kept me going."
After a day's rest, Spencer kept going and kept winning, advancing to a fifth match in the main draw — the finals. And Spencer would win one more, claiming the men's singles title. He walked off the sun-swept court surrounded by hundreds of supporters. According to the Association of Tennis Professionals, he now ranked No. 568 in the world.
For Destin's Alexa Guarachi, a Strong First Pro Season
Former Alabama Crimson Tide tennis standout Alexa Guarachi of Destin wrapped up her first year on the women's tennis professional circuit with four doubles titles and one singles title playing around the globe.
She started playing when she was 3 years old.
"I learned how to walk on the tennis court," Guarachi said. "Since I can remember, I've had a racquet in my hand."
Guarachi also played basketball and ran track before deciding at age 13 to focus on tennis.
"I wanted to beat everybody I could," she said. "I saw the biggest future and a bright future with tennis."
Guarachi's dream of playing professionally, like her role model, Belgium's Kim Clijsters, nearly escaped her in high school. During her junior year in 2008, she was homeschooled, taking Florida Virtual School courses, to accommodate her tennis-tournament and practice schedule. Traveling constantly, she longed for a traditional lifestyle and the fun times that teenagers enjoy. She took a gamble on her future by coming off the road and enrolling at South Walton High School before accepting a scholarship to play for the University of Alabama.
"I thought that (professional) dream was over," she said. "I committed to going to school, giving up that dream."
Guarachi's maverick decision to defer joining the professional tennis circuit for college was made at a time when many young athletes set their sites instead on going pro. But in Guarachi's case, the delay enabled her to mature mentally and get stronger physically as a prelude to her success as a professional four years later.
She had the support of her parents, both professional tennis teachers at the Destin Tennis Club in Seascape, who groomed her skills and developed her game from the moment she first stepped on a court through her high school experience playing for South Walton. During her senior year, she led the team to a second-place finish in the Florida State Tournament and won the individual championship in number one singles.
After graduating high school in 2009, she, like her father, played tennis for the University of Alabama. She says she thrived in the team environment surrounded by women who pushed each other to succeed. And she benefited from the trainers, coaches, nutrition plans and education that the school provided. In the fall of her senior year at Alabama, when individual tournaments are played, her game had reached a new level, which she sustained through the spring team competitions.
"We had the most wins of any women's tennis team in the history of the University of Alabama (at that time)," Guarachi said. She ended her collegiate career as the winningest player in Alabama women's tennis history, collecting 109 victories in singles and another 113 in doubles. She was the first player in the history of Alabama's tennis program to advance to the NCAA Singles and Doubles Championships semifinals.
"I found a new love for the game playing for the team," she said. "The love was bigger than I am. I was playing more freely. It was more about having fun."
Fast-forward to 2014. The year was momentous and symbolic. The 5-foot-9 athlete began her first year on tour unranked on the ITF circuit, then soared to a WTA world singles ranking of 523 after winning four ITF doubles titles and one singles title. She had traveled around the world, from Turkey to Italy, Norway to Vancouver, Colombia to Mexico.
In December 2014, she wrapped things up by winning a $25,000 Futures title in Chile and moving to a doubles world ranking of 295. When Chile's ITF Federation Cup team invited her to play — her father is a native of Santiago — she accepted.
Guarachi's 2015 goal is to continue playing hard while also representing Chile. She hopes one day to earn enough points and a ranking high enough to qualify for WTA events that lead to Grand Slam events, including the U.S. Open. She is soliciting donations via a website — alexaguarachi.com — to help cover the costs of traveling the world to play 23 events this year.
Looking back on her path to the pro circuit, Guarachi finds that she's matured in the way she thinks about winning.
"You can't get too high or too low," she said. "A lot of times a win is the luck of the draw. It's not about wins but asking myself if I competed hard."