Emerald Coast Science Center Offers Educational Fun
Discover the science of fun at Emerald Coast Science Center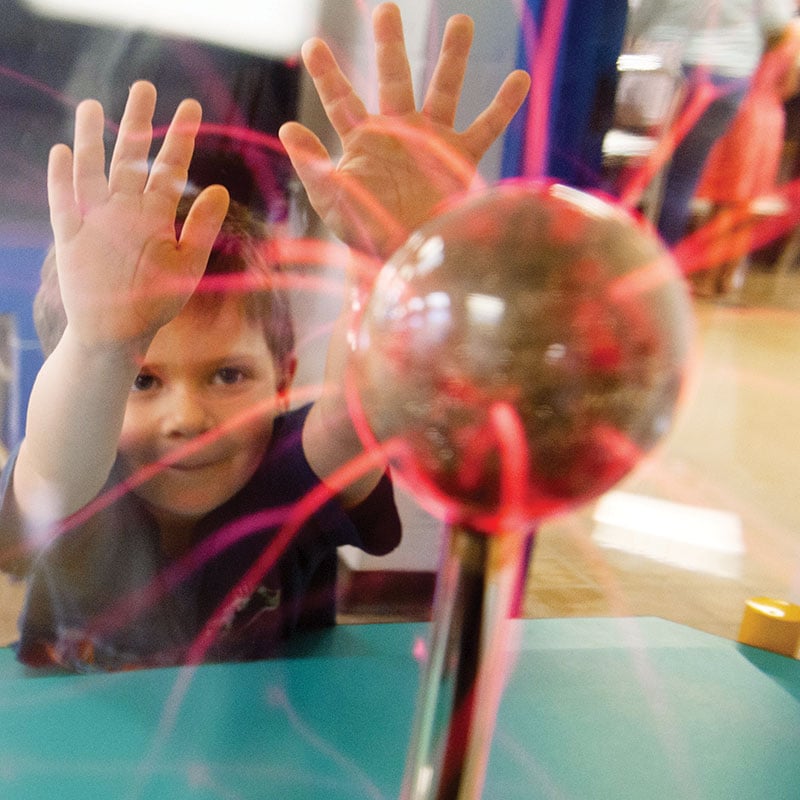 On the face of things, the Emerald Coast Science Center in Fort Walton Beach might seem a bit elementary. But like the countless young minds who have visited the center over the past 25 years, there is almost limitless potential for learning and inspiration to be found here. It was an appreciation for the capacity of children to grasp concepts of physics, chemistry, biology and more that led the Junior League of the Emerald Coast to establish the science center in 1979. Today's technological revolution was just getting started, but everyone knew great things were on the horizon.
Chase Culhane touches "bottled lightning" at the Emerald Coast Science Center.
"The League thought it would really benefit the community to have a hands-on science museum," says museum director Diane Fraser, who started her job last year. The public agreed. For the next 25 years, science lovers of all ages came to the museum to experience projects, exhibits and displays that enhanced their understanding of how stuff works.
Not that even the simplest exhibit is really all that simple, if you take the time to closely examine it. Numerous processes are involved in recreating the blink of an eye, the twitch of a finger, the flash of a thought. Regardless of whether those processes are visible to the naked eye, they happen — at a certain rate, in a certain order — to produce a certain result. And it's precisely that lesson that museum personnel strive to teach every visitor they meet.
Fortunately for the museum, the future is as bright as its brightly colored doors, now that it's found a new home at the former Creative Senior Citizens' Center on Memorial Parkway. After a two-year search, museum officials secured their current home, a place with potential for growth that exceeded their dreams.
"Our old location was so much smaller, and there was no possibility to expand," Fraser says. "Here, there's such a huge footprint, with so much outdoor space that we didn't have before," she continues, scanning property that will, in the near future, become a hotbed of activity and learning.
The building required a thorough makeover, but thankfully that need was met by an overwhelming outpouring of volunteer support, most of which came from military service members who spent days painting and refinishing and repairing whatever needed attention.
"It was amazing," Fraser says, both humbled and awed as she looks around the lobby that has already, in the months since opening in November, welcomed a surprising number of school groups and individual visitors seeking to touch and see what makes science so incredible.
In her mind's eye, Fraser envisions various stations — a small amphitheater encircled by log seating; a raised demonstration deck; a turtle pond and habitat; a community garden where vegetables and herbs will be grown as part of a partnership with Healthy Okaloosa; bubble tables that are "so popular with the kids."
"Shuffleboard Science" will take place in the shuffleboard area that the science center inherited when it purchased the property.
"It was a senior center," Fraser points out with a laugh and a shrug. Rather than ripping up the old concrete courts, the directors decided to incorporate them, giving kids the opportunity to play the game and learn about physics, velocity, friction and the transfer of force.
"When you play a game, you don't think about the actual science involved," Fraser says, sounding every bit like the chemistry major and forensic scientist that she was before she agreed to take on this new challenge.
While she felt unprepared to fill a role that required lots of administration and community outreach, Fraser seems to be thriving just as well as the newly relocated, rebranded museum.
"It's great, the way the kids and the community have responded to the changes. We've become a destination for schools; we're getting field trip groups from schools that have never come here before," she says proudly.
And there's a reason for that. In addition to the older exhibits that were brought in when the museum relocated, new ones have have been added amid plans to expand even further. At points along the halls between exhibits, visitors tease their brains with deceptively simple games and mental exercises.
In the rooms themselves, true treasure troves await. Painstakingly conceived and constructed robotics displays allow users to manipulate mechanical hands and arms, aquatic and extraterrestrial terrain exploration vehicles, and even an interactive health robot.
"These were designed with a very open view of everything, so you can really see what's happening and how the controls are maneuvering it — what's doing what," Fraser says with passion in her voice. "What's so unique about this is that all of the pieces are handmade from start to finish; they're not built on an assembly line anywhere. Somebody had that whole entire process inside his head. Beginning to end, it's creativity from a single person, a single family."
And she means that literally. Each of the robotics displays was created and built by John Siegel, whose family-owned company in North Dakota has spent years on projects like these. The dedicated engineer completed each piece on-site, sitting with quiet focus in a large room strewn with tiny parts and pieces and wires.
Another room contains a wall of tanks housing turtles, frogs and snakes. A narrow bookcase is filled to capacity with seashells brought in from a now-shuttered museum in Tallahassee, while the opposite wall is stuffed with the work of taxidermists and a collection of skeletons.There are electricity and wind-tunnel exhibits, air physics and light displays, color creation stations where light refractions create rainbows. The list goes on.
This is science with a heart strengthened by the community around it and evidenced by every stroke of paint on the walls, every polished tile on the floors. The lessons it imparts inspire young minds and older ones to marvel at just how far we've come and what the future still has in store.
---
Emerald Coast Science Center

31 SW Memorial Parkway, Fort Walton Beach
(850) 664-1261
ecscience.org

Hours:
Open Tuesday–Saturday,
9 a.m.–4 p.m., Sunday noon–4 p.m.
Admission:
Adult $8; seniors $7; children $6 (children 2 and under are free)
Annual memberships for individuals, grandparents, families and educators from $55.