Emerald Coast Plein Air Painters' Studio is the Great Outdoors
Embracing the unpredictability of Mother Nature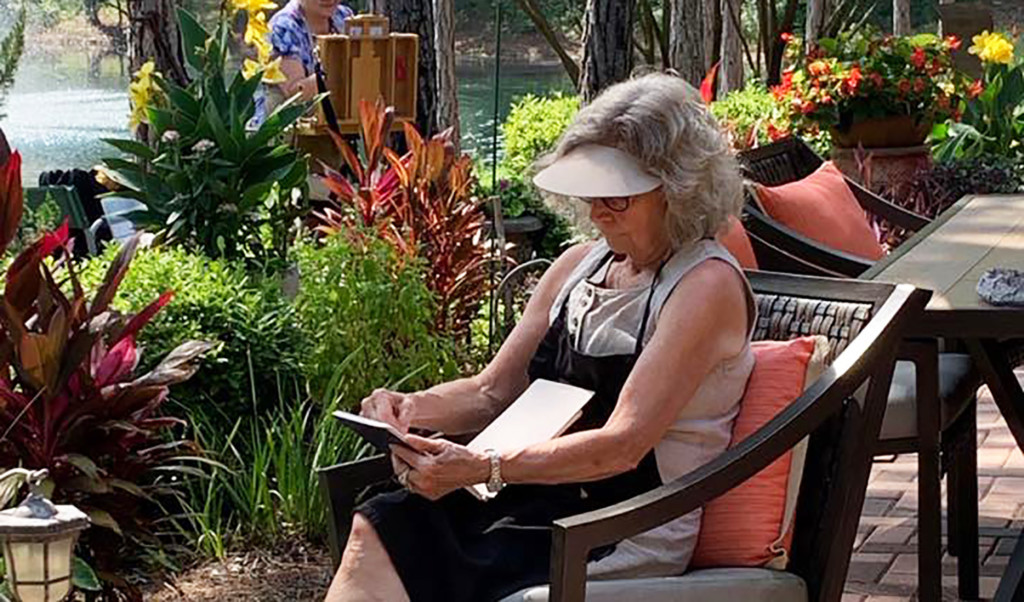 If there was ever a plein air painter who wasn't compassionate, Joan Vienot has never met them. ()
To be a plein air painter, she said, is to embark upon an odyssey of "patience, self-acceptance, forgiveness and redemption."
"Plein air painting doesn't allow you to develop an ego," Vienot stated. "When you're painting something in that short a time, there's an element of luck and an active effort to remain present for a painting to turn out the way you envision."
To paint "en plein air," a French expression meaning to create "in the open air," requires leaving the sanctuary of your studio behind in exchange for a one-on-one with Mother Nature.
The practice, though dateless in origin, was sensationalized by French Impressionists such as Pierre-Auguste Renoir, Camille Pissarro and Claude Monet, whose colorful imitations of their surroundings are regarded today as some of the world's most beautiful paintings.
"Work at the same time on sky, water, branches, ground, keeping everything going on an equal basis…Don't be afraid of putting on color…Paint generously and unhesitatingly, for it is best not to lose the first impression." – Camille Pissarro, on painting en plein air
But rather than portray the lavender fields and water lilies of Provence, France, Emerald Coast Plein Air Painters study shore-side sunsets, community landmarks and pine forest parks of Northwest Florida.
Vienot, official group coordinator for Emerald Coast Plein Air Painters, is responsible for selecting a "meeting spot" for a modest group of about 15 painters per week (though hundreds, mostly vacationers, standby via the mailing list).
Most recently, the group stationed their canvases at fellow plein air painter and local artist Erika Stoyer's backyard in Sandestin. Subjects included potted plants in Stoyer's patio garden and a concrete bridge stretching over a fountained pond
"We paint from eight to eleven in the morning," said Vienot, "and people show up whenever they show up. Everyone brings their own backpack with their own easels, canvases and paint and has a set-up that works for them."
Most work, she said, with an 8 x 10 canvas (though 16 x 20s aren't unheard of) to combat temporal constraints. "What you'll find with plein air painting is that the light is constantly changing, so you have to learn to make a thousand decisions per second. For our more religious painters, this helps their other art progress because you learn to see light better, and mix your colors dead-on the first time because you practice so hard."
Now one year retired from her swimming pool service business, Vienot operates fulltime out of her studio in Point Washington. After 40 years, she laughs, she's "finally where I'm supposed to be and embracing my role as a fine arts major."
During her time studying at the University of Northern Colorado, Vienot would often sketch or paint al fresco, but it wasn't until she moved to Northwest Florida in 1980 that she was exposed to plein air as a practice.
Vienot received an invitation to join Emerald Coast Plein Air Painters around 15 years ago, but it took nearly eight of them to work up the nerve to join.
"Plein air painters are brave," she said. "I used to go to sessions and just take pictures of the painters before I finally joined them. Sometimes you paint well, other days, not so much. Everyone has seen each other's bad days, and it's never a competition to see who can paint the best. Once you've done it a few times, you'll come to realize that."
After each session, the group will display their works for a discussion about what challenged them that day. It's never a critique (unless you ask for suggestions) and Vienot won't tolerate any self-deprecation.
"You won't last long as a plein air painter if you get hung up over perfection," Vienot said. "By nature, plein air painting is unpredictable. The sooner you embrace that, the easier it'll be."
Though, plein air painting competitions are on the rise.
This year, Vienot was invited to attend the Forgotten Coast en Plein Air in Apalachicola, a 10-day "paint out" with quick draw contests, exhibitions and workshops. Vienot served as their featured artist in residence, in which she explored the theme of "recovery in the natural environment" as it relates to Hurricane Michael.
Vienot was "thrilled" to receive the honor, and grateful plein air painting is becoming a nationally recognized hobby.
"It's my hope to build a market here for plein air painting," said Vienot. "Every once in a while, our group will host exhibitions where we can help educate the public on plein air painting. People always ask, 'En plein Air? What's that?' Well, it's simply painting in the open air, and you're always welcome to join us."