Emerald Coast Children Deserve Our Best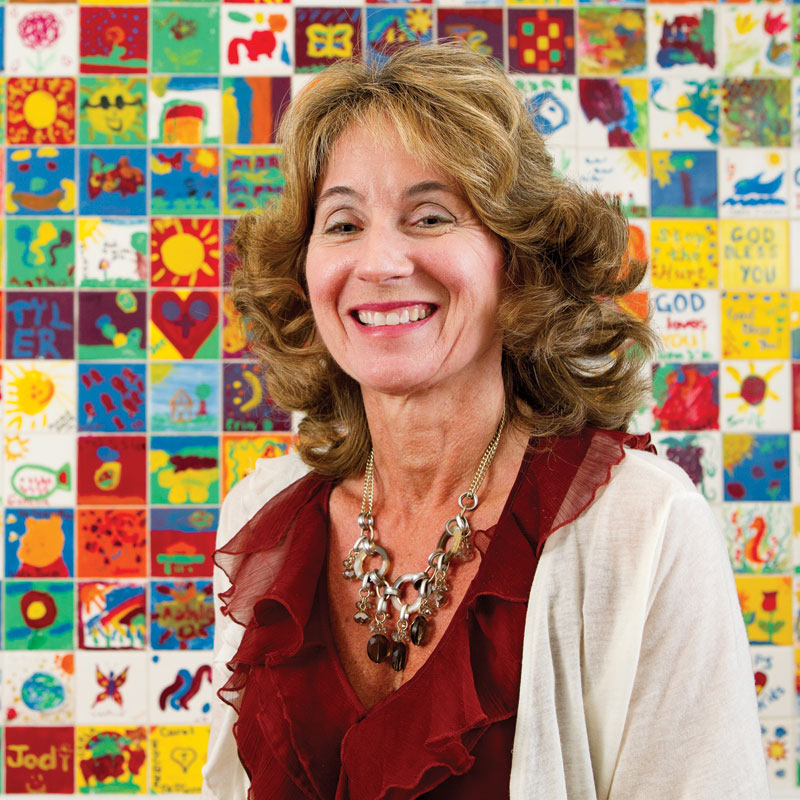 Children's eyes light up at the festive celebrations and magical traditions of the holiday season. Yet that sparkle is all but extinguished in children whose painful realities contrast sharply to everyone else's joy. In America, one of the world's wealthiest countries, where one-in-five children faces hunger throughout the year. That's hard to believe on the Emerald Coast, where many people live out their dreams in upscale communities filled with palatial second homes along the Gulf. But just a few streets away in some of our communities an entirely different world does exist. Right here on the Emerald Coast some of our children live in poverty, suffering in silence and isolation while addiction, domestic violence and sexual abuse can rob them of their innocence and joy.
But there is hope … and help for our most vulnerable neighbors. Along the Emerald Coast, there is an abundance of local charities ready to reach out a helping hand, not just at Christmas, but year round. Here is a look at a few of the Emerald Coast charities focused on children's needs and the services they provide. Additional initiatives are listed where you can help. The gift of hope that lights up the eyes of a child may be the best present you give this season — and one that lasts a lifetime.
Pathways to Change
Photo by Howard Robinson
Hattie Grace volunteers her time to help Emerald Coast kids forge a healthy, hope-filled path. (Below) Pathways Program Director Connie Bookman reaches out to the community to understand exactly what  the kids in her youth program need most
This private charity lives up to its name. By providing rehabilitation services and preventive programs for low-income families, it offers a way out of destructive patterns into changed healthy lifestyles. "On the first day, I knew we would succeed when a little boy had so much fun he begged to stay all night," says volunteer Hattie Grace in reference to the summer classes the organization started. "Transportation can be a major problem for low-income families, so we went to the community center between two Pensacola low-income housing projects and asked them what they needed," explains Connie Bookman, program director.
This resulted in summer classes that provide a safe, fun and supportive summer environment for kids aged 4 to 11 where they learn social and character-building skills along with creative projects and field trips. A retired schoolteacher taught them writing skills.
"They wrote the most beautiful poems about their mothers," exclaims Grace with pride. A professional singer put the lyrics of songs they wrote to her music compositions. Each day they talked about "character building words" like self-reliance, kindness and self-care. This valuable work continues throughout the year, with an after school-tutoring program held in a new community center the charity built a few blocks from the housing projects. They hope to add computer courses to keep students on the cutting edge of technology.
---
Emerald Coast Children's Advocacy Center
Photo by Scott Holstein
"They leave their worries behind when they walk through that door knowing they are safe and protected." Julie Hurst, Director Emerald Coast Children's Advocacy Center
Glass-paned doors lead off a spacious front porch into the homey atmosphere of the Emerald Coast Children's Advocacy Center where children and families who have experienced sexual or physical abuse can receive help as they begin to heal and recover.
Being able to offer a triage of support services gives families added comfort. "They leave their worries behind when they walk through that door knowing they are safe and protected," says director Julie Hurst. "It used to be children were shuttled from agency to agency, having to tell their stories each time. Now we have medical, prosecution, law enforcement, protective investigators and mental health disciplines all under the same roof."
They recently opened a satellite branch in Walton County with long-range plans for expanding it into one with full services. "We would like to start preventive programs in the schools. People don't realize how many neglected and abused children are walking around them. More than 5,000 children have visited the center since October of 2000. Seven hundred cases were reported last year in Walton and Okaloosa alone," says Hurst. She talks about how rewarding it is when she sees the children recover and come into her office laughing and happy. "It's so much about restoring the childhood they have lost," she shares. So does one little girl who wrote this in a letter to Hurst, "There are special people in this world who care about children and are willing to help the center, so it makes them angels."
Ways You Can Help Right Now
Marines Toys for Tots
Donate only new and unwrapped toys for age newborn to 16 through December. For drop-off locations visit emeraldcoasttoysfortots@gmail.com.
United Way Coats for Kids
Donate new and lightly worn coats through Dec. 24. For drop-off locations call Carolyn Folley (850) 243-0315 or unitedway.org.
Angel Tree at Silver Sands Premium Outlets
Visit "Families First Angel Tree" at Charity Gift Wrap Silver Sands to select a child's name and gift suggestions, and return wrapped gifts to same location no later than Dec. 12. For more information, call (850) 654-9771 or visit PremiumOutlets.com.
---
Children's Volunteer Health Network, Inc.
Like many, Trisha and Mark Northcutt planned to take it easy when they moved from Memphis eight years ago. After raising a blended family, Trisha planned to reinvent herself as a painter and writer. But after living here only a few months, she met a little boy who changed the entire direction of her life. "I love kids so I volunteered at a church outreach, where I met this adorable child who tugged at my heartstrings even though he had a defensive attitude and a mouthful of crowded protruding teeth. I couldn't shake the idea I needed to help that little guy. So I presented a plan to some like-minded folks, and Children's Volunteer Health Network Inc. was born," Northcutt explains.
This faith-based organization has helped more than 7,000 children in Walton and Okaloosa counties since opening in 2005. A volunteer network of more than 90 doctors, dentists, optometrists and mental health counselors deliver free comprehensive health services to schoolchildren without insurance. This includes a large population as 22 percent of the children in Walton County and 13 percent in Okaloosa have no health insurance. Sixty percent of Walton County's families have no dental insurance. A mobile dental clinic named "Just for Grins" travels to elementary schools and performs preventive dentistry. In April of 2012, the charity built a three-chair permanent dental clinic for restorative procedures. "It's gratifying to see how all the charities work together helping each other out. I love knowing a seed grew into a tree, spreading branches of life," Northcutt says.
---
Boys and Girls Clubs of the Emerald Coast
Photo by Scott Holstein
The game room at the Fort Walton Beach Boys and Girls Club is a nurturing safe haven for local school-aged kids. Studies reveal that only 30 percent of U.S. kids graduate high school  compare that to a 90 percent graduation rate for Club kids.
"It gives me goose bumps to see children progress, like when a child makes A's now instead of F's," resource development specialist Erin Igram says of the after-school tutoring program at the Boys and Girls Club. Forty-five years ago, business leaders founded these clubs to empower local youth to achieve their full potential through programs that emphasize academics, healthy lifestyles, character and good citizenship. "The clubs are open to ages 5 to 18, and all classes and incomes are combined. This interaction teaches children it doesn't make a difference where they live or their skin color. It's their club, and they all belong," says Igram.
The eight separate clubs in Pensacola, DeFuniak Springs, Fort Walton Beach, South Walton and Destin furnish a variety of facilities for after-school and summer programs. A new clubhouse plans to open in South Walton early 2013. Programs like art, dance, computer and education are held in separate rooms along with sports. "Parents benefit too as children come home refreshed from playing outdoors and with their homework completed. Now they have quality time together as a family. I can appreciate that as an only child with both parents in the military. I left a lucrative job to come here. I felt something calling me to do more and give more. I made the decision with my heart, and I don't regret it for a minute," says Igram.
---
Shelter House
One in four women is touched by domestic violence each year. Think how many children's lives are affected by that same violence. When homes are no longer shelters from the storm and become the very places where storms of violence rage, Shelter House provides a safe haven.
In 1988, a coalition of national women's organizations formed the non-profit to stop the continuous violence against women and children in their communities. In 2010–11 alone, Shelter House helped 5,749 people. "We make it as comfortable and as much like home as possible, where everyone stays together," Executive Director Michelle Sperzel says. Thanks to Purple Paws, the first ever on-site kennel in Northwest Florida, this includes the family's four-legged members, too.
In Sperzel's experience, the No. 1 reason abusers act out with violence is to gain power and control. Shelter House strives to give women what was taken away: freedom of choice. "We foster an atmosphere of acceptance and empowerment giving women the dignity to make their own decisions about what's best for them and their children," Sperzel says.
Providing a safe haven for a family can be a lifesaving legacy. "A child's world extends to the four walls of home, that's all they know. Domestic violence affects their relationships throughout an entire lifetime. They are not able to form open loving relationships unless they receive help. Men who witnessed abusive parents are twice as likely to abuse compared to ones raised in non-violent homes. These unhealthy patterns can pass down through generations," explains Sperzel.
For that reason an advocate evaluates the needs of a child who comes to the home and offers services of counseling, youth support groups, interactive educational activities and youth economic empowerment workshops. Shelter House teaches preventive classes to local high schools and through after-school programs to educate children in having healthy relationships. Still, more public awareness is needed. We need to challenge old stereotypes and confront violent behavior. Parents need to dialogue with children about violence seen on movies and television. Think of all the children whose lives can be changed.
---
Reach Out to Learn More and Get Involved
Shelter House
(850) 863-4777, emergency hotline
(850) 243-1201, general information
shelterhousenwfl.org
Children's Volunteer Health Network, Inc.
(850) 622-3200  |  cvhnkids.org
Emerald Coast Children's Advocacy Center
(850) 833-9237  |  eccac.org
Boys & Girls Clubs of the Emerald Coast
(850) 862-1616  |  bgcec.com
Pathways for Change
(850) 202-0028  |  pathwaysforchange.org
Children in Crisis
(850) 864-4242  |  childrenincrisisfl.org
Destin Charity Wine Auction Foundation
(850) 650-3732  |  dcwaf.org
Food for Thought:
info@foodforthoughtfl.org
---
Pouring on a Generous Spirit
A spirit of generosity is uncorked at the annual Destin Charity Wine Auction where wine-enthusiasts open their hearts and wallets to support local children. Items such as Italian vacations and rare wines are auctioned off to the highest bidder; 100 percent of the total is donated to local children's charities. The foundation raised a whopping $1.2 million dollars last year. Its overall $4.7 million-dollar contribution has impacted the lives of more than 34,000 children. It's an offshoot of the Sandestin Wine Festival started 26 years ago by Chan Cox and Keith Howard. They started the foundation in 2005 to connect wine-loving philanthropists with local charities and held their first auction in 2006. As new foundation president John Russell puts it, "Most wine lovers are very generous people, and the founders saw an opportunity to connect this love of wine and generous spirit to benefit children in need on the Emerald Coast."
Russell, who spent 32 years in the hotel business and is former president of Sandestin Investments LLC, stepped in when Todd Vucovich retired. "The foundation is getting national attention, and we want to capitalize on its success. We've been in phase one and are now moving into phase two with opportunities to expand. It's inspiring to tour facilities and then see the impact the charities we support have on children. I'm amazed at the lovely residential homes Children in Crisis provide for children needing foster care. And impressed with Food for Thought started by a concerned school mom who realized lunches were funded by government programs but wondered what happened on weekends to children from low-income families. She started in her own kitchen, loading six backpacks with food staples, and now they pack for 145 children in two elementary schools. It's gratifying to see children succeed because they had a nutritious meal or their teeth fixed," he shares.
The foundation applauds the determination of small groups to solve problems. Having flexibility allows them to fund startups like Food for Thought without the barriers of more traditional funding sources. Russell suggests the best way for people to get involved is to attend public events like Taste of The Beach, the Tasting of Champions or the newest event — South Walton Beaches Wine and Food Festival. With the community's outpouring of generosity, and the foundation's passion for helping children, chances are the foundation will reach its goal to be a top fund-raiser in the nation.