Easy to Create You-Can't-Mess-Up Mini Masterpieces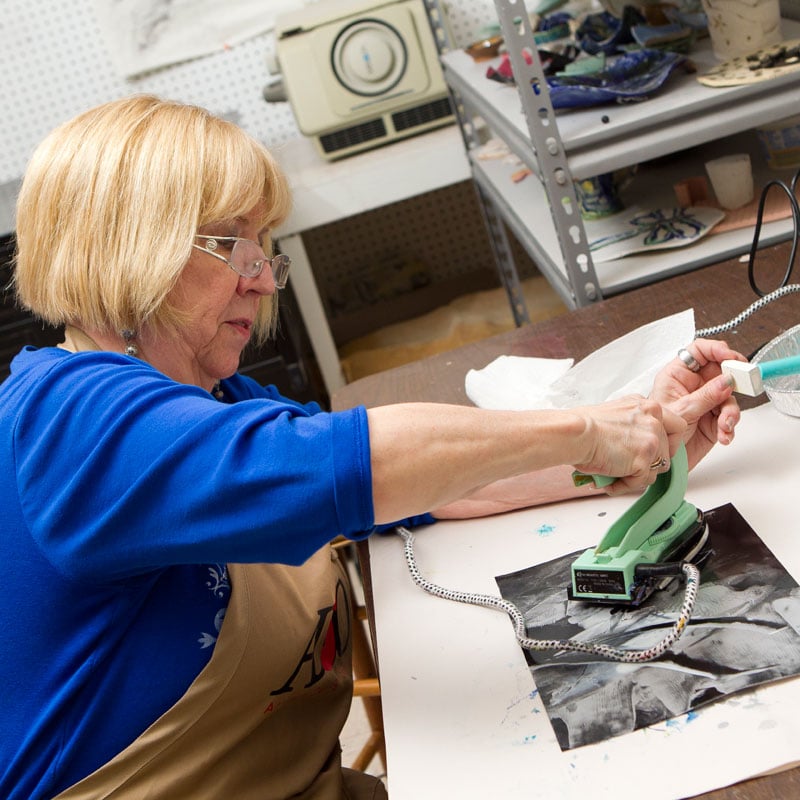 Encaustics with Helen Harris
"Don't worry, you can't make a mistake!" assures Helen Harris from behind her paint-splattered apron to eight eager-eyed encaustic art newbies. Seated at six-foot folding tables placed in a U-shape inside the Art Center in Fort Walton Beach, all eyes were on the 68-year-old as she introduced her students to the exciting art of encaustics — painting with hot beeswax. 
Encaustic art is found on mummy tombs dating back to 100 A.D. In the 1990s it enjoyed a resurgence of sorts. The art form is forgiving and flexible, so you can create as simple or as complex a piece as you choose on different surfaces, including card, paper and even pottery. 
Harris, an oil painter, is vice president of the Arts and Design Society (ADSO) and teaches encaustics at ADSO's Arts Center as well as the Center for Lifelong Learning (CLL) in Fort Walton Beach. A history major with an art minor, she also gives a lecture course at CLL called "Human Aspects of the Civil War." 
After an overview of equipment — any type of "hot palette," such as an electric craft iron, hotplate or heated stylus; colored wax, a stylist "pen" and a collection of found object treasures that ranged from glass beads to the plastic netting from a bag of oranges — we were off to "iron" out the details of our 4 x 6-inch creations. 
Some students tried their hand at landscape and still life compositions while others opted for anything goes abstract designs. 
The process is simple: Rub a wax stick onto your iron until it drips onto the paper, layering as many colors as you like, and sculpt the wax as you choose with the stylist or iron. You can create texture by layering small objects and fragments of fabric into your design by placing the paper on a hot plate surface, which keeps the wax wet. Once dry, gently buff your design with a paper towel, outline and shade with a stylist pen filled with India Ink and voile! You can "wax poetic" about your mini masterpiece. 
There's something giddy about breaking rules, and encaustics allows you to do just that. Melting colored crayons by heating them on a warm iron just seems deliciously wrong. Ironing plastic, putting paper on a pancake griddle, essentially making a mess. This art class gives you permission to be a kid at heart and … well, play! 
Classes and workshops in a range of materials and methods are offered year-round by local and visiting artists at the Arts Center on First Street. Check the ADSO website for dates, times and prices. ADSO members receive a discount. 
As Modern English band says, "I'd stop the world to melt with you." And, for the chance to create colorful original art in minutes with a mini iron, I would, too. 
Glass Art with Mary Hong
Scott Holstein
Students at the Bayou Arts Center carefully choose the glass pieces, trinkets and treasures they will feature in their glass paintings; It's crystal clear glass artist Mary Hong relishes sharing her expertise and passion for creating art out of glass; "Painting" with glass frees your imagination to sparkle and shine.
Destin artist Mary Hong hopes to shatter any fear of glass with her new glass art workshop called Where Glass Art Meets Canvas/Board, offered at the Bayou Arts Center in Santa Rosa Beach. 
Hong, 48, who opened Mary Hong Studio Gallery in Grayton Beach in January 2013, marries her fascination with glass with her intrigue of found objects on the Emerald Coast. The result is dynamic, glass-encrusted mosaics that turn everything from old boards to surfboards into stunning art storyboards. And now you can learn to "paint with glass" in group and private classes given personally by the South Walton 2014 Artist of the Year.
After a brief introduction and hands-on demonstrations of glass nippers, running pliers and sanding stones, nearly 30 glossy-eyed students carefully picked and poked in clear plastic trays and tubs filled with broken wine bottles, tea cups, trinkets and treasures, searching for just the right piece to perfect their design on whitewashed wooden boards. Soon ethereal mermaids and vibrant tropical fish seemed to shimmy on one table while an anime-eyed pug dog began to wiggle to life from the colorful shards of glass at another. 
Hong leans over various shoulders, nudging a piece of glass here and adding a dab of glue there, all the time encouraging her students to give in to their inner Dale Chihuly. "It's all about you today. It's whatever you want to do. It's free," she says. 
The mood in the sunny room is light. Students admire one another's creations as they nibble sweet treats and snacks. Hong encourages everyone to try their hand at nipping, scoring and cutting at least one piece of glass. "When you pull your hand back you can hear the score, if you don't hear it, don't start over, just keep going and push harder," she counsels. 
During the second hour when the shining crosses, sparkling signs and shell-encrusted creations are nearing completion, Hong hollers one last instruction, "When you are about to do a happy dance it means it's coming altogether. Pause — and then we'll get the glue."  
A dab of weld bond glue (which dries clear) secures small items to the board or canvas, E6000 is suggested for anything "bigger than a marble." After class, Hong applies an epoxy resin to each painting. Once dry, the glossy "glass-terpieces" are ready for pickup at Hong's studio in 24 hours.  
Romantic Painting Techniques with Trisha Griffin 
Jaqueline Ward Images
Trisha Griffin's top tips for trying your hand at painting techniques is to be confident and experiment; Blocking, crackling, sanding, dry brushing and wet brushing are five distinct techniques Griffin demonstrates in her two-hour "antique" painting workshop; Ava's Attic Consignment Boutique in Miramar Beach sells furniture reinvented by Grffin's "romantic vintage painting techniques" using the shop's  signature label paints and stains.
Trisha Griffin of Seagrove is just 26, but every month she ages very well. With five different "romantic" painting techniques — crackling, wet distressing, sanding, blocking and dry brushing — Griffin, who grew up surrounded by "old things" thanks to her mother's antique business, teaches groups of up to 10 how to fearlessly transform home décor, furniture, picture frames, even mirrors into vintage works of art.  
A spectrum of women ranging from social workers to realtors gathered into a workshop across the parking lot from Ava's Attic's Consignment Boutique where armoires, buffets and desks in various stages of transformation became "canvases" for each painting technique. Armed with gallon-paint cans filled with brushes, cloths and a quart of the shop's custom chalk paint, those who didn't bring an object or small piece of furniture with them make quick work of choosing their "before" objects from a selection of candlesticks, frames, bookends and the like.
"Will the paint work on this?" one woman quizzes, holding up a filigreed metal lantern above her paper-covered worktable. "Yes!" Griffin assures, "You all have something different, some metal, some wood. This paint sticks to anything!" 
Griffin tackled each technique by talking through each demonstration. She fielded questions, and then made her rounds around each worktable to be sure everyone was getting the paint lesson down pat.  "I know it's intimidating at first," she assured, "but if you mess up you can just paint over it and start again. I've done that a ton of times." 
A petite blonde with an easy smile, Griffin looks more like a cover girl than a get-your-hands-dirty girl, but soon it's clear, mixing it up with a can of paint puts her in her happy place. "I'm not one to sit on the sofa. Even on my days off I come in and paint. It relaxes me," she says as she dips a white cloth into water to demonstrate wet distressing on a painted brass stand. 
"See how it gets an old-world, foggy look? That's what you want," Griffin urges her class as she begins gently rubbing another edge. 
With each stroke of a brush, dab of cloth and buff of a sanding block the menagerie of second-hand home décor pieces slowly became magically made over into vintage objet d'art awash in soft hued paints with names like sea mist, sea foam and oysters. 
Oohs and ahs confirmed Griffin's approval. "Ooh, you see? These candlesticks came out beautifully. We could sell these in the shop for at least $50," she said, her blue eyes conspiring. 
And when not used for classes, that's exactly what happens in the paint-splattered workshop space. Ironically, the Miramar Beach-based resale shop found it could sell more "new" consigned furniture more quickly when they aged each piece using distressing techniques with a fresh coat of chalk paint. Eventually, they began to brand the paint under the shop's name and sell it to customers eager to try their hand at reinventing furniture at home.
Since the classes began, even more Ava's Attic paint (and now a line of stains) is working its way onto furniture and walls all along the Emerald Coast. "We love sharing what we know with our customers, and it's a lot of fun, too," Griffin said with a smile as she dabbed at a well-worn brush. "It's like this ratty brush I use for staining, the more you use it, the better it gets."
Ready, Set, Go and Create! 
Arts and Design Society (ADSO) 
17 First St. SE, Fort Walton Beach, (850) 244-1271
Offers year-round art classes, workshops and luncheon seminars in drawing, painting, encaustic and clay sculpture in its Arts Center studio. 
Encaustics is $30–$60/person. Fees are discounted for members. All supplies provided for most classes.
Mary Hong Studio Gallery
The Shops of Grayton, 26 Logan Lane, Grayton Beach, (850) 231-1416
Offers private and group glass art workshops at the studio and at Bayou Arts Center in Santa Rosa Beach. 
$75 per person for Cultural Arts Alliance members, $85 for non-members, includes all supplies and tools required.
Ava's Attic 
12889 Emerald Coast Pkwy., Miramar Beach, (850) 424-6826
Offering monthly painting technique class for individuals and groups (up to 10). Light refreshments provided. Bring your own bottle of wine and make a party out of it. 
$150 per person includes all supplies and a small object to paint (or bring your own). Price includes a starter kit in gallon paint can that includes: quarter of custom Ava's Attic chalk paint, brush, sanding block and cloth. 
For more art classes at the Bayou Arts Center, visit the Cultural Arts Alliance website culturalartsalliance.org.