Duke Pope is The 'Godfather of Lacrosse'
Air Force veteran made sport popular in the Panhandle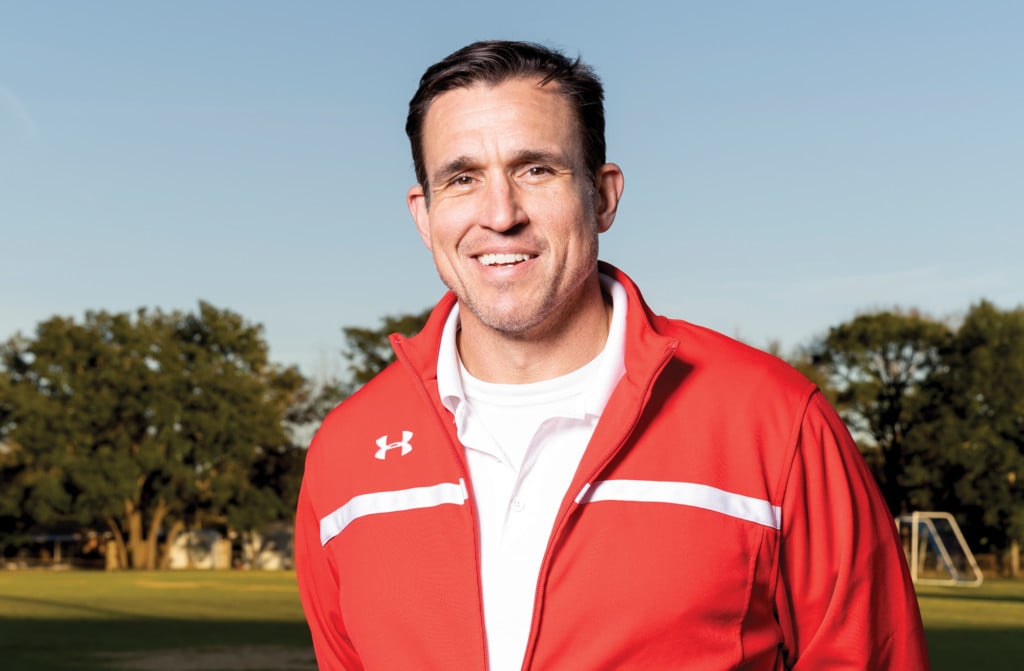 For the past 10 years, Duke Pope has played a major role in making lacrosse the fastest growing sport along the Emerald Coast.
"It's kind of a mix that has the physicality of hockey with the speed and excitement of fast-break basketball, all on a soccer-sized field," said Pope, who was the founder of Emerald Coast Lightning Lacrosse in 2009, when he was still in the U.S. Air Force.
From Panama City to Pensacola, there are a dozen such clubs that have been formed in recent years. Nine high schools along that stretch have varsity boys teams and eight have varsity girls teams, according to the Florida High School Athletic Association.
Last May, the Okaloosa County School board voted unanimously to elevate the club teams at Fort Walton Beach and Niceville high schools to the varsity level for the 2018–19 school year.
Pope was a Maryland middle-schooler when he first encountered the sport that has roots as an Iroquois war game.
He recalled, "I had some buddies that said, 'Hey, you should come out for lacrosse.' And I said, 'What's lacrosse?' I wasn't playing baseball, and my parents wouldn't let me play football until I was in high school, so I kind of snuck playing a contact sport past my parents. I seemed to have a natural ability for it, and I caught on quickly. And of course, there was the social aspect of being in team sports."
So, what attracts youngsters?
"From a player's perspective, it's very inclusive," Pope said. "It's not one body type or athletic type that lacrosse caters to. It can be little guys, big guys, fast guys, and some not as fleet of foot can be tremendously quick goalies.
"The last component is the creativity piece," Pope added. "This sport allows an athlete to be very creative, whether it's fake passes, behind-the-back shots or different ways to dodge players when going down the field."
Both of Pope's sons, Josh and Reece, grew up playing the sport, and it was Josh who came up with the name "Lightning." He arrived at that idea as the family was driving back from Monterey to this area in 2008, and they were making plans for organizing lacrosse in Okaloosa County.
"I don't mean to sound hokey," Pope said, "but there's something special about how the sport has a personality and a culture that's infectious. There are a lot of rules, but as a spectator, you don't have to understand all of them to enjoy watching it. The speed, the physical contact, the finesse — all of these things are attractive to players, parents and spectators."
Pope went on to co-found the Destin Rockets in 2012, with some major help from Gene Speni.
Emerald Coast Lightning hosted the Destin Spring Lacrosse Invitational, as well as the fourth annual Surf-n-Turf 7 vs. 7 tournament, which brought 56 teams to Destin last November.
Jamie Hansen is the founder of 30A Lacrosse. When he found out he was moving to the Emerald Coast from Colorado, Hansen began a search for a place where he could continue his interest in the sport.
"I searched high and wide, and there just wasn't anything," Hansen said. "And this was 2014. Then I stumbled across the Destin Rockets, which was Duke Pope's organization. I didn't get to meet Duke until December 2014 when he did a little clinic and I brought my son, Dylan, and I started coaching with him just a month or two later."
Hansen had some struggles developing 30A Lacrosse.
"In the spring of 2016, it got to the point where Duke allowed me to roll my kids back in with the Destin organization and play with them even though we were doing registration for 30A Lacrosse," Hansen said.
"I had only 20 kids registered, but he even helped me purchase some goals and help get funding," Hansen added, "and then he helped me get the sport into South Walton High School in 2017. While that was going on, Duke was also trying to help out the high schools in Niceville and Fort Walton Beach."
For 2018's fall season, Hansen registered 134 youngsters. A second Walton County high school, Seacoast Collegiate, has added the sport. And Dylan Hansen is coaching in a youth program.
"Duke's a pretty humble guy," Hansen said, "but we call him the 'Godfather of Lacrosse' in the Panhandle because he's
had a hand in starting every organization, with maybe the only exception being Gulf Breeze. He's sort of the source of a lot of knowledge, and I still go to him for ideas."
Emerald Coast Lacrosse Pioneers
Jeff Sherman, founder of Gulf Coast Lacrosse Officials Association
Jeff Malinen, founder of Navarre Lacrosse
James Yurack and Lou Albeiro, founders of Niceville Lacrosse
Kelly Gonzalez Reece, who brought girls lacrosse to Okaloosa County and Niceville
Jamie Hansen, founder of 30A Lacrosse
Pete Butler, founder of Pensacola Riptide
Carlee Costello, founder of Lax Chix in Gulf Breeze
Laura Pattison, founder of Gulf Breeze girls lacrosse
Matt Dorf, founder of Gulf Breeze boys lacrosse and Gulf Breeze High School boys lacrosse
Gene Speni, co-founder of the Destin Rockets
Seth Barlow, who helped found Milton High School's lacrosse club