Digital Graffiti: Go Behind the Scenes at Alys Beach Art Show
Alys Beach gets ready for projection-art festival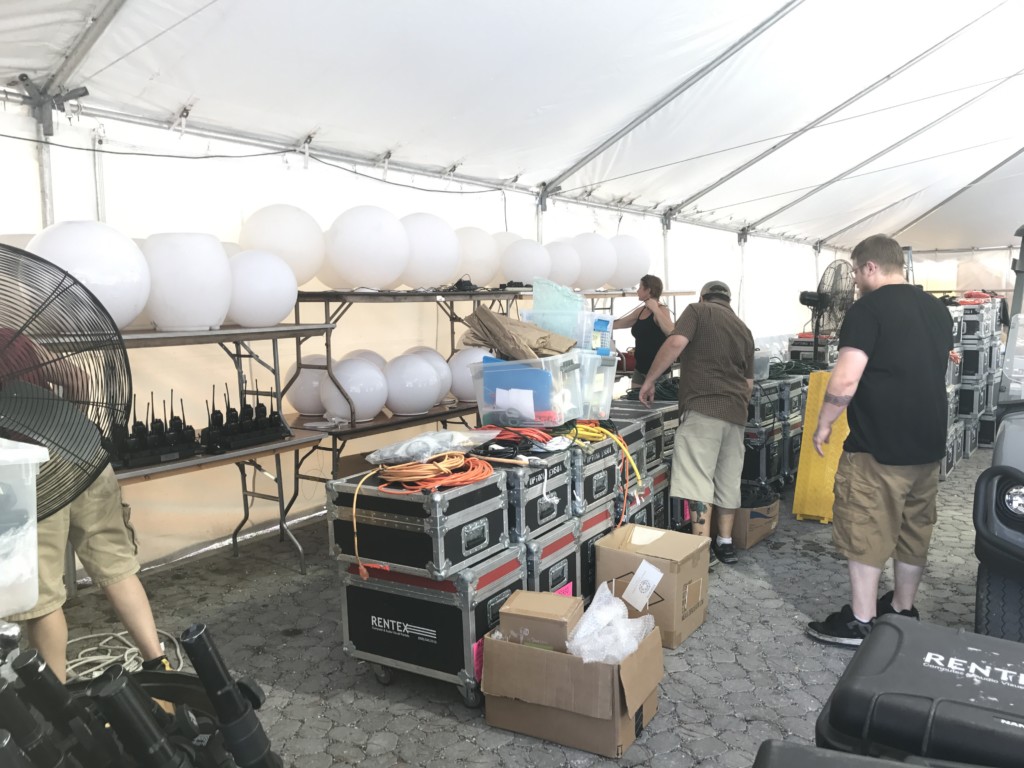 The waterfront community of Alys Beach is usually serene during the day, its constellation of alabaster buildings standing in stark contrast to the usually azure skies. At intervals, someone may wander to the post office, go for coffee or cross Highway 30A to the Gulf shore.
This week is different. Digital Graffiti, the community's annual projection-art festival entering its 10th year, is nigh. Bustling event staff and crew members are hitting deadlines and making Alys Beach ready.
"We start off Tuesday morning, and everything has to be ready to go by Thursday night," says production team member David Waggoner. "We start out by unloading all our projectors, we get our golf carts, our crew, and get to work. We then do a walk-through with the curator. He inspects everything, makes sure everything is right where he wants it and the show starts Friday."
This year, the event will feature 23 art exhibits that will require about 40 projectors. The Alys Foundation is partnering with Christie Digital, an international business that specializes in exceptionally high-caliber projectors and media servers. Its technology will be placed around town in locations that will ensure optimal projection of artists' creations onto buildings turned canvasses.
"We just had a pre-convention meeting with all the department heads to talk about everything from food and beverage to security and parking," reports Kelli Siler, the events manager at Alys Beach. "There's a whole lot of prep work that goes into it. Our engineering team has been helping us since last week get scaffolding installed and stabilized. Every department on property is touched, and contributes to the success of the event and artists."
The event attracts artists from all over the country and the world.
Three of them, Krystal Schultheiss of Australia, Robert Seidel of Germany, and Jinku Kim of Rhode Island, participated in an artist-in-residence program. They arrived on scene knowing only where their works would be featured and the aspect ratios of the space they would have to work with.
In the course of seven days, the artists sought inspiration while absorbing their Emerald Coast surroundings and living life as locals. They then collaborated with Brett Phares, the event curator, to represent their experience with digital art.
This is the fifth year for the residency program, but the first in which artists arrived just prior to the festival.
"I think that's definitely been a game-changer," Siler says. "All the artists are here now and they're all working on-site. In the past, we held the residency during the winter and the artists would go back home and construct their pieces. Obviously, the foliage changes and different things undergo construction here, so it made more sense to have them working right up to the event."
Siler notes that Christie Digital has greatly assisted artists enhance their work with advanced technology.
"The residency artists have learned a lot about what that equipment can do, so thanks to that team, it's just going to be an awe-inspiring weekend," Siler promises.